I remember slapping him.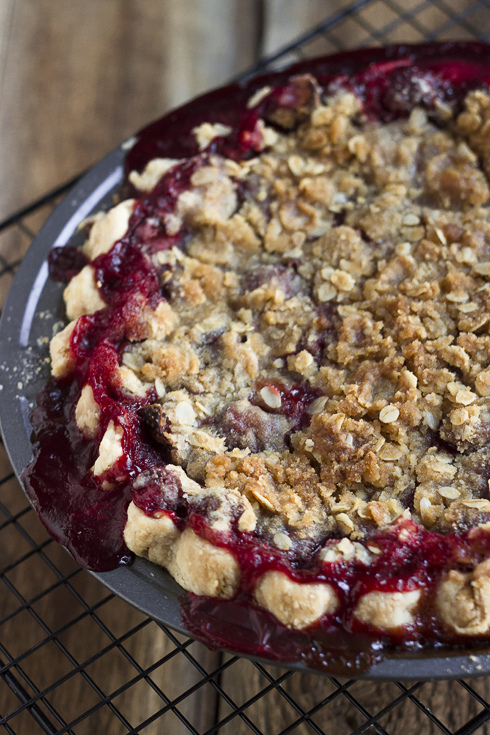 It was the only time I'd ever slapped anyone, having never understood the action or the justification for its delivery. I was on the receiving end of many brotherly hits, kicks and jabs as a little girl, and I never saw sense in violence as a form of expression.
To be honest, I don't even remember what he said to me to cause it. Given the circumstances, it probably wasn't a specific utterance that drew the reaction; more likely a series of unintentional stabs and confusing words of comfort that had bled and suffocated my heart over the preceding hours.
At that point in our discussion, nothing else seemed appropriate.
A heavy combination of frustration and anger concentrated itself into the weight of my right hand, and I drew it plainly across his tear-strewn face.
I was filled with a flicker of satisfaction – passing relief hidden in the sting of my burning palm – but you wouldn't know it had you seen my conflicted face. Questioning and afraid with a hint of apology, his deep brown eyes echoed mine as we stared at each other, wordless, for an eternity.
"I deserved that," he said calmly, then damned me with a hug that soothed and hurt in a way that, as dramatic as it sounds, only the brokenhearted can understand.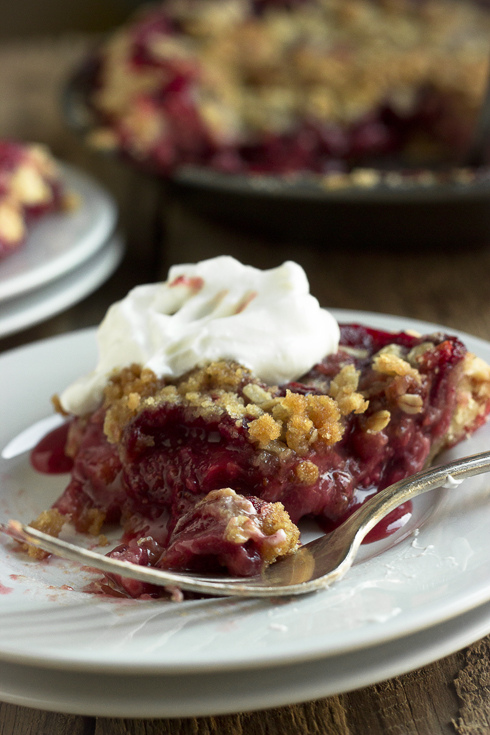 I packed the cocoa powder and chocolate chips I'd stashed in his cabinet, grabbed my toothbrush from behind the bathroom mirror, and, with that: we were through.
The only remaining sign of us was the mark of mascara and eyeliner on the left shoulder of his white tee.
And even that would be smoothed over and washed away soon enough.
Of course, all of this was long ago, but it came to mind today as I drove past an innocuous drugstore on a side of town that I don't often visit. I'd sat in that parking lot (seeking tissues but instead crying naive breakup tears into my sleeves) the day after the slap; brokenhearted and incapable of feeling anything but self-pity and despair.
And now, sitting alone and sleepless on this Monday night, thoughts of the past are swirling in my head. Not in a sad way this time, but rather a reflective one. I don't regret any of it, I'm not mad and I don't wish things had worked out any differently for this – or any – of the few relationships I've been in.
When I spotted the drugstore this time, I smiled. The whole thing was a growing process, and we both knew it. The rise and fall did me a world of good.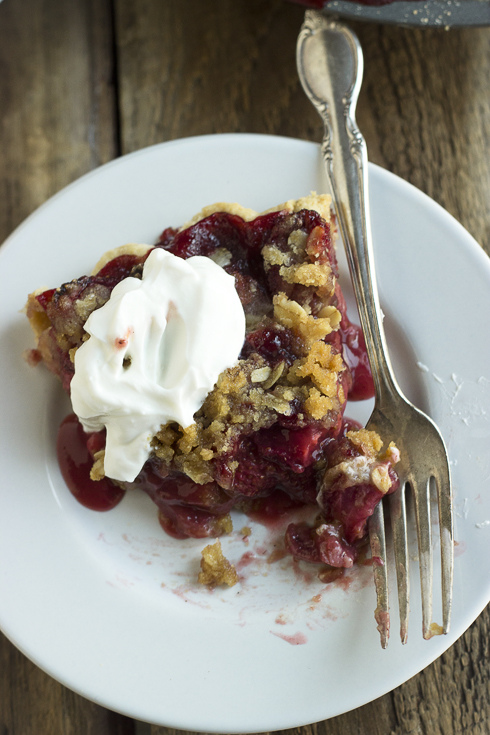 Boys have taught me a lot about myself.
Someone told me recently that I talk about them – the boys – a lot on the blog.
I hadn't noticed it, but maybe it's true.
Either way, relationships – of any kind – are worthy of great care and passion.
Care and passion inspire me to write.
No more explanation needed.
Strawberry Vanilla Crumb Pie
This got a great reaction out of my roommate who doesn't care for fruit desserts (except peach crumble. At least the boy's got some sense 😉 ). It disappeared quickly at work, too!
Pie Crust
6 Tbsp (85g) butter
2 Tbsp (30g) shortening
1 c (142g) flour
1/2 tsp salt
4 Tbsp cold water, more if needed
Cube the butter and place it and the shortening in the freezer for fifteen minutes.
In a medium bowl, combine the flour and salt. Add the frozen butter and shortening, and press with your fingers (or a pastry blender or a fork or a pair of knives or however your grandma taught you) until it is the texture of coarse meal. Add the water a little at a time and mix/knead just until incorporated. Wrap in plastic wrap and refrigerate at least 30 minutes.
After 30 minutes, place the dough on the counter to soften for 5 minutes. On a well-floured surface, roll the dough until it is large enough to fit in a 9″ pie tin – about 11-12″ in diameter. As you roll, check often to see that the dough is not sticking to the counter and apply more flour as needed.
Roll the dough around your rolling pin and lay it in the pie tin. Form a decorative boarder, if you wish. Place in freezer.
Crumble adapted from Nicole at Sweet Peony
This crumble is great! I made a double batch and stashed the extra in my freezer.
1/2 c (100g) brown sugar, packed
1/2 c (71g) flour
3/4 tsp cinnamon
4 Tbsp (60g) butter, frozen and cubed
1/4 c (25g) oats
Combine all ingredients in a medium bowl and press until the texture of coarse crumbs. Place in freezer briefly while you prepare the pie filling.
Strawberry Vanilla Pie Filling
3/8 c (74g) sugar
Scrapings of one vanilla bean
1/4 c (35g) flour
2 Tbsp cornstarch
1/2 tsp salt
1 1/2 qts strawberries, hulled and halved
Preheat the oven to 350F.
Combine the sugar and vanilla seeds in a bowl. Press with fingers to incorporate, then stir in the flour, cornstarch and salt. When well-mixed, add the berries and toss to coat. Pour into frozen crust and top with crumble. Bake until you see juices bubbling through the crumble in the center, about 1 hour and 15 minutes.