This is my mistake.
Swathed in a pair of hoodies, I dressed as warmly as I thought necessary for the occasion. But, ripped in exhaustion at the seams, my gloves have gradually failed me and my low-top tennis shoes aren't doing much good either. I'm shivering, my cheeks are windburned, and my lips are dry. I thought I was prepared, but it's cold – really cold – and there's not a whole lot I can do about it.
To set the scene, roughly: it's Saturday and I'm in the student section at one of the last football games of the year. It's cold (did I say that already?), it's loud, MSU is losing, and us fans – of varied degrees – are packed as tightly as possible for… Morale… Or something.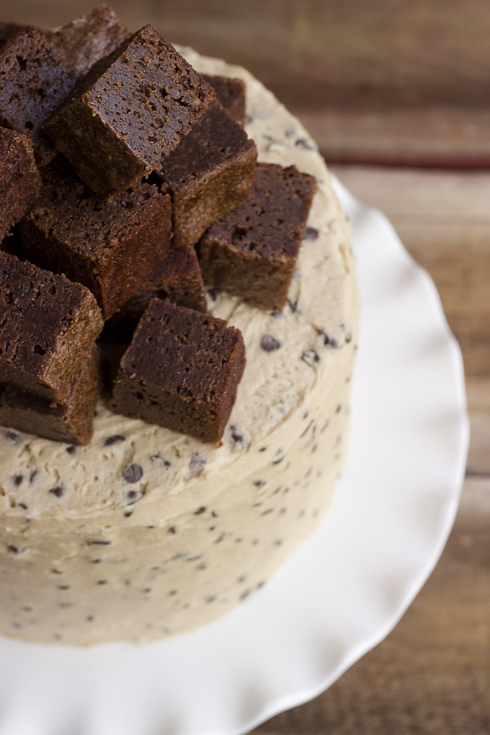 Oh, and we're standing. Because you don't sit in the student section. Nope.
Jammed up against me is a thin redhead with his arm around my waist. Which is nice, I suppose. I like him enough to let him in my space and certainly well enough to spend a month "seeing him." He's smart and funny and, well, you know how it goes. He's lots of those adjectives that make him so. ridiculously. "right." I should be so lucky to have him.
But there's always more.
Truth be told, I was trying to care about the football game, but it didn't interest me. I just wanted to see Redhead, and spend time with him. To try to understand him. Typical girl, hm? But, as it was, time for us was hard to come by, and I was only able to hang out with him once or twice a week – if I was lucky.
And, really, it wasn't enough. It had been a month since we'd met, and I still couldn't figure out what we were – if anything – or what we were going to be. I hardly knew him, and I'd devoted a month to questioning and being uncertain about the "relationship" we had. It was exhausting. Confusing. So, yeah, I took advantage of the free ticket I got to the game just to be able to spend time with him. To see if I could finally sort "us" out.
I was optimistic, and I hoped for the best.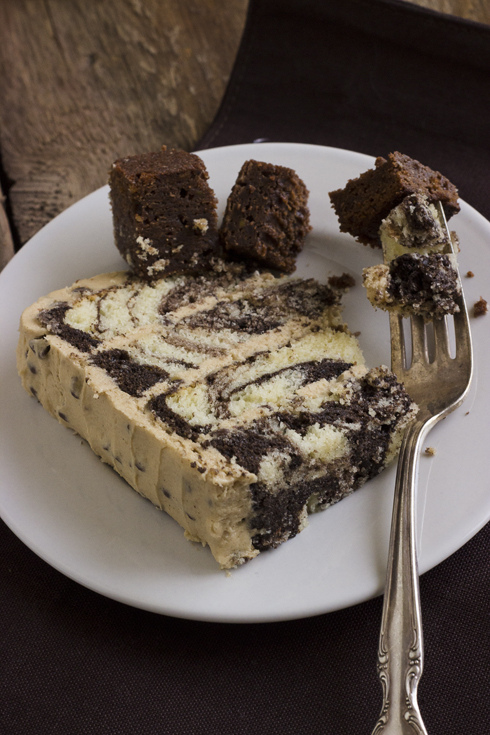 It was an interesting experience being there beside him with his arm occasionally and loosely – almost carelessly – draped around my waist (when it wasn't raised in cheer, that is). I paid as much attention as I could to the field, but I couldn't get excited about it like he and his friends had. I wasn't there. I'd been with him since 10 in the morning and it had only just hit me.
I wasn't there.
"Five minutes" into the third quarter, I squeezed his hand, kissed him on the cheek and told him I was heading home. He held my hand briefly, his icy fingers tracing my knuckles, and smiled a quiet goodbye.
My breath hitched, and suddenly I had a terribly sore throat. I did my best to graciously exit the student section, but it's hard to feel good about yourself when you're sucking in your stomach and squeezing through a row of butts and an adjacent row of kneecaps, each eager and cheering for their beloved team. I exited, eventually, into concessions, and tried to calm my breathing – halting tears – as I fought through the lingering halftime rush.
I'd spent the preceding hours attempting to decode the events of our "relationship." Thinking too much, you know. Despite our initial click, it turned out that Redhead and I didn't have anything in common, nor – I had recently come to the conclusion – were we particularly interested in each other's hobbies. He was afraid of my somewhat vegetarian slanted cooking and refused my offer to cook him dinner multiple times. He made it clear on many occasions that he didn't understand my passion for food or photography, and I brushed off his indifference for far too long. Standing there, it occurred to me that if I couldn't just stand beside him and be happy that he was happy… Well, it was a telling thing.
Which was fine, of course. As I froze at his side, agonizing at the continued and too-frequent pausing of the clock, I realized that Redhead and I just didn't complement or inspire each other. And I could live with that.
I walked home blue-lipped, frozen, and enlightened. The soreness in my throat dissolved and the tears welling in my eyes dissipated.
Redhead is a nice guy. A real honest-to-goodness nice guy who deserves a smart, caring, pretty, thoughtful – and more – girl. And he knows it.
But what he really deserves is a girl who cares about his passions (which, for the record, went far beyond football). [Not me.]
And I deserve a guy who cares about mine. [Not him.]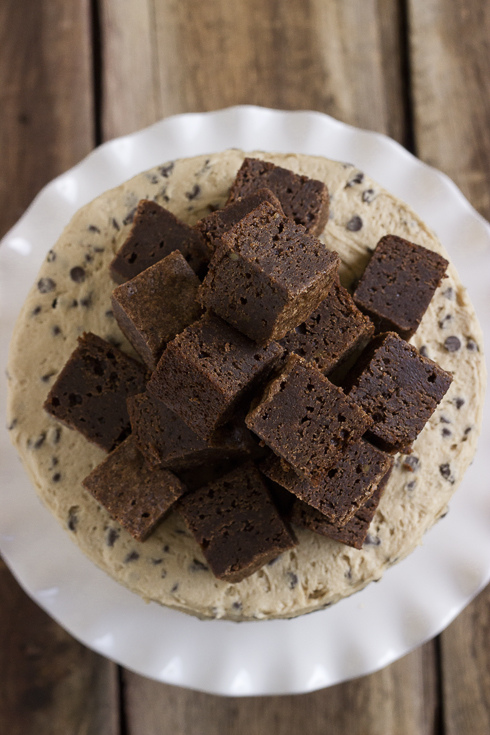 He ended it the next day, and I don't think either of us could have been more relieved.
I'll get what I want someday, but until then… Well, that's one less person to have to share cake with, hmm?
"Half Baked" Fudge Brownie & Cookie Dough Cake via Raspberri Cupcakes
This is the kind of take that makes you frenimies. They're gonna love you, but man… They're going to hate you too. The cookie dough buttercream is one of the most evil genius's kitchen recipes I've ever come across. Don't be afraid of the flour in it; it adds that characteristic grittiness to the cookie dough experience. I knew I couldn't pass it up when I saw this recipe on Steph's blog, and I'm really glad that I didn't!
(P.S. Because I'm sure someone will ask, Redhead got none of this 😉 )
Fudge Brownies via Taste
200g (7oz) good quality dark chocolate, coarsely chopped
200g (1.75 sticks) butter, chopped
200g (about 1 cup minus 2 tbsp) caster sugar
115g (3/4 cup) plain flour
35g (1/3 cup) cocoa powder
3 eggs at room temp
2 egg yolks at room temp
Preheat your oven to 325F (160C). Oil and line an 8″ x 8″ tin, leaving overhang, and set aside.
Bring a saucepan full of water to a simmer on your stove. Place the chocolate and butter in a glass or metal bowl and set over the pan of simmering water being careful not to touch the bowl to the water. Stir frequently to encourage even melting. Remove from heat when completely melted.
While you wait for the mixture to cool, sift together the sugar, flour, and cocoa powder in a small bowl. Set aside.
In a separate bowl, whisk the eggs and egg yolks until thoroughly combined. Allow the chocolate mixture to cool to just warm, then stir in the eggs. Don't add too early or the eggs will cook. Add the dry ingredients and fold with a rubber spatula until just combined. Pour into the prepared pan and smooth the batter. Bake for 45-50 minutes, or until crumbs cling to a skewer inserted into the center. Cool completely in the pan, then store in an airtight container for at least 6 hours to help the brownies set.
Mocha Marble Cake via Raspberri Cupcakes
1/2 c (115g) butter, room temp
1 3/4 c (300g) cake flour
2 tsp baking powder
1/2 tsp salt
1 c (225g) sugar
3 eggs, room temp
1 tsp vanilla
2/3 c buttermilk, room temp
1/4 c + 2 tbsp boiling water
1/4 c + 1 tbsp Dutch-process cocoa powder
1/4 tsp instant espresso
Preheat the oven to 350F. Oil and line two 7″ cake pans. Set aside.
Sift together the flour, baking powder and salt into a bowl. Set aside.
Place the butter and sugar in a large mixing bowl and cream together until very light and fluffy, about five minutes, scraping the bowl every once in awhile. With the mixer on medium speed, add eggs one at a time until combined, scraping down the sides and bottom of a the bowl after each addition. Add the vanilla and beat to incorporate, then scrape down the bowl. Add the flour mixture in 2 batches, alternating with the buttermilk and beginning and ending with the flour. Place 1/3 of the mixture in a separate bowl.
In a small bowl, mix the cocoa, boiling water and instant espresso until smooth. Gently fold into the separated 1/3 of cake batter until combined. Spoon half the vanilla batter and half the mocha batter into the prepared cake tin, and the other half of each batter into the other prepared tin, alternating spoonfuls of vanilla and mocha to encourage blending. Run a table knife through the batter in each tin to create a swirl effect. Bake for 25-30 minutes or until a skewer inserted into the center of each cake comes out clean. Cool in the pans on a rack for 10 minutes, Then invert onto plastic wrap, wrap tightly, and refrigerate until cooled, 2-3 hours.
Chocolate Chip Cookie Dough Buttercream via Annie's Eats
1 c + 2 Tbsp (250g) butter, room temp
2/3 c light brown sugar, packed
2 1/2 c (315g) confectioners' sugar, sifted
2/3 c (85g) flour
1/2 tsp salt
2 tbsp milk
2 tsp vanilla extract
1 c (200g) mini chocolate chips or finely chopped pieces of milk chocolate
Beat together the butter and brown sugar on high until lightened. Add the icing sugar and mix until smooth. Blend in the flour and salt, then add the milk and vanilla, mixing to smooth. Fold in the chocolate chips.
Assembly
Fudge Brownies
Mocha Marble Cake
Chocolate Chip Cookie Dough Buttercream
Split each of the chilled cakes in half horizontally. Fill the cake with buttercream and use the remaining buttercream on the sides. Slice the brownies into 1″ cubes and pile on top (you don't have to use them all – I saved some of mine for ice cream and snacking too, of course!). Serve with glee and reckless abandon.