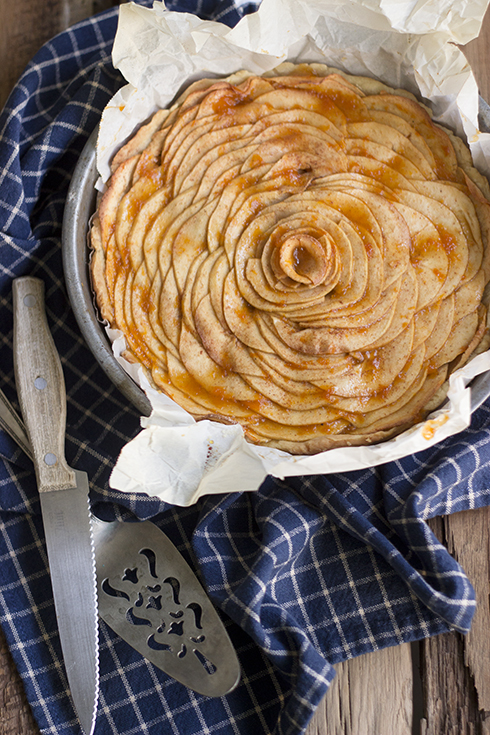 Long time no see.
I want to apologize for being so silent over the past year. I have received so many caring emails to check in, and it means a lot to me that you guys care so much!
No, thankfully, I didn't die. Quite the opposite, really. It sounds dramatic, but I truly feel that I've been more alive in the past year than I have my entire life. Things are good. Really good. And I recognize that I'm very lucky to be able to say so.
So, why so quiet?
I'm sure it seems obvious: if Kaitlin's not dead, then she must just be lazy. Duh.
A fair conclusion, to be sure, but I swear that's not it. I've just been focused on other things. When I graduated and started working full time, my spare time became even more precious. I'm not stressed or overworked, by any means, but my time at home became my time to hone things besides writing, baking, and photography. I quickly realized that I didn't have it in me to blog AND maintain a social life, work, feed myself, keep my car in working order (it's a loooong way to Dad's for help, after all!), shower, do the dishes, knit, fall in love, see that movie I really wanted to see, go ice fishing, travel, read… You know, be a human. Honestly, there's nothing remarkable about my life in that way – I know it's not unique – but I still haven't figured out how to balance it (did you notice how "clean" and "exercise" were mysteriously left off that list?). I'll get it eventually, but for now. No.
I feel like I've found some sense of balance, but really, that's a bit of a joke. I've got a lot to learn and I have SO much respect for all bloggers out there who keep it together.
Particularly those that do it all, in addition to having families.
Or even just moms in general. Like, seriously.
Holy crap. Please teach me your ways.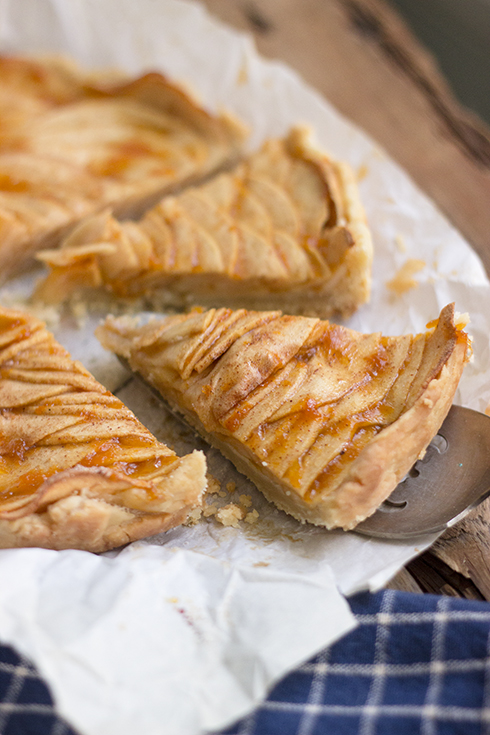 Anyway, I've been eager to share much of what's occurred in the past year, and I hope to do so in the coming months. I'm eager to be back, and I hope you are too!
Honey Apple Tart
Yeah, yeah. I know, apple tarts aren't really interesting, but they're one of my favorite things to bake. I almost always have everything I need to whip one up on-hand, and you don't really need a recipe to make a delicious one. When I'm feeling particularly fancy, I like to arrange the apples like you see above. I swear it makes the whole thing taste even better.
Tart Dough, a recipe adapted from Paule Caillat by David Lebovitz
3 oz (90 g) unsalted butter, cut into small cubes
1 Tbsp vegetable oil
2 Tbsp water
1 Tbsp sugar
1/8 tsp salt
1 c (5 oz/150 g) flour
Preheat your oven to 350 F.
Combine the butter, oil, water, sugar and salt in an ovenproof bowl. Place bowl in oven until the butter is bubbling and just begins to brown around the edges of the bowl, about 15 minutes.
Carefully remove the hot bowl from the oven, being careful and aware that it may sputter and spit. Pour in the flour and stir quickly to create a ball that pulls away from the side of the bowl.
Spread this dough into a 9" (23 cm) tart mold with a removable bottom. Wait a little while for it to be cool enough to handle, then carefully spread and smash the dough into the tin and up the edges. Aim for an even layer, but don't worry too much.
Prick the dough all over with a fork to prevent puffing, then place in the fridge while you begin to prepare the filling.
Filling
I can never remember which apples are good for baking and which aren't. If I were an artist, I'd make myself a beautiful poster to explain the varieties and when to use them, then hang it proudly on my wall. Sure, I could look it up, but that often involves me having to run to the store to get different apples than the ones I have and, frankly, I don't always want to do that. And, you know what? I've never made a bad tart with whatever random apples I have in the fridge. So don't freak.
~3 apples, I used Granny Smith. If you have extra slices, just eat them. No big deal.
Honey
Sugar, I used demerara because it's pretty and it makes me happy
Apricot jam
Peel the apples, then slice them in half. Core and remove the stems and flowery bits. Slice into approximately 1/8" slices, keeping the slices together as you slice. After all of the apples have been sliced, divide each half in half, and place one half on the cutting board in front of you. Press gently away from you onto the stack with your palm to fan out the slices. Adjust individual slices as necessary, then use an offset spatula to transfer to the tart shell. Arrange the apple fans in the shape of a star, then use remaining slices to fill in and overlap to create a rose shape. It's labor intensive, but I think it's relaxing and very much worth it.
Drizzle with honey and sugar.
Bake in preheated oven until the apples are tender and fragrant, about 25-30 minutes. Remove from oven and brush with apricot jam.
Cool on a rack and serve warm or room temp, with or without whipped cream.