Why is this so much harder to write than last week's post?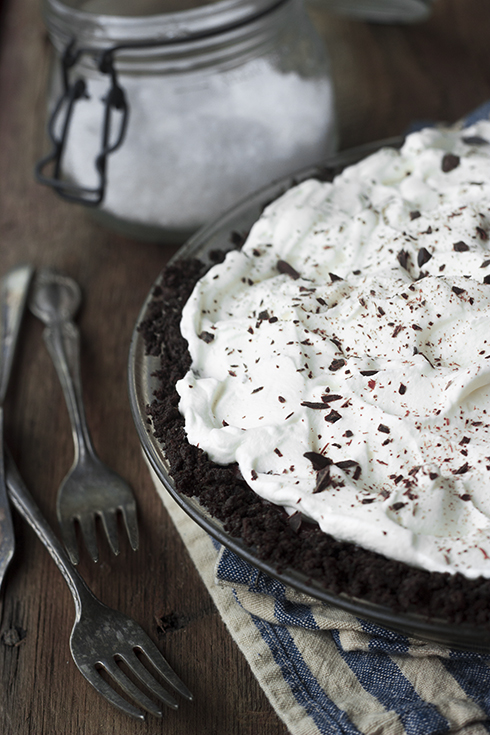 I had grand ideas of paralleling the bitterness of last week's update with the sweetness that currently surrounds me. The two installments would collide and compliment to complete the explanation of where I've been and where I am.
I was excited. Am excited.
…But I'm having trouble putting it to words in any way that doesn't sound completely mushy and moronic. So. Get ready. Because I guess that's just what love does to a person.
I was standing on a chair in the middle of a crowded room when I met him, trying my damndest to capture an event for our social media team. Candid shots were not coming easily that day; with my uniform of a DSLR and a bright orange shirt, I was as conspicuous as a person could be. Bobbing around about a foot and a half above the sea of unfamiliar faces, I was wishing with everything inside of me that I could just be invisible.
I'm lucky the wish didn't come true.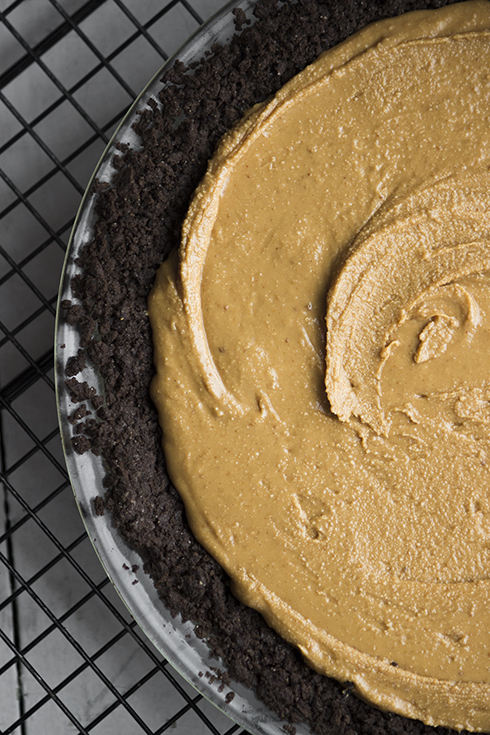 S was kindly curious, and began asking me questions that I, unfortunately, had neither the time nor the mental capacity to answer. He was handsome and sweet, you see, but the overwhelming nature of the situation managed nothing but to color my face in shades of red and stone. I excused myself quickly from the conversation after he helped me down from my post; claiming work-related duties on the other side of campus.
I hid.
Though the company we work for isn't massive, I was meeting new people every day on those first few months of the job. Coming in fresh and being one of about three hundred really leaves a lot of work to be done on the social side of things. So, in that time, I did what I could to open up and make friends.
It started out mostly departmental, which meant I didn't see a lot of S. The girls in my office would often go out for – or make – dinner and drinks after work. On weekends, we'd go to the bar and sing karaoke. It was fun – but we knew it could be better. I'm happy to say that our circle of friends eventually grew to include others across the company, including S.
For a long time, he wouldn't eat when he came over for dinner with friends. We would talk and laugh, but as you might imagine: it was a pretty frustrating reality for me. How was I to impress him with my cooking if the damn kid wouldn't take a bite?! He was polite – he'd always apologize for having eaten already – but it was clear: I needed to find another way to this man's heart, provided there was actually space for me there.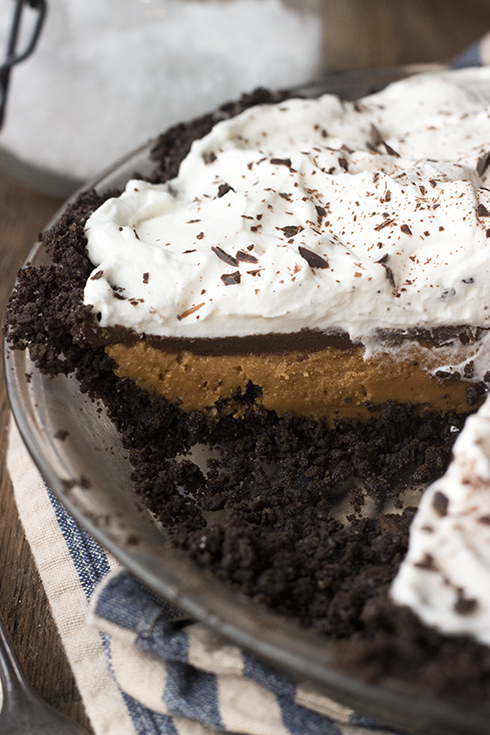 We started hanging out more, often at S's request, which was an entirely new phenomenon to me. And it was on one of these seemingly friendzoneish "hang outs," that S invited me to a concert. By gently clasping my knee under our table, his feelings finally became clear. Giddy, on our next date, a couple of strong beers encouraged me to tease him about eating so few of our fries. A couple more coaxed him into confessing that it was because I made him so nervous.
I'll spare you the mushy details, but after the redness faded from my face, I only grew to love the kid more. It didn't take long: he had me hooked.
When it comes down to it, S is the peanut butter to my chocolate. It's nutty (ahahaha – you see what I did there?) and it's silly, but it's the truest statement I've ever made. At the risk of sounding like a braggart – we're pretty great by ourselves… but even better together.
Before S, I'd given up on love.
But he changed that. And I couldn't be happier.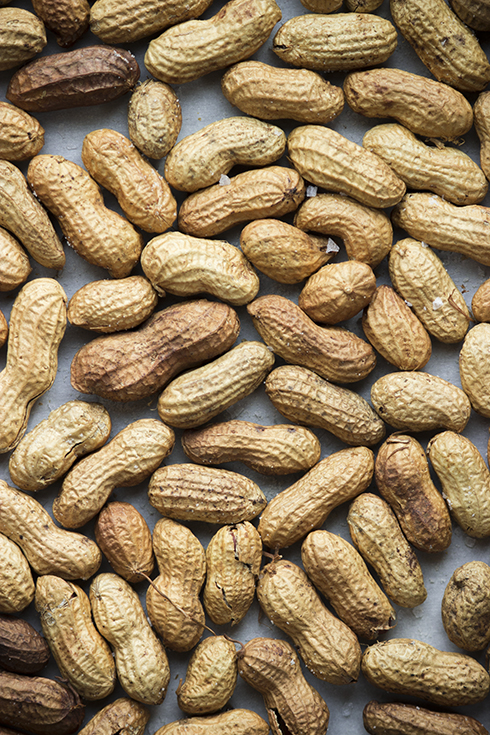 Peanut Butter Pie
When I discovered that S liked Good Eats, I was elated. We set our DVR to record it whenever it comes on, and watch an episode or two when we have time to spare. After watching "Peanut Gallery", S turned to me and said, "can I have that?"
Of course the answer was yes.
This recipe is decadent, which should come as no surprise, given the ingredients. Definitely an indulgence, but a worthy one! I would recommend making the recipe in its entirety as follows – it's not as fun to use store bought peanut butter! Recipe via Alton Brown.
Roasted Peanuts
2lbs in-shell Spanish peanuts, raw
2 Tbsp peanut oil
1 tsp kosher salt
Rinse the peanuts well in cool water to remove any dirt. Lay out on dry towels to dry completely before proceeding.
Preheat the oven to 350F. Line two half sheet pans and set aside.
Pour the oil into the bottom of a large mixing bowl and sprinkle over the salt. Pour in the peanuts and toss to coat evenly. Pour onto two prepared sheet pans, and shake to ensure the peanuts are in an even layer.
Bake in preheated oven 30-35 minutes, rotating pans halfway through.
Allow the peanuts to cool, then shell them all (works best with a buddy!). Alton suggests using a salad spinner to remove the skins, but we found that they came off pretty readily as we were peeling, and did it by hand. Whichever method you choose, make sure you do it. Removing the skins is not an optional step!
Homemade Peanut Butter
1 batch roasted peanuts (above), shelled and skinned
1 tsp kosher salt
1 1/2 tsp honey
1 1/2 Tbsp peanut oil
In the bowl of your food processor, tip in the peanuts, salt and honey. Process for one minute, then scrape down the sides of the bowl. Place the lid back on and process again while slowly pouring in the oil. Continue processing until very smooth, 1 1/2 – 2 minutes. Place in an airtight container and set aside while you prepare the rest of the ingredients.
Chocolate Animal Cracker Pie Crust
I made a modification in this part of the recipe because I can never find chocolate wafers in my grocery store. Chocolate animal crackers, however, are easy to find.
7.5 oz chocolate animal crackers
1 Tbsp sugar
1/2 tsp salt
6 Tbsp butter, melted
Preheat oven to 350F.
Place the crackers, sugar and salt in your food processor and blend until very finely pulverized (I didn't bother cleaning the processor after blending the peanut butter – I just scraped it out really well before doing the crust). Remove the lid and drizzle the melted butter over evenly. Process to combine.
Pour the crumbs into a pie tin and press with a flat-bottomed glass to evenly distribute the crust around the tin.
Bake in preheated oven for 10 minutes. Cool on a cooling rack.
Peanut Butter Pie
1 batch homemade peanut butter (above)
3/4 c powdered sugar
4 Tbsp butter, softened
1 tsp vanilla
1 Chocolate Animal Cracker Pie Crust (above)
1 c heavy whipping cream, divided
2 oz bittersweet chocolate, chopped finely
2 Tbsp sugar
Flaky sea salt, optional
Additional chopped chocolate, optional
Preheat the oven to 350F if it is not already at that temp.
In the bowl of your stand mixer, combine the peanut butter, powdered sugar, butter and vanilla. Beat on medium low speed with the paddle attachment, scraping down the bowl occasional, until thoroughly mixed.
Carefully pour the peanut butter mixture into the prepared Chocolate Animal Cracker Pie Crust. Smooth into an even layer using an offset spatula, and bake for ten minutes. Cool on a rack while you make the chocolate topping.
Pour 1/4 c + 1 Tbsp heavy whipping cream into a microwave-safe bowl. Heat in the microwave until bubbling, about 30 seconds. Add in the finely chopped bittersweet chocolate, and stir briefly to ensure the chocolate is submerged. Allow the mixture to sit for 3 minutes, then stir to combine.
Pour the chocolate over the cooling pie, and spread evenly. Refrigerate 1 1/2 hours until quite cold.
Just before serving, beat the remaining whipping cream and 3 Tbsp to stiff peaks. This works best with cream and tools that are all very cold – feel free to stick them in the freezer for a few minutes before whipping. Spread decoratively and deliciously over the cooled pie.
If you desire, sprinkle the pie with a little flaky sea salt and chopped chocolate.
Serve cold in very thin slices.