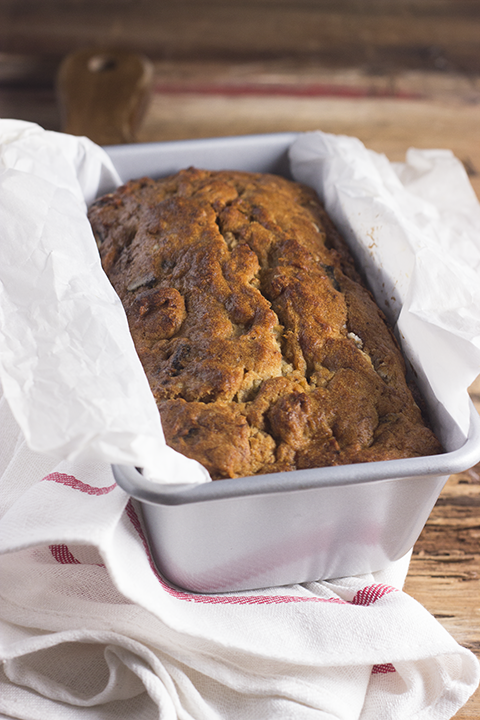 I struggle with banana bread.
Struggle in the way that I have never, ever, in the history of ever, had bad banana bread.
Struggle like, the struggle is really, really real when I go to the kitchen and somehow the loaf isn't gone and ok maybe I'll just have one more slice.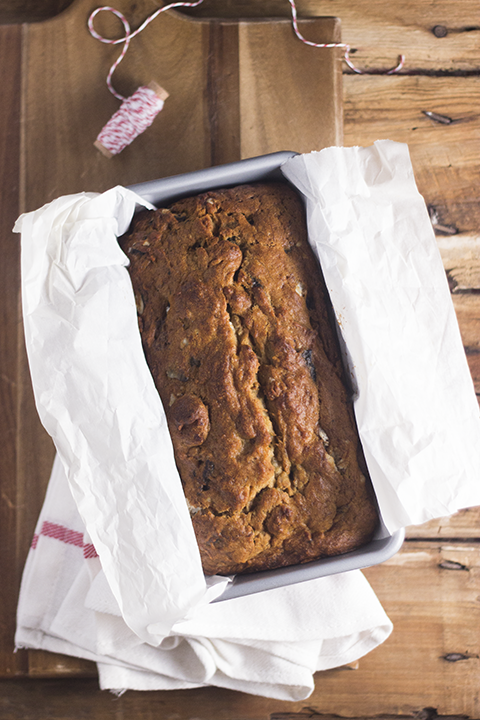 But no banana bread tops my Grandma's, whose recipe, I am just now realizing, I have not yet shared here… Guess I'll need to ask permission for that one… Anyway, to further tempt, she usually bakes hers in mini-loaves that are both cute and conveniently sized into a portion *just* small enough that you don't hate yourself when you, inevitably, eat the entire thing in one day. To top it off, she stores the plush loaves in the freezer, giving them the perfect chewiness and resistance with each melting bite.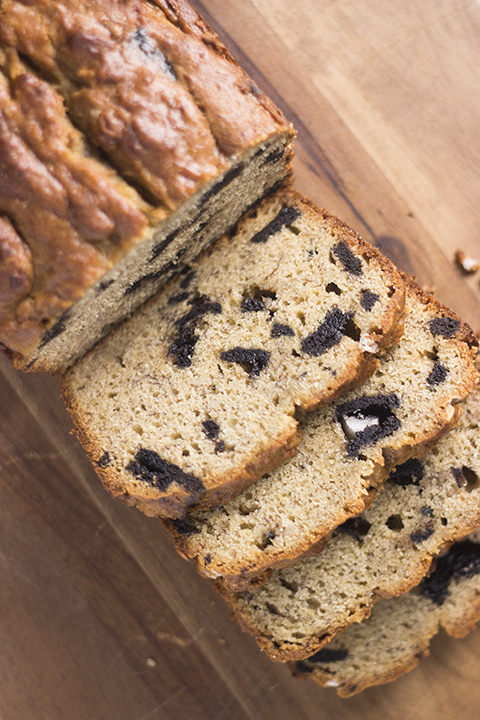 I've always appreciated that Grandma folds healthy handfuls of pecans or walnuts into most of her baked goods. As I've really dug my claws into this passion of mine, I can't help but assume that those tiny notes on her recipe cards are a big part of what has inspired me to experiment and test in the kitchen. Thanks, at least in part, to her, I'm always seeking out tiny changes – some unexpected and some not – to take kitchen creations to another level.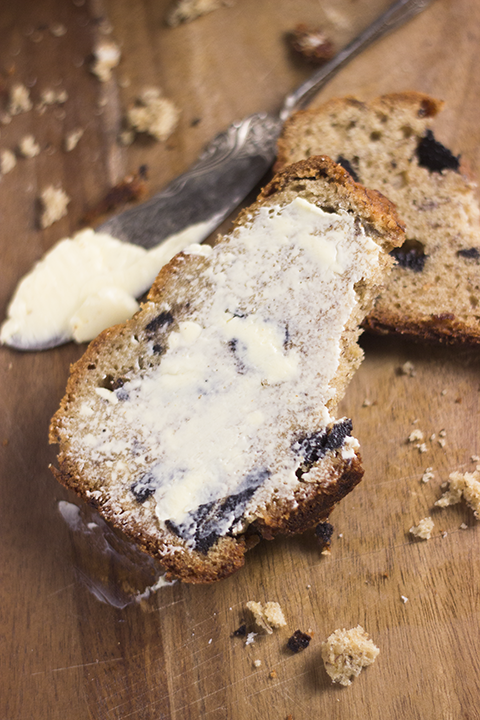 So, late last Monday when my expedition into the depths of the freezer left me pecan-less, I was optimistic instead of bummed. I'd forgotten that the nuts were long gone: toasted in a pat of butter, sprinkled with cinnamon and salt; goodness sealed with a heavy drizzle of honey before being laid to rest atop a banana cake that had been previously delivered to the office.
I changed course, as I find myself trying to do more actively lately, and found a recipe for peanut butter banana bread to use as a base. I know it's not much, but I made it my own in perhaps the most obvious way a person could: by readying a pile of crushed Oreos to sprinkle into the batter just before baking. And, you know, it's simple, but it's comfortable. It's not Grandma's, but it's still good – especially when served as Grandma serves hers: with a fat schmear of salty butter… Or oleo.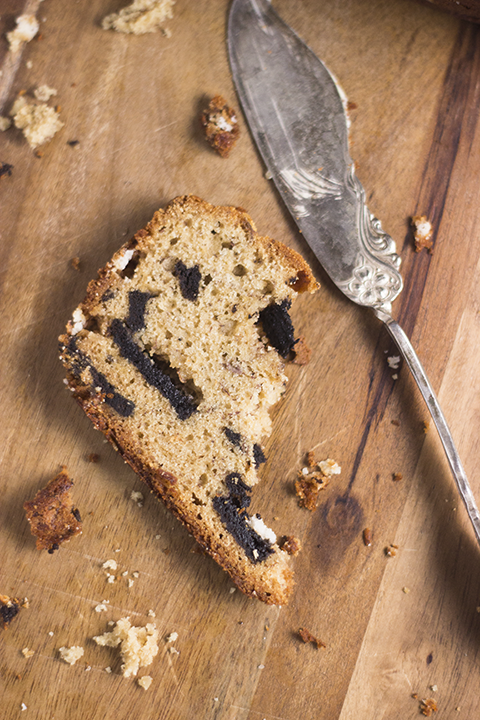 Peanut Butter Oreo Banana Bread
This recipe was inspired by this one from Panera Bread.
3-4 bananas (enough for 1 1/2 cups of mashed banana)
1 1/2 c flour
3/4 tsp salt
1/2 tsp cinnamon
1/2 tsp baking soda
1/4 tsp baking powder
1/2 c creamy peanut butter
1/4 c butter, softened
1/2 c sugar
2 eggs, room temp
1 tsp vanilla
10 Oreos, crushed
Set your oven to 350F. Oil and line an 8 x 4 inch loaf pan. Set aside. Line a small baking sheet with parchment.
Slice each banana lengthwise, then remove the peel. Place the halved bananas on the parchment lined sheet, and spray or brush with oil. When the oven has come to temp, roast until fragrant and juicy, about 15-20 minutes. Cool to room temp on a rack (or in the fridge… or your freezing cold garage). Meanwhile, prepare the rest of the ingredients.
In a small bowl, combine the dry ingredients. Set aside.
In the bowl of your stand mixer, cream together the peanut butter, butter, and sugar until light and fluffy. This should take about 10 minutes, and you should scrape the bowl occasionally.
One by one, add the eggs, mixing for about a minute after each addition and scraping the bowl well.
Beat in the vanilla.
When the bananas have cooled, mash them.
Add half of the dry ingredients to the batter, and mix to combine. Scrape down the bowl and add the mashed banana. Continue , in this manner, until all of the dry goods and mashed bananas have been added. Stir in the smashed Oreos.
Pour batter into the prepared pan and flatten the surface. Bake in the preheated oven about 40-50 minutes, until a toothpick in the center comes out with just a few crumbs attached. Cool on a rack for ten minutes, then depan onto the rack and cool to desired temp before serving.