The bread section at the grocery store always looked like an exotic library. Sealed behind glass doors, the loaves were neatly organized and cataloged. Some crusty, some soft, but all sharing one common characteristic: deliciousness.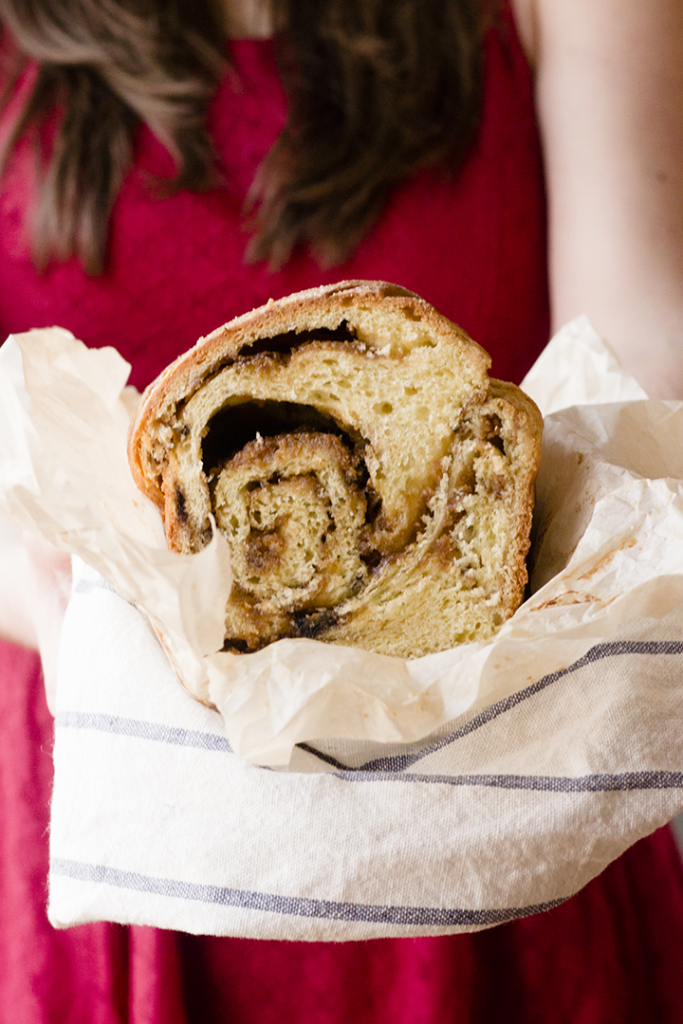 I'd often ponder the loaves while my parents shopped for less interesting things. The bakery counter nearby offered free cookies to wayward children – the doughy kind, studded with M&M's and chocolate chunks – so I'd retrieve one before making my way over to the cases. And, of course, I'd savor it, thoughtfully chewing as I read the neatly penned names. Some of them were easy to pronounce, but others… Not so much. Ciabatta, challah, brioche, and babka – I had no idea what they tasted like or were used for, but I did know that a peanut butter and jelly made on any of them would probably be a pretty tasty treat.
But still – they seemed too special. It was so rare that I'd see someone pull a loaf from the cabinet, and even rarer that I'd see my parents do so. When we did, it was often a farm loaf; something delicious – definitely different – but hardly "exotic" to the inquisitive taste buds of a girl growing up on Flannery's Funny Farm. From everything that I understood about its creation at that age, fancy breads seemed like puzzles that I'd never solve.
Scared, I was 100% content with the potato bread we bought in zip-tied bags in the bread isle.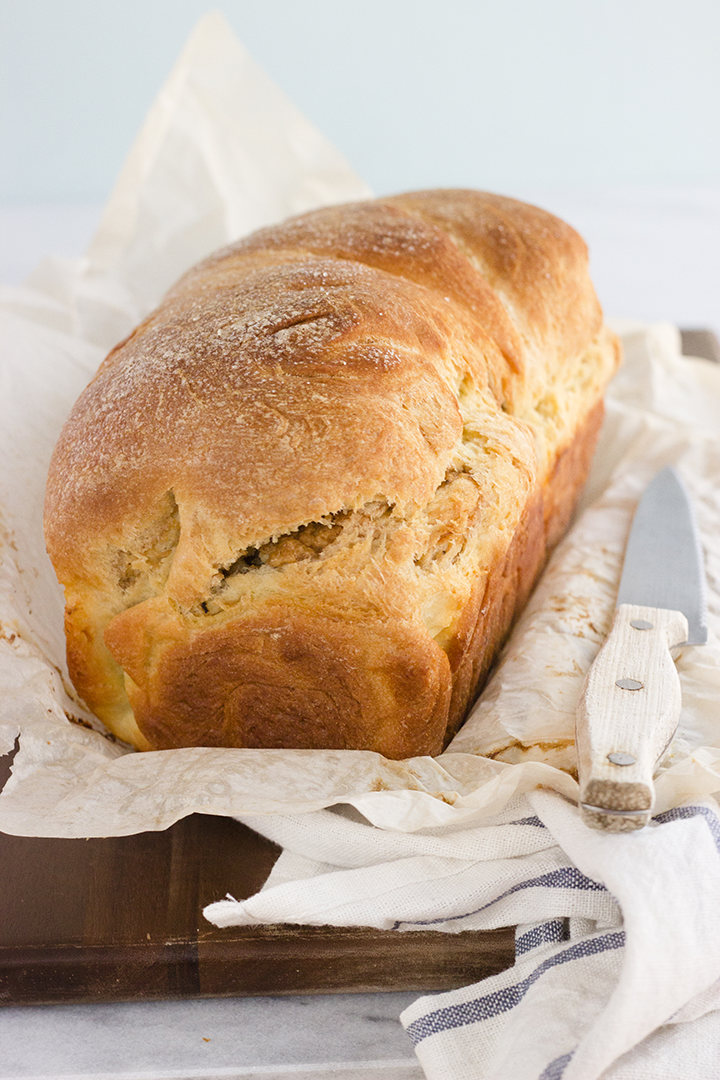 But, even so: as my interest in baking intensified: bread recipes seemed increasingly enticing. I was afraid to try making it, but I had to. I had to make bread.
Endless experimentation resulted in more than a dozen massacres of unsuspecting yeast colonies, but my family assured me that it was the fault of the yeast – not me. I'm guessing now that they were probably just optimistic that if they encouraged me, I'd eventually make something edible. Whatever their intentions were: I tried. I made dozens of flat, dense, floury cinnamon rolls before finding my first partial success in a pair of French loaves. Overzealous and eager, I joyfully – accidentally – let them rise well beyond their limit, only to watch them deflate tragically as the gluten gave out.
It took time, but I did eventually get the hang of it. Of course, I'm still no master, but I felt pretty accomplished and secure when the cinnamon rolls I was making a few summers back sold out every weekend at the farmer's market. It's probably partially a credit to my stubborn streak, but I'm happy to be able to look at a recipe with yeast in it now and see it as a challenge instead of an impossible feat.
I don't think I'll ever be the kind of person that makes a loaf of bread every week, but I do enjoy making one or two for special occasions – or when I want to make something particularly rewarding! In all honesty, overcoming my fear of yeast is my proudest baking accomplishment, and I'd be delighted if one of my recipes could help someone else to overcome their fear as well.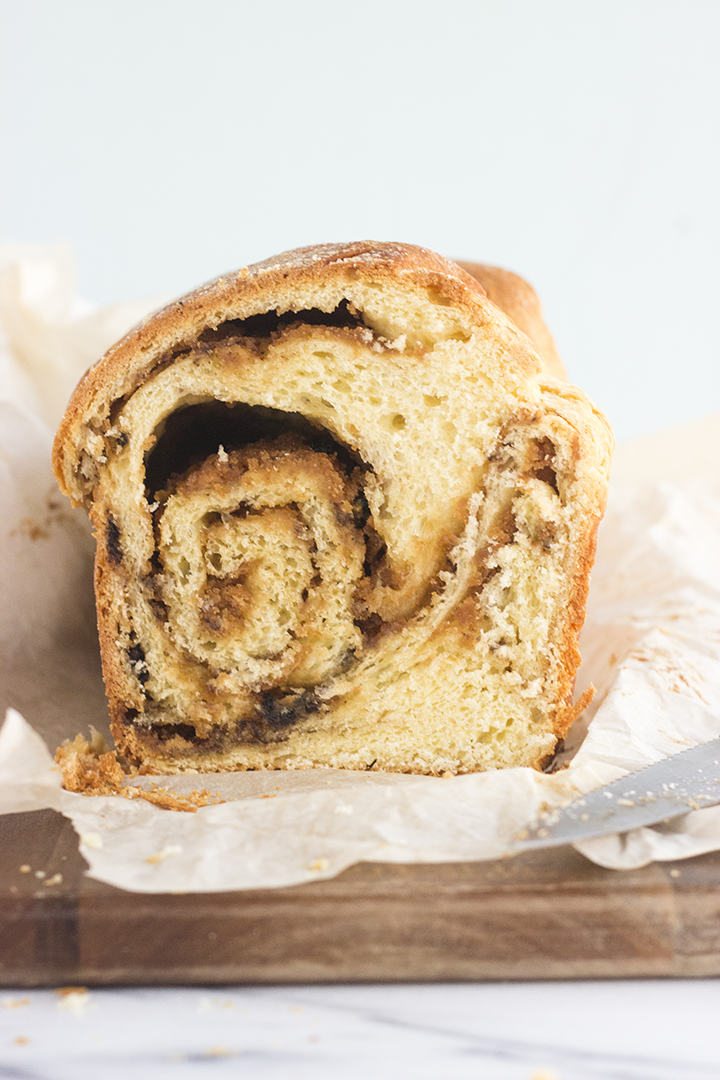 I promise: making bread isn't as scary as it may seem. Even if you mess up – just toast it and add some butter. No one will complain.
Peanut Butter and Oreo Swirl Brioche
This brioche is based on the one from the Huckleberry Cafe cook book – I've been dying to try it with blueberries, but I can't get decent ones here quite yet, so I've been experimenting with other fillings. Like I said, I'm no pro: based on the way the bread gapped, I added a little too much filling…. but who cares? It tastes great 🙂
2 Tbsp warm water
1 Tbsp active dry yeast
1 c + 2 Tbsp (280 g) AP flour
1 c + 2 Tbsp (280 g) bread flour
2 1/2 Tbsp (80 g) sugar, divided – plus more for sprinkling
1 tsp salt
3 eggs, room temp
1 egg yolk, room temp
1/2 c + 2 Tbsp (140 g) butter, softened
~1/2 c smooth peanut butter
~1/2 c Oreo Brittle
Egg Wash
2 egg yolks
2 Tbsp cream
Slightly warm the water according to the instructions on your package of yeast. 105-110 should be perfect – it should just feel slightly warm to your fingertips. You can easily get water this temperature from the faucet, so don't feel like you have to microwave or otherwise heat it. Place the water in the bowl of your stand mixer and sprinkle over the yeast and about 1/2 Tbsp of the sugar so it has something to eat. Let stand for about 5 minutes until foamy and fragrant.
When the yeast has woken up, add the flours, remaining sugar, salt, eggs and yolk to the bowl. Mix until it comes together, 1 to 2 minutes.
Increase the speed to medium and knead for approximately 6 minutes, scraping the bowl after every minute. It should, eventually, pull away from the bowl and look quite smooth.
At this point, reduce the mixer speed to low and slowly add the butter, a little at a time, over the course of 2 minutes. Pause, again, after 1 minute to scrape down both the bowl and hook. Pay careful attention to the bottom of the bowl – make sure that dough mixes in as well! When the butter is well incorporated, increase the mixer speed to medium-high to bring the dough back together, 5 to 6 minutes longer
Oil a large bowl and set aside.
Lightly dust your counter with flour and turn the dough onto it. Pull the dough together into itself, forming a tight ball, and place it into the oiled bowl. Spray the dough with cooking spray and press plastic wrap to the surface. Let rise for about an hour, until doubled in size (another way to check is to lift the plastic wrap and poke the dough – if an indentation remains, you're ready to move on. If not, let it keep rising).
Oil a 9 x 5" loaf pan. Set aside.
Turn the dough out again onto your flour-dusted counter. Gently press it into a rectangle roughly 16-by-10-in. Don't worry if it's not perfect! Position the dough vertically, with a short side nearest you. Spread with peanut butter and sprinkle with the Oreo brittle. Roll tightly down toward you, forming a log. Gently place into the oiled loaf pan. Spray again with pan spray and cover with plastic wrap. Allow to rise again for about an hour, or until an indentation remains when the dough is pressed. The dough should double in size.
Prepare the egg wash by mixing together the egg and the cream in a small bowl. Preheat the oven to 350F.
When the dough has risen fully, brush with the egg wash and sprinkle with sugar. Bake until golden, about 40 to 45 minutes. Cool for about 15 minutes in the pan, then transfer to a cooling rack. Allow to cool fully before slicing.