Grown-up camping is great.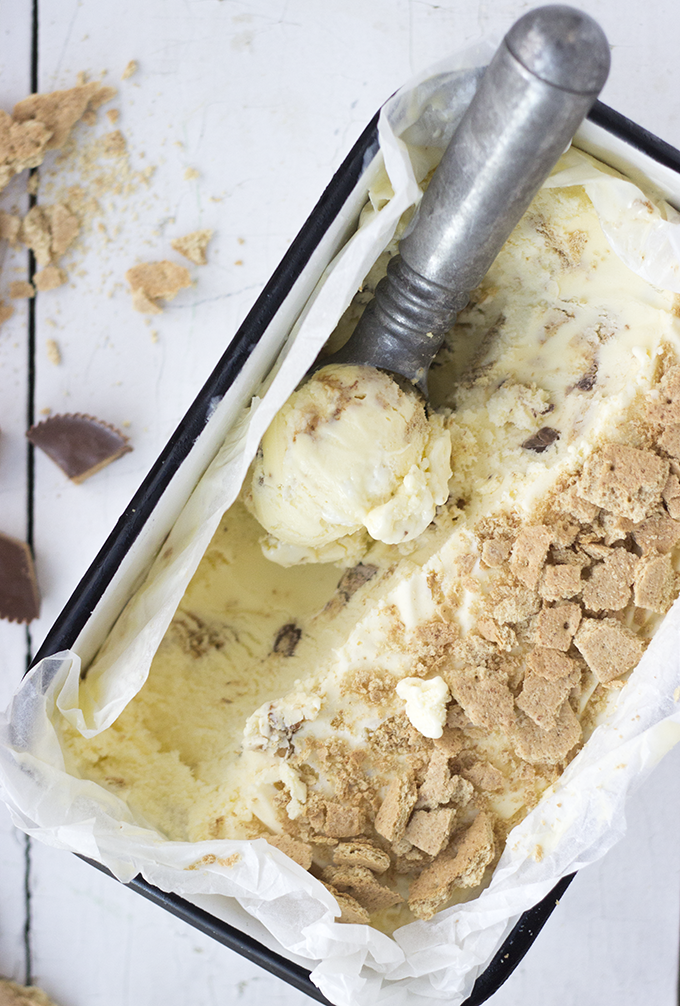 It made me realize that I'm capable of eating Sour Patch Kids for lunch, quesadillas for dinner, untold quantities of fire-roasted delights for dessert and snacks and even breakfast – and can come out of it feeling nothing short of proud.
Somewhere in there, I might even pour a malt beverage into an empty Arizona Iced Tea because even though I'm totally cool and chill, I'm not supposed to drink at the campsite or the beach but like… c'mon. 'murica, right? I mean, not that I would do that, but… It's an idea. Someone's probably done it before maybe.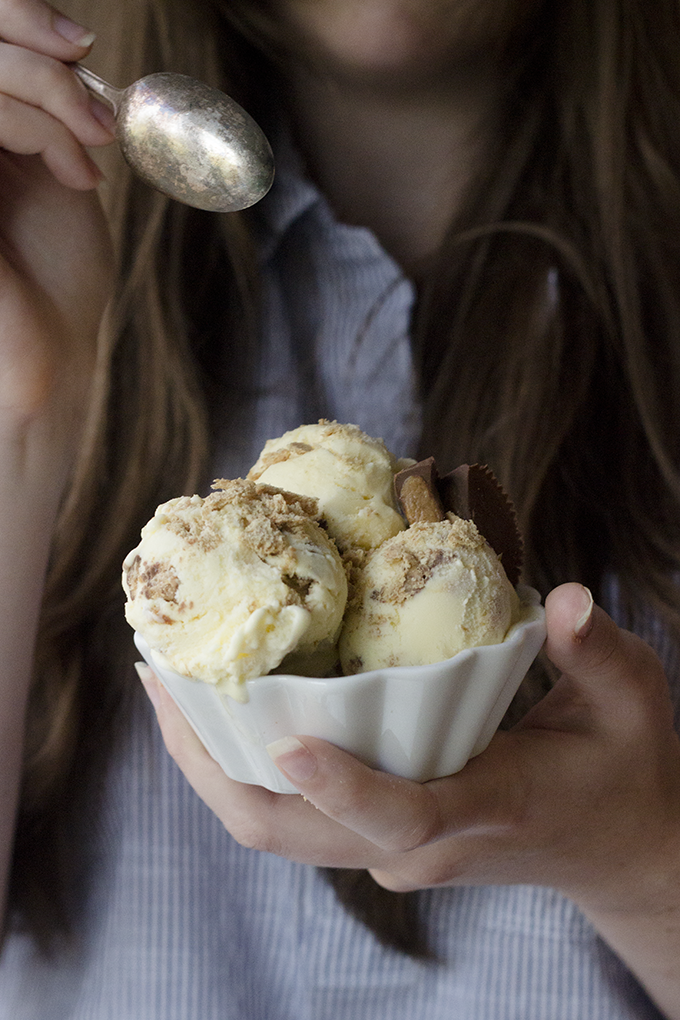 It also opened my eyes to a new kind of cooking, which is pretty great. Did you know you can make eggs and bacon over the fire? Or delicious mix-and-match meals wrapped in foil on the friggin' coals?
Because I didn't. That was new and exciting and delicious discovery.
But the most wonderful discovery of the entire weekend was not to be found sizzling in a cast iron pan or bubbling in a foil pouch – but on a stick.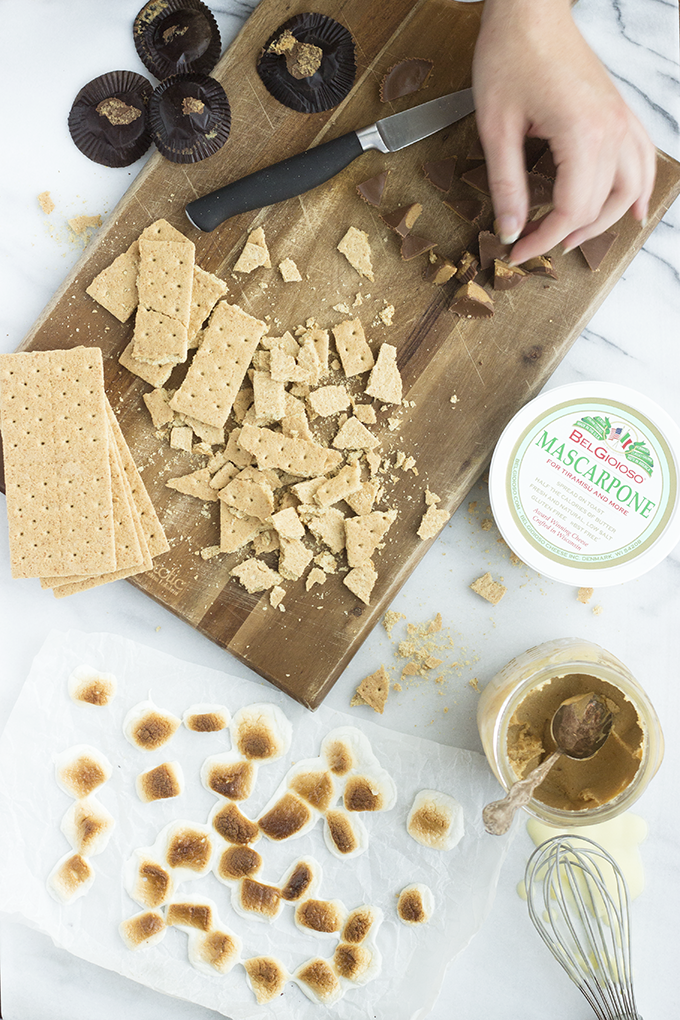 Before I continue, I've gotta know: have you heard of a s'meeses? Because this is a game changer here, folks. It's a s'more, but instead of gross, plain-old, cheap chocolate, you unwrap a single Reese's (they're not paying me to say this) and use that instead. If you really want to take it a little further, ask a friend to glue it to the graham cracker with a schmear of creamy peanut butter while you roast your marshmallow.
What results is a treat more wonderful and amazing than any s'more you've ever had. Less sweet, a teeny bit salty, and all tasty. Everyone say thanks to Miss. L for introducing me to this unforgettable delight.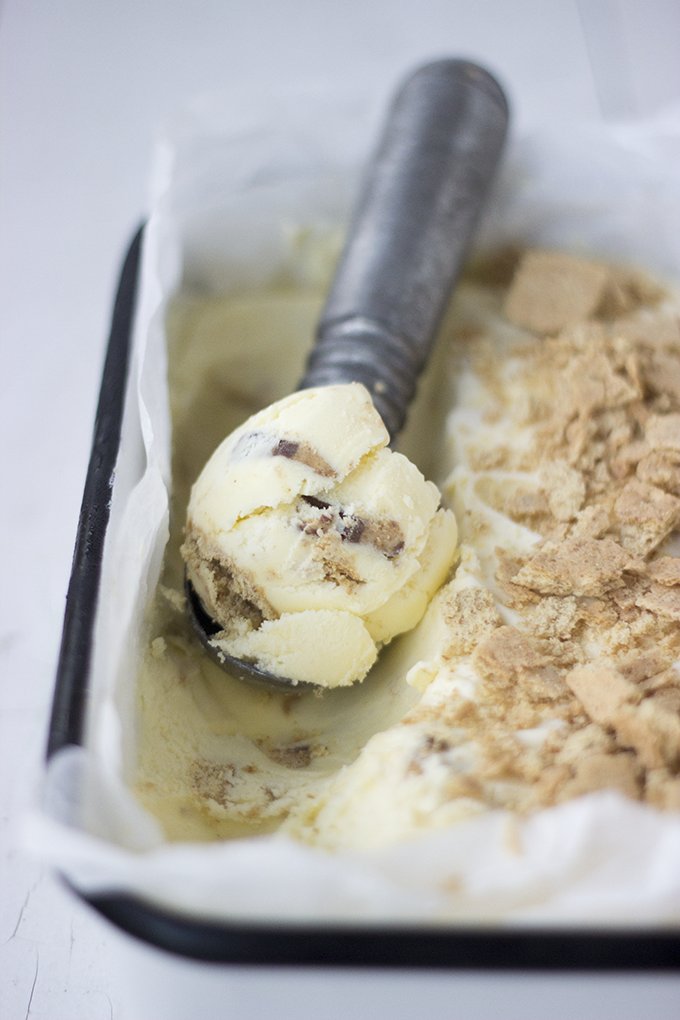 The s'meeses is a very welcome "something different," making it perfect for this ice cream, which is a little unique itself. You see, Wisconsin Cheese is hosting a contest in preparation for the upcoming Food and Wine conference, and they've asked entrants to create easy, cheesy, summer recipes for their consideration. So, of course, I got to thinking on a sweet and refreshing cheese-based dessert to carry me through the summer, and I came up with this. I imagine it paired next with sweet roasted strawberries – and raspberries after that – but, for now, the lovely mascarpone base serves as the perfect canvas for a freezer-ready reincarnation of a new summer staple.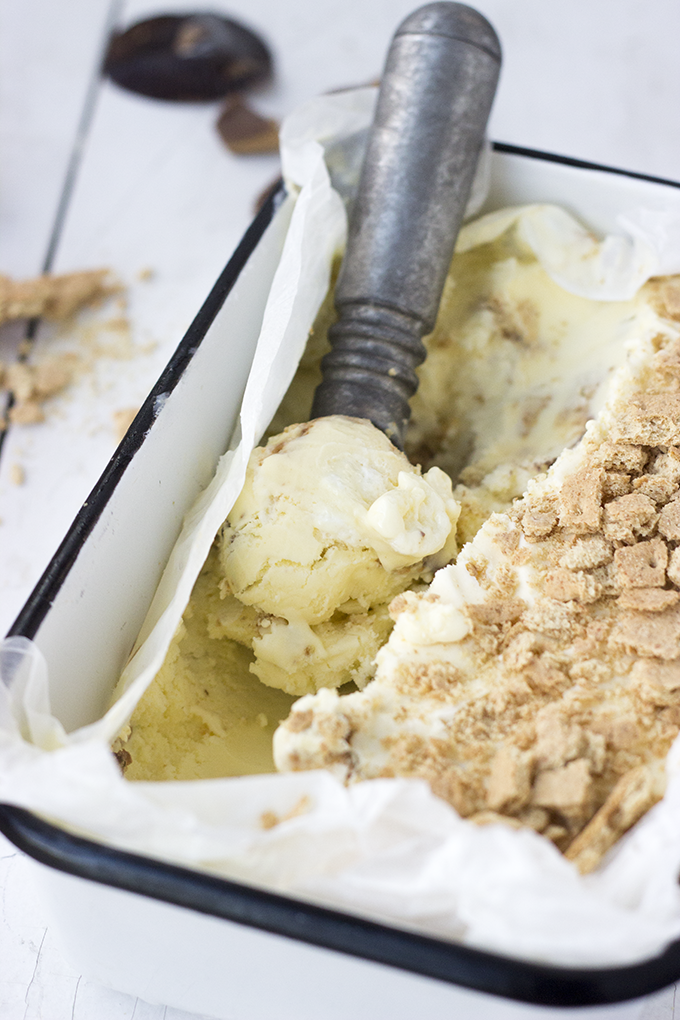 It might sound surprising, but mascarpone really adds something special to ice cream. It makes it taste, magically, creamier than actual cream – which was a really lovely surprise! Its inclusion leads to a thick, indulgent concoction, which is everything I need to escape the terrible heat and humidity this week has brought upon us.
Basically, don't be afraid. Add cheese to your ice cream, then blend in some chocolatey, peanut buttery, marshmallow-y, graham crackery goodness.
You'll thank me. And L for being a genius and telling me about S'meeses in the first place.
Happy summer.

S'meeses Mascarpone Custard Ice Cream
The mascarpone is this recipe's secret ingredient, making the ice cream ultra rich and tremendously creamy. The mix-ins are remnants of a new summer tradition - one that I hope you'll love just as much as I do!
Ingredients
8 egg yolks
8 oz sugar
2 c whole milk
1 c heavy cream
1 (8oz) container mascaspone cheese (I used Belgioioso)
½ tsp salt
20 mini marshmallows
1 tsp vanilla
5 graham crackers, crumbled
6 peanut butter cups, chopped roughly
Granola, to serve
Method
In a medium-sized bowl, whisk together the yolks and the sugar. Set aside.
In a saucepan, combine the milk and cream. Bring to a bare simmer, stirring occasionally. When the liquid begins to bubble, use a ladle to scoop about ½ c of the hot liquid into the yolks, whisking while pouring so the yolks don't curdle. Scoop in another ½ c, whisking to combine, then pour the eggy mix back into the saucepan on the stove.
Whisking constantly, continue cooking over medium heat until thickened, about five minutes. The custard should not run if you dip a wooden spoon into the pan and run your finger in a straight line through it. Pour the cooked custard into a large bowl, and whisk in the mascarpone and the salt. Press a sheet of plastic wrap directly onto the surface of the custard. Refrigerate overnight, or at least 8 hours.
About an hour before you are ready to freeze the custard, place the marshmallows on a sheet of parchment paper with plenty of room between. Place under a hot broiler and let cook until golden brown, about 4 minutes. Let cool until the pan is comfortable to move without an oven mitt, then place in the freezer.
Pour the chilled custard into your ice cream maker along with the vanilla. Churn according to the manufacturer's directions. in the last minute, peel the frozen marshmallows off the parchment and drop into the ice cream maker along with the graham cracker crumbs and peanut butter cups. Let churn to distribute, then freeze, sealing tightly with plastic wrap, until solid, about 4 hours.