All my life, I thought fruit turnovers were those nasty fruit pies they sell in checkout aisles.
Up until Friday, in all of my 24 years, I've had none of the former, and – I think – two of the latter. Both, I'm assuming, gifts from my sweet grandparents; lovingly undermining my parents' "no sugar for the kiddos" policy on a weekend away.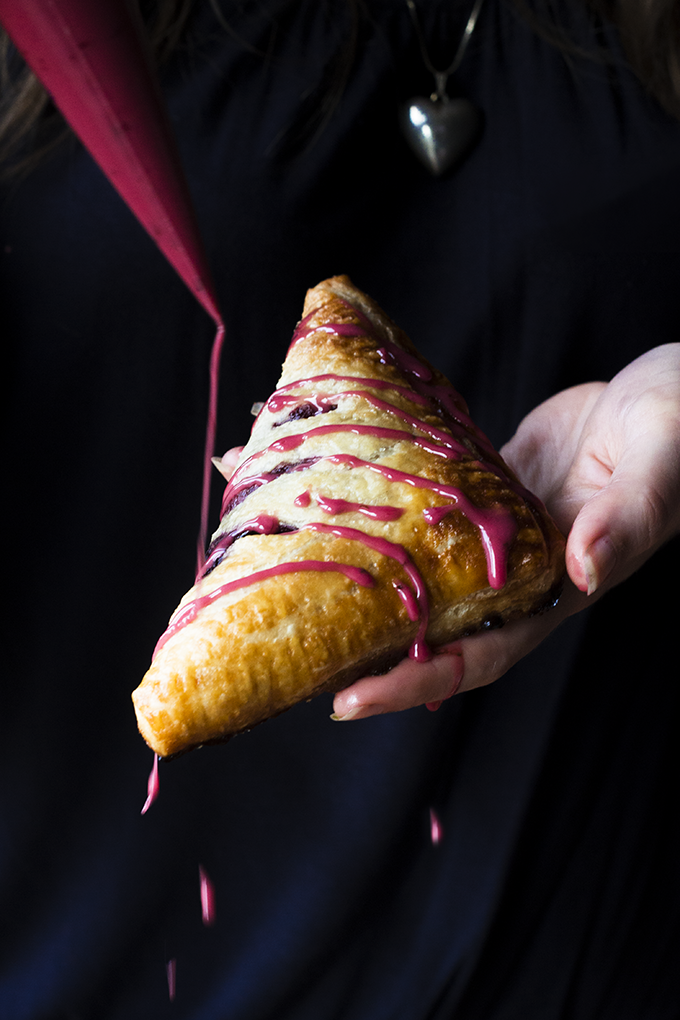 I remember being fearful over having to ask for assistance in opening the flimsy blue and white wrapper, and hesitantly relinquished the package back into the control of my grandparents. I saw the little pastries in the checkout at the grocery store every week and I was so excited to finally try one. Now that I had the chance, I was terrified they would change their mind. Lucky for me, the pastry was returned – gently and without question – to my tiny eager hands, and I took the biggest bite I could muster.
And man, it was gross. The uncomfortably tender crust was somehow more enticing than the unpleasantly gloppy fruit filling within. I made a mess peeling it apart and trying to eat only the glaze-enrobed portions, and threw away all that remained. Which was kind of a lot.
I'd been so spoiled by both of my grandma's homemade pies on the special occasions that they made them, that this crap tasted like garbage.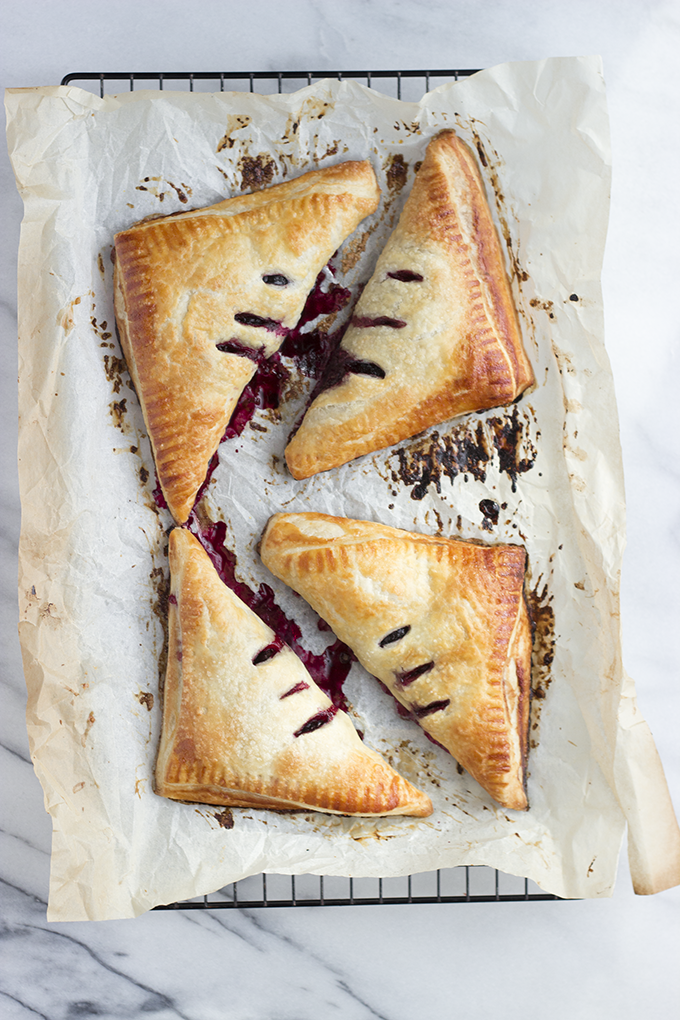 Having mistakenly labeled them as turnovers, I never wanted another – packaged or otherwise – in my life. I just didn't get the appeal.
Of course, that all changed when I realized that a real turnover was nothing more than puff pastry, fruit, and a dab of sugar. THAT was the kind of thing I could get behind.
And, as much as I love the idea of homemade puff pastry, I love the idea of a shortcut puff even more because, hello, it's summer and my kitchen is a hot, uninhabitable place. Particularly when I've been spending my evenings seasoning and re-seasoning my collection of poorly-cared for cast iron pans in a 450F oven.
Gross.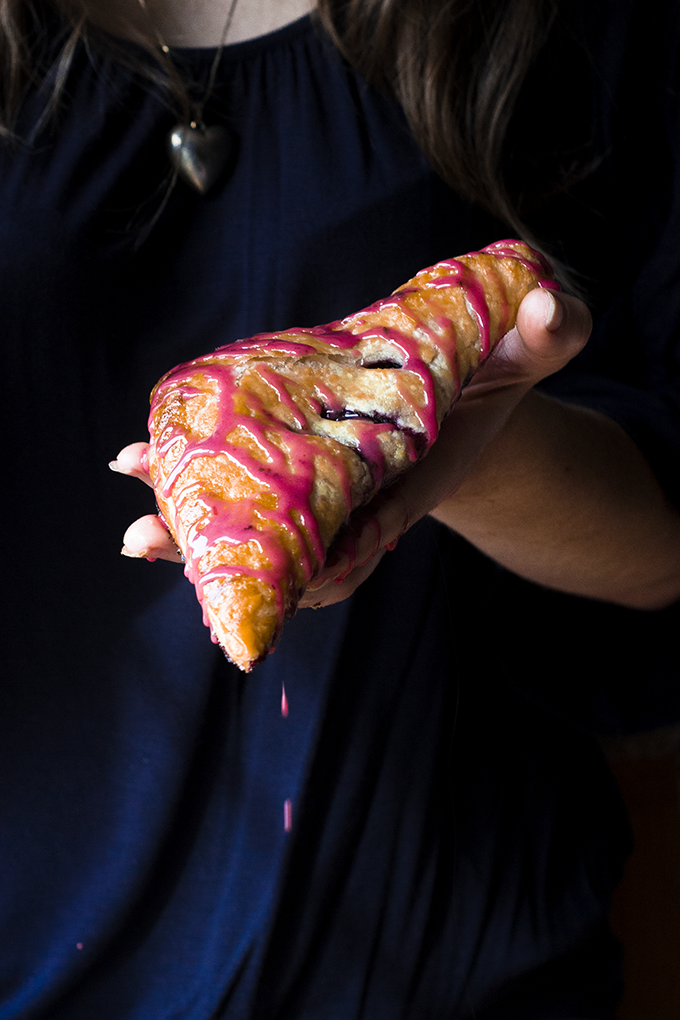 But, not gross: cheater (rough) puff, sweet cherries, sugar, and limes. No unpleasantness here, good friends. Only delicious, buttery, juicy perfection.
Bite after bite.

Cherry Limeade Turnovers
These are so quick that you can turn them out from scratch (even the pastry) in a single evening with just a few breaks. If your kitchen is hot, plan on allowing more time for chilling the dough in the fridge.
Ingredients
Rough Puff
250 g flour, cold
280 g European-style (I like Plugra) unsalted butter, chilled and diced
½ tsp fine sea salt
120 g ice-cold water
Cherry Limeade Filling
⅓ c sugar
Zest of 1 lime
1 Tbsp Lime juice
1 12-oz bag frozen & pitted Cherries
Egg Wash and more
1 egg yolk
2 tsps water
Sanding sugar
Confectioner's Sugar
Method
Make the Rough Puff
Put the chilled flour, butter, and salt in the bowl of your food processor. Pulse just a few times until the butter is evenly distributed and pea-sized. Open the food processor and pour the water as evenly as you can over the surface of the butter and flour. Put the lid back on and pulse until it comes together.
Turn the dough onto a lightly floured counter and shape into a square. Roll into a rectangle about 20" in length. Fold the dough in thirds, like you would a letter. Turn ¼ turn and roll out, again, into a 20" long rectangle. Repeat this twice more, lightly dusting with flour as necessary, for a total of four turns. Wrap the dough in plastic wrap and refrigerate for at least one hour before continuing. If the dough seems at all warm or feels greasy during the process of folding, wrap in plastic wrap and refrigerate 15-30 minutes before continuing.
While the dough chills, prepare the Cherry Limeade Filling.
Place the sugar in a medium-sized bowl with the lime zest. Rub the zest into the sugar between your fingers to release the oils. Continue rubbing in the zest until the sugar looks like wet sand. Add the lime juice and cherries, stirring to coat. Let set at room temperature while you roll the rough puff.
After the rough puff has chilled sufficiently, roll into a rectangle 8" x 16". Using a pizza cutter, cut into 8 4" x 4" squares. Brush two of the sides with water, and place 5-6 cherries and a little juice over one half of the square, leaving a border to seal. Fold over, crimping with a fork. Repeat for each of the 8 squares, transferring to a parchment lined baking sheet. When all turnovers have been sealed, use a pair of kitchen shears to cut 3 slits in each of the pastries. Place sheet trays in freezer, and reserve any remaining cherry juice - this can be used for a cherry-flavored glaze.
Set your oven to 375F as the pastries chill for a final time. Prepare the egg wash by lightly whisking together the egg yolk and two tsps of water. When the oven comes to temp, lightly brush each turnover with the egg wash and sprinkle liberally with the sanding sugar, if desired. Bake until golden and puffed, 30-40 minutes. Some juice will escape the turnovers and potentially burn - don't worry; your pastries are safe!
Cool the cooked turnovers on a rack, and prepare a glaze while you wait by adding confectioner's sugar, a little at a time, to the remaining cherry juice. Continue whisking and adding more sugar until you are happy with the consistency), then drizzle over the cooled turnovers.