I happened upon Jeni's Splendid Ice Creams by chance.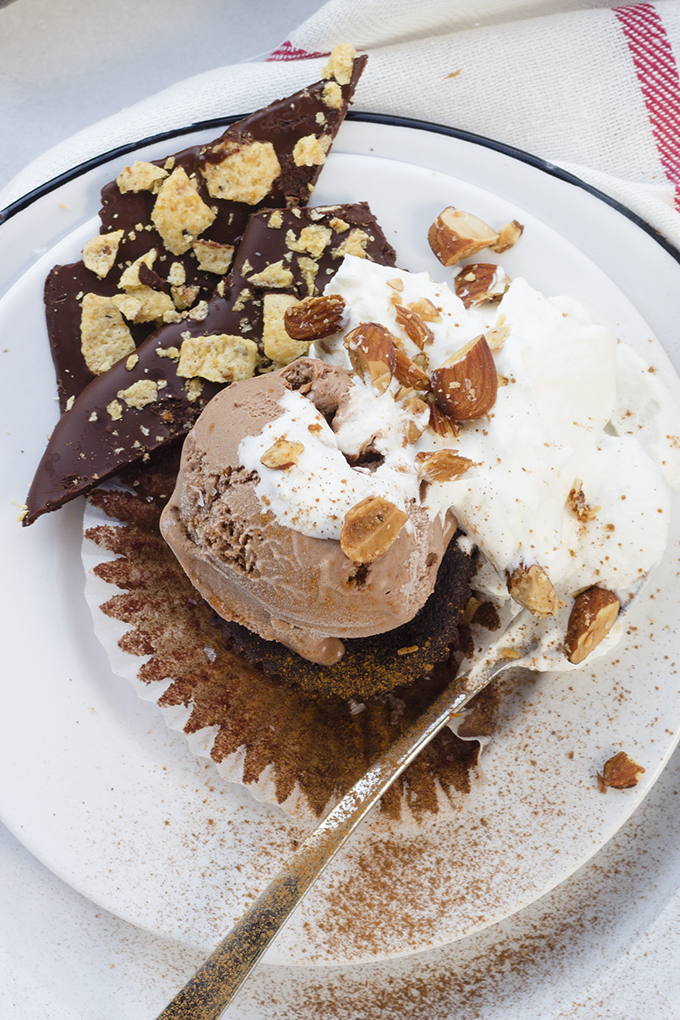 I was interning at a creative agency at the time, and, though I'm no designer myself, I was slowly becoming aware of what was considered "good" when it came to print. This made book shopping a new experience for me, which made me particularly excited to get my hands on Jeni's first book. I was thrilled to recognize, for the first time outside of our office, that something REALLY had "it," and I eagerly – but gently – flipped through the first couple of pages.
It took no time at all before I was enamored. Not only is the book beautifully designed, but I felt that I could hear all of the recipes – each of which is accompanied by a photo of a single scoop of ice cream atop a lovely vintage spoon – crying for me to give them a test drive. The writing throughout is sincere, and the page layouts are so thoughtful. I didn't fight the urge, but I knew immediately that there was no way that I could leave the store without the book in my hands.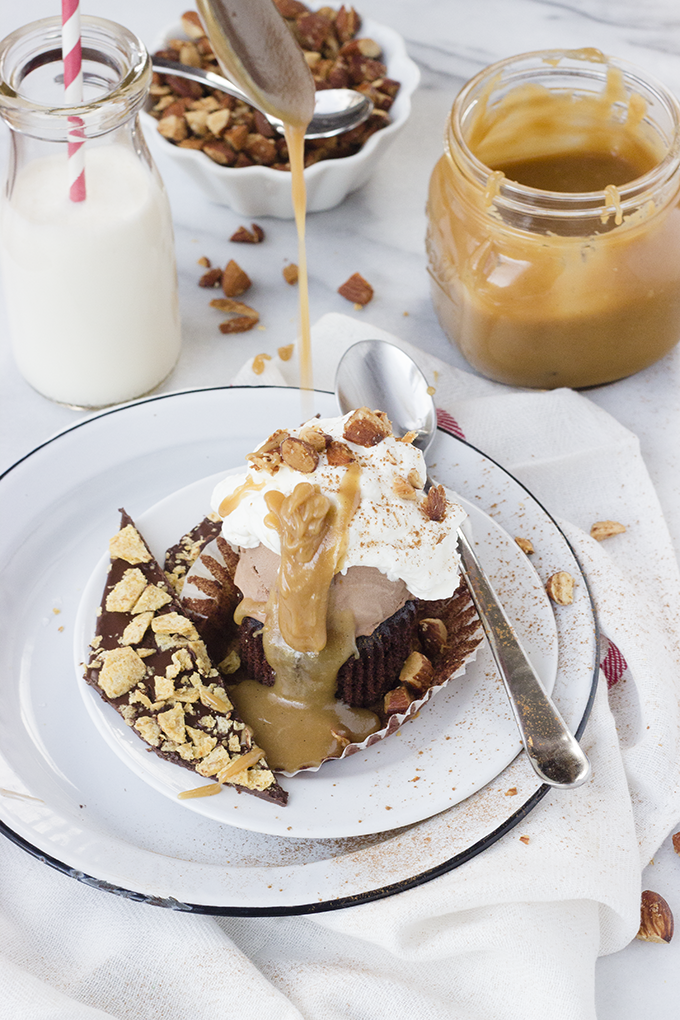 It's been a few years since that purchase, and I'm happy to say that it's probably the most often-consulted cookbook I own. I love what the cornstarch and cream cheese in her trademark ice cream base do for the texture – which is luscious – of the finished product. The recipes are quick to prepare – and simple too – but never to a fault. Despite the ease with which her creations come to life, they're never lacking in flavor or imagination. Each component is a home run, every. single. time.
I don't know Jeni personally, but reading the stories that she and her contributors weave across the pages sorta make me feel like I do. Working cover to cover, and seeing her continue to receive well-deserved praise in the media, just fills me with joy – like the excitement you feel when you see an old friend post about a new job or an engagement on Facebook. Is that weird? I hope not.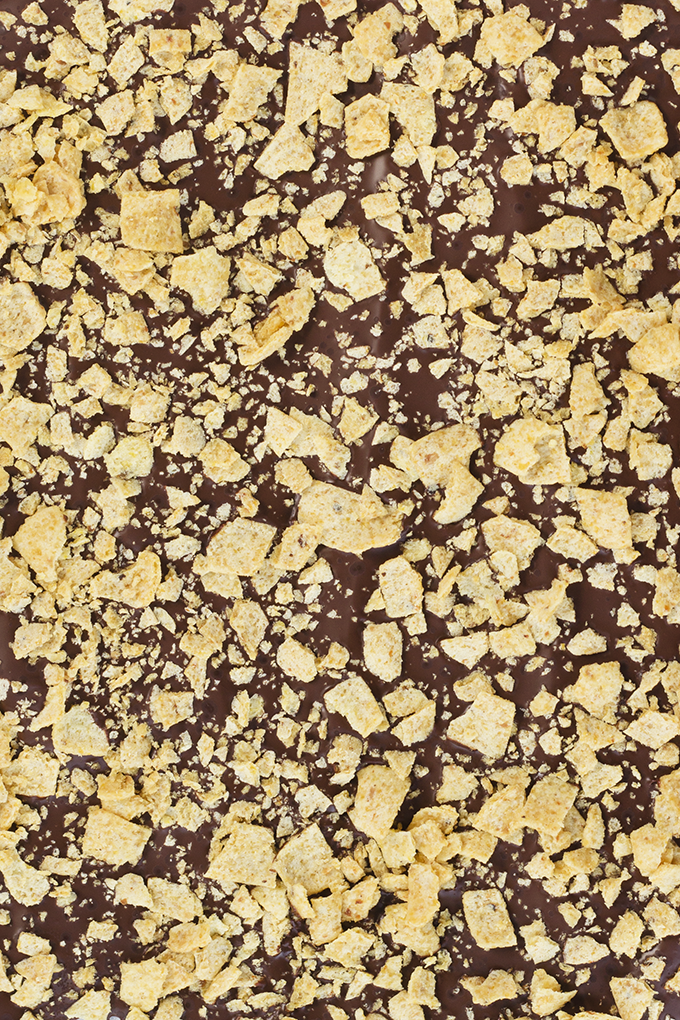 I've been thrilled to see her business growing over time, and can't wait to make a trip down to Chicago to try "the real deal" at their newest location.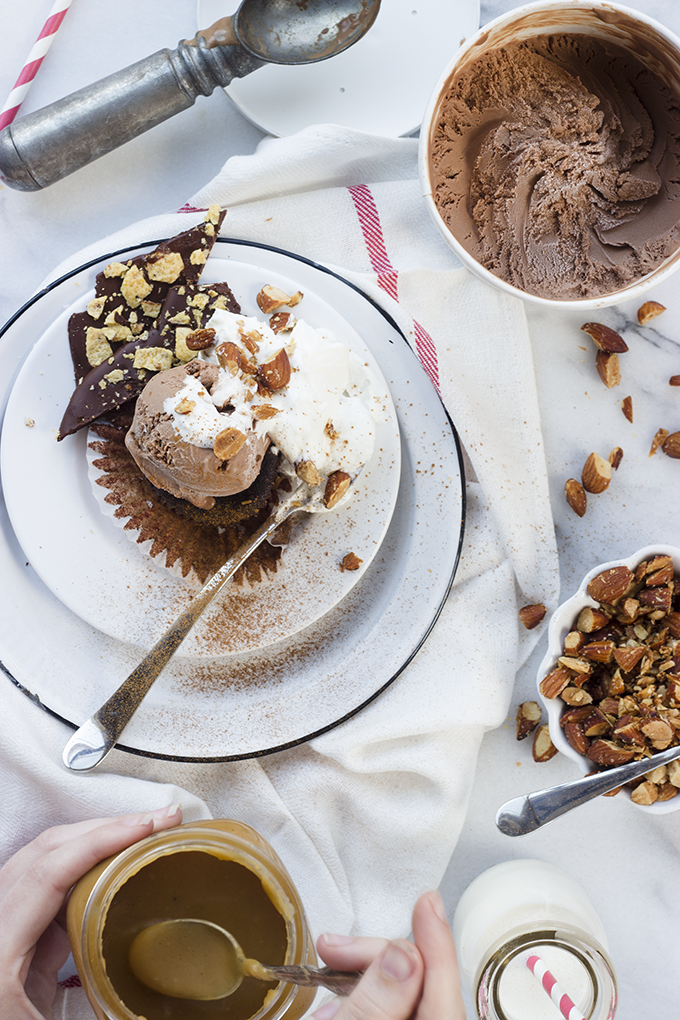 Recently, and quite unfortunately, there were a couple challenging PR cases that the company had to handle. I have to say, I was MAD impressed with how they went about it. Their transparency through discovery of listeria in their production facility, voluntary recall, temporary shut down, inspections, improvements, and reopening was really inspiring to read. They kept fans up-to-date across social media, all the while maintaining their trademark style – which isn't something I've ever seen before. I don't *technically* work in public relations, but I work closely enough with that department on a day-to-day basis that I can't say enough how impressed I was with their control over the situation. To maintain brand image and tone through such a difficult series events was seriously mind blowing. I'm not exaggerating that I did a little cheer for the company every time I saw an update scroll across my screen. Awesome job, crew!!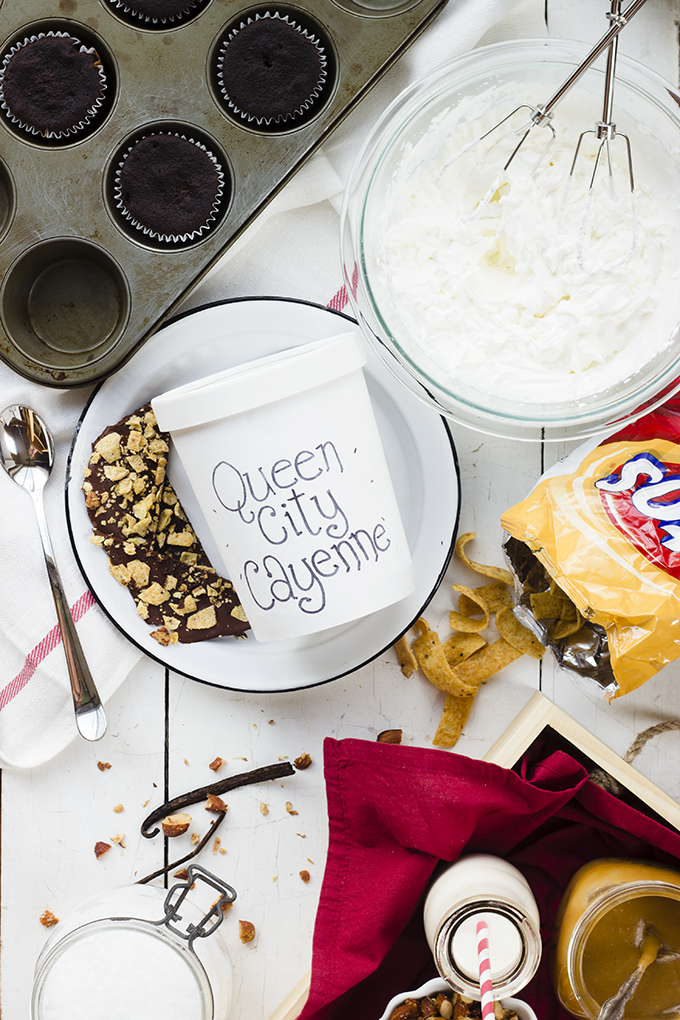 To top it off with a cherry, because life is a sundae (or something): Jeni was recently interviewed by the editors at Food and Wine, and she gave some of the greatest life advice I think I've ever read. I really recommend going to read the whole article (it won't take you but a minute), but my favorite line from it all is the final [roughly paraphrased] thing she said in response to the prompt: "what advice would you give your younger self?"
"I didn't follow my heart. I worked my ass off instead."
Isn't that just the most baller thing to say?! Seriously, I have a new hero, and it is everyone at Jeni's.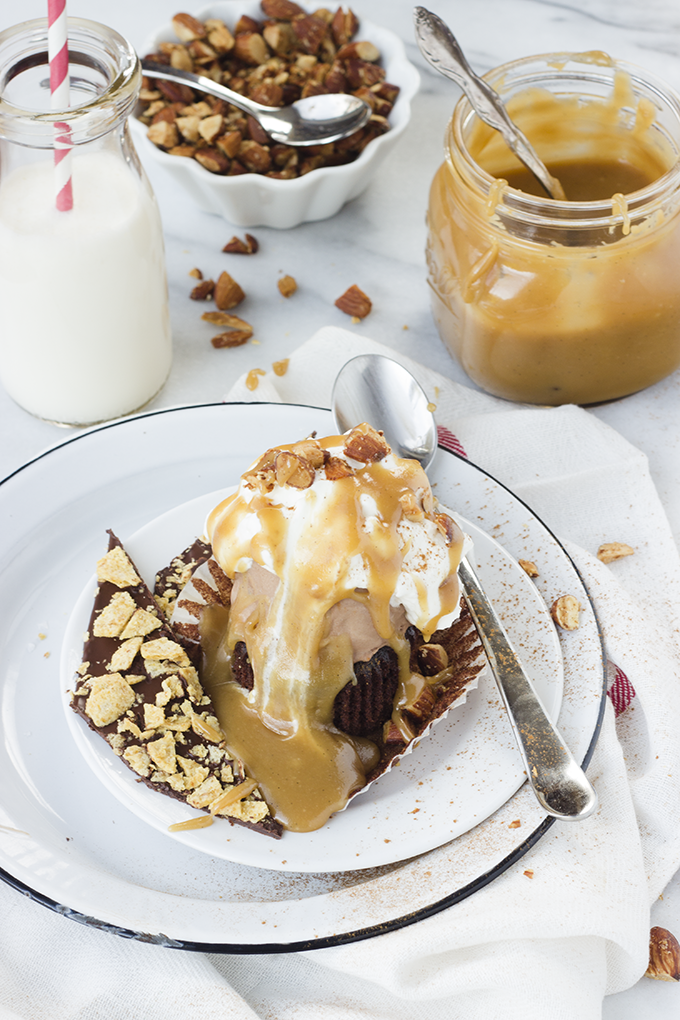 I was already itching to do a post about this topic when I came across Stefani's announcement of this year's 2015 Cupcake Project and Cuisinart Ice Cream Cupcake Contest. The timing couldn't have been better, eh? I'm not sure I'm totally eligible since the bulk of this recipe is Jeni's creation, but hey – I'm at least happy to spread the word about both Stefani's and Jeni's awesomeness! I say that you run out and buy one of Jeni's books (I only own Jeni's Splendid Ice Creams at Home (affiliate link) at the moment, but I don't doubt her second and third books are just as incredible!) and then get inspired to make your own ice cream cupcake to enter Stefani's contest 🙂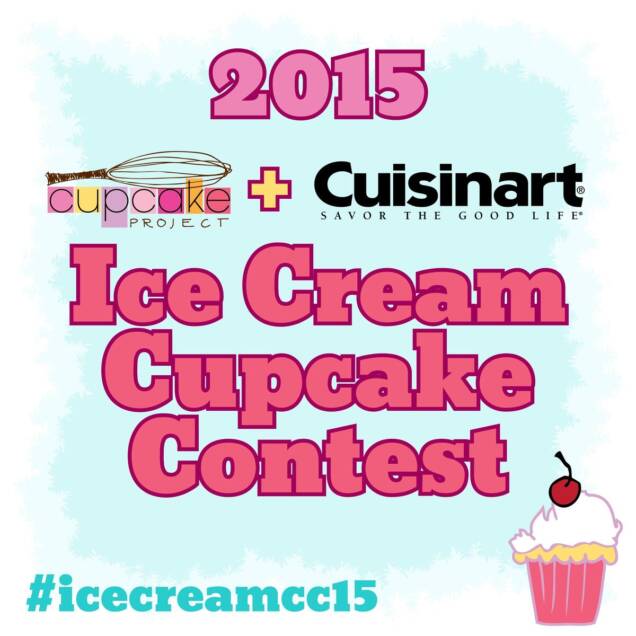 Chocomole Ice Cream Cupcake Sundae
It's salty, sweet, chocolatey, caramely, and spicy - what more could you want?! The differences in textures, flavors, and temperatures are sure to drive your tastebuds wild. This will make about a dozen cupcake sundaes, with extra ice cream to keep you going.
Author:
Mostly Jeni Britton Bauer
Ingredients
Queen City Cayenne Ice Cream
For the Chocolate Paste
⅓ c unsweetened cocoa powder
⅓ c sugar
⅓ c water
1½ ounces (43 grams) bittersweet chocolate 55% to 70% cacao, chopped
1½ ounces ( grams) cream cheese, softened
⅛ teaspoon fine sea salt
For the Ice Cream Base
2 cups whole milk, divided
1 Tablespoon + 1 teaspoon cornstarch
1¼ cups heavy cream
⅔ cup sugar
2 Tablespoons light corn syrup
½ teaspoon ground cinnamon
⅛ teaspoon cayenne pepper, or to taste
Chocolate Cupcakes
⅔ c (83 g) flour
3 Tbsp (16 g) unsweetened cocoa powder
¾ tsp baking soda
¼ tsp cinnamon
⅛ tsp cayenne
⅛ tsp salt
¼ c (59 g) butter, room temp
¾ c (106 g) brown sugar, lightly packed
1 egg, room temp
½ tsp vanilla
⅓ c (76 ml) sour cream, room temp
⅓ c (76 ml) hot coffee
Chocolate Frito Crunch
8 oz bittersweet chocolate, chopped
2 Tbsp ground fritos
Salty Buttered Almonds
¾ c chopped almonds
1 Tbsp butter, melted
½ tsp fine sea salt
Praline Sauce
1 c cream
½ c light brown sugar
½ c dark brown sugar
¼ vanilla bean, split, seeds scraped out, seeds and bean reserved
⅛ tsp fine sea salt
½ tsp vanilla
Whipped cream, to serve
Cinnamon, to serve
Method
Make the Queen City Cayenne Ice Cream
Make the Chocolate Paste:
Combine the cocoa, sugar, and water in a small saucepan. Bring to a boil over medium heat, while stirring to dissolve the sugar. Boil for 30 seconds, then remove from heat. Add the chocolate and stir gently to melt. Stir in the cream cheese and salt, mixing until you no longer see streaks of white.
Make the Ice Cream Base:
Whisk together a couple tablespoons of milk and the cornstarch in a small bowl to make a slurry. Set aside.
Pour the remaining milk, cream, sugar, and corn syrup into a heavy-bottomed saucepan. Bring to a rolling boil over medium high heat, and boil, stirring occasionally, for 4 minutes. Remove from the heat and gradually mix in the cornstarch slurry.
Return to heat and bring back to a boil. Stirring constantly with a heatproof rubber spatula, cook until slightly thickened - about one minute.
Remove from heat and gradually stir into the chocolate paste mixture. Add the cinnamon and cayenne, mixing well.
Pour into a clean bowl and press a piece of plastic wrap to the surface of the custard. Refrigerate at least 8 hours, over overnight, until very well cold. Process according to your ice cream machine's directions. Freeze until solid, at least 4 hours.
Make the Spicy Chocolate Cupcakes:
Preheat oven to 350F (175C). Line one cupcake pan with liners.
Sift together the flour, cocoa, soda, cinnamon, cayenne, and salt in a large bowl and set aside.
Cream the butter and sugar, until very light and fluffy, about 5 minutes. Add the egg, beating until very well incorporated. Add the vanilla. Being sure to scrape the bowl often, pour in a third of the dry ingredients, mix until just combined, then add half of the sour cream and mix until just combined. Repeat, then add the remaining dry ingredients. Gently stir in the hot coffee, and pour into prepared cupcake liners. Bake 15 to 18 minutes, or until cupcakes spring back when lightly pressed in the center. Turn cupcakes out onto a cooling rack and cool to room temp.
Make the Chocolate Frito Crunch
Melt the chocolate in a double boiler. Stir in the ground Fritos (I like the look of them on top, but they went soggy). Spread thinly onto a piece of parchment and allow to cool until firm. Break into wedges.
Make the Salty Buttered Almonds
Preheat the oven to 350F.
Stir all ingredients together in a bowl. Spread evenly onto a lined sheet pan. Bake for about 10 minutes, stirring frequently, until the nuts are crisp and fragrant. Allow to cool.
Make the Praline Sauce
Combine everything but the vanilla extract in a large pot with tall sides.
Over medium heat, bring the sauce to a boil, stirring frequently. Once the mixture comes to a boil, cook for about 7 minutes, until thickened. Be sure to stir often and keep an eye on the pot so it doesn't bubble over. Remove from heat and stir in the vanilla. Serve warm, but store in the refrigerator. If the sauce separates, gently reheat while stirring to bring it back together.
Assemble your Chocomole Ice Cream Cupcake Sundae
Take the wrapper off a cupcake and plop it on a plate. Top with a generous scoop of the ice cream, followed by a generous cloud of whipped cream. Sprinkle over with the salted buttery almonds, and then hit it with a dash of cinnamon. Top with warmed praline sauce. Consume. Go take a nap.