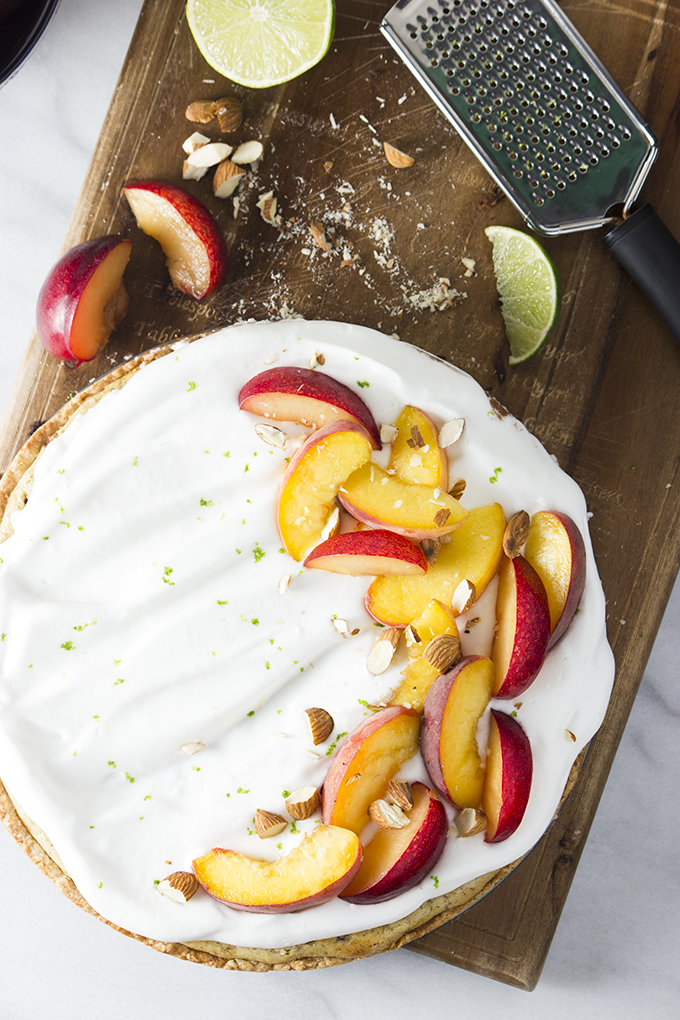 Grandma F once complimented how smoothly I was able to cut paper. I was with my cousins at her dining room table, doodling and crafting with the clunky uncoordinated hands of my 7-year-old self. I don't remember what we were making, but I was damn proud. It's been 17 years, and I still can't use scissors without thinking of that moment.
Buttermilk, too, conjures her memory; as she once rescued me from ruining my Reese's Puffs with it. There was always a container of the stuff at her place, but I couldn't tell the difference between the paper cartons in the fridge. That morning, she kindly plucked it from my hands after noticing my mistake, and swapped it for a more kid-friendly container of 2% milk. After breakfast, Grandma offered me a small glass – for a taste – of the buttermilk. The verdict? Repulsive – but oh so very her.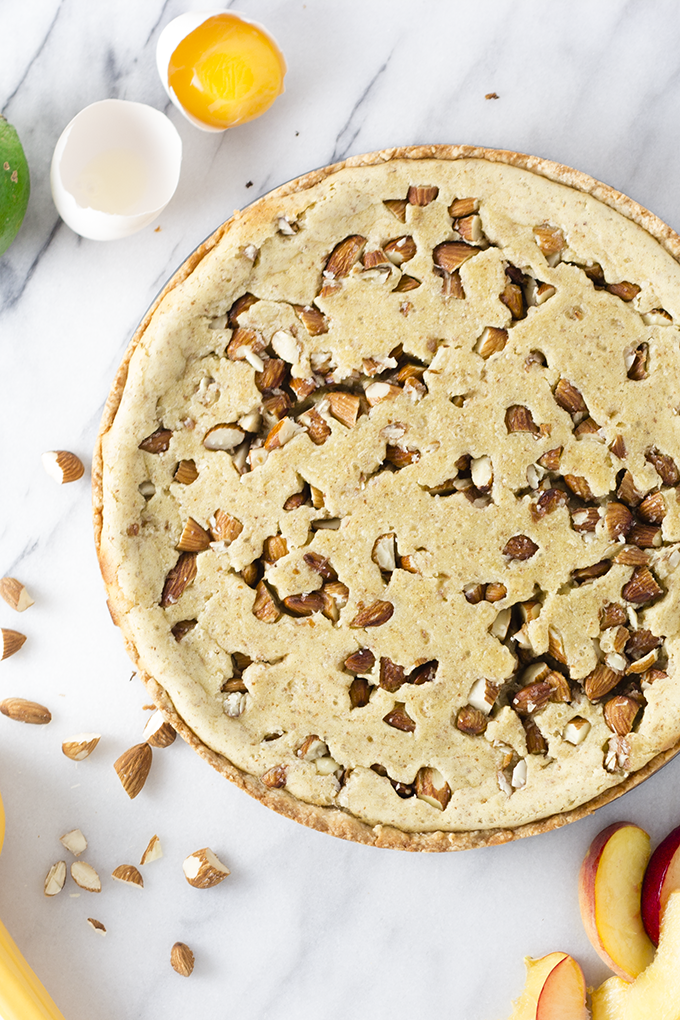 And then there are peaches. A few years after she passed away, we found a forgotten basement cabinet full of Grandma's canned peaches. I have no recollection of the jars being delivered to our house, but I do recall, tragically, that we had to throw them all away. We were uncertain of how long they'd been in storage, and a historic outbreak of botulism in nearby Pontiac left – I'm sure – pretty much everyone in the surrounding area a little wary of home-preserved food.
I can't remember if the glasses broke in the trash, or if we emptied the contents to save what I'm sure was a treasured collection of jars; but now – for whatever reason – the smell of peaches always brings me back to her.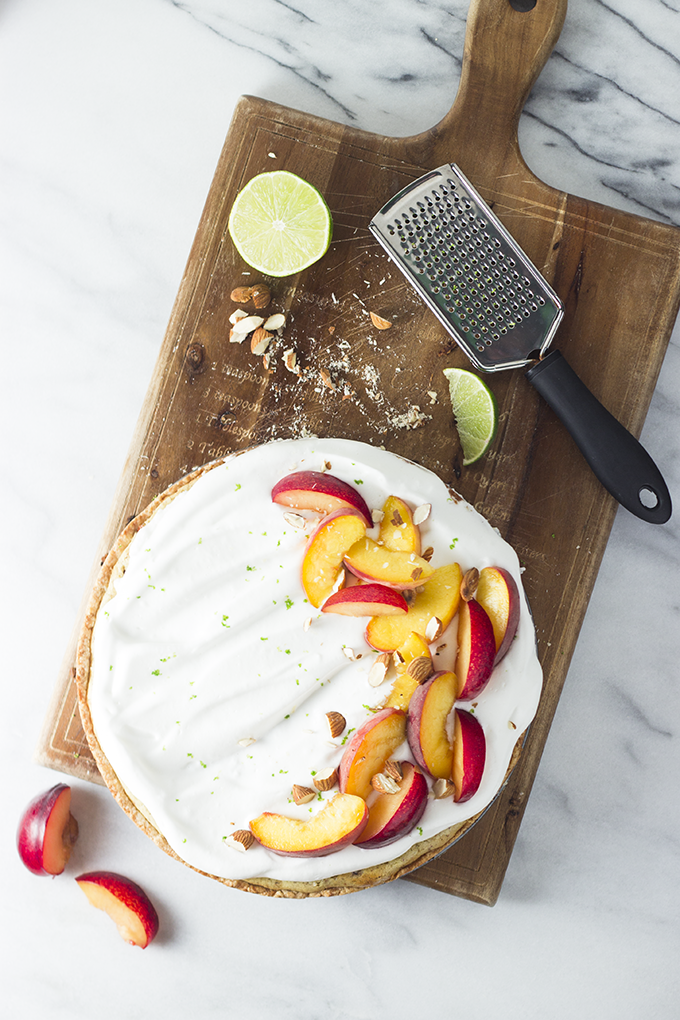 So I delight in this season: the small handful of weeks at the end of August and the beginning of September; signaling the beginning of school, the retirement of summer, and a final invitation to soak up the sun. The beautifully vague not-quite-summer-but-not-quite-fall days that carry on like endless dreams, reminding you to live each moment in the present – and to let things roll off your shoulders.
And I delight, of course, in the peaches. For though they are only here for a short while: they make it the sweetest time that they can.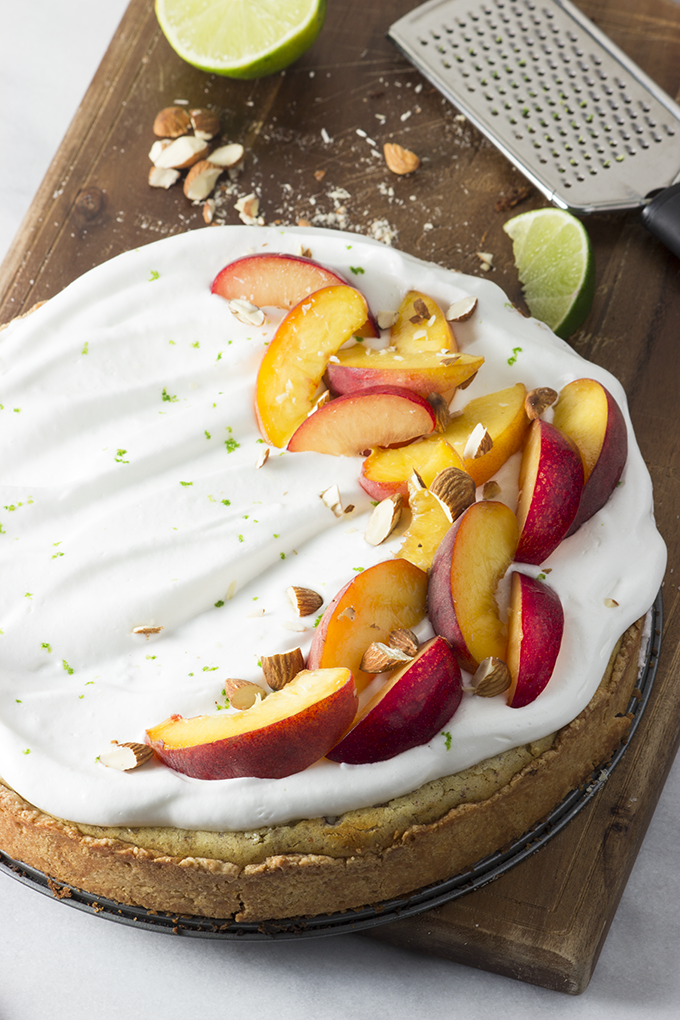 Almond Tart with Stone Fruit and Lime Meringue
This recipe doesn't require cooking the fruit, so be sure to find some stellar specimens to sit on top! Once you've got that covered, everything plays together beautifully. The shortbread-like crust is speckled and perfumed with a generous scraping of vanilla bean seeds. It holds a thick, baked pastry cream that is so intensely almond flavored that you won't believe it doesn't contain an extract. Rounding it all out, the tart is finished with a fluffy lime meringue and a splatter of beautiful sliced stone fruit - a beautiful stage for summer's best flavors to shine.
Ingredients
For the Crust
1⅔ c flour
¾ c powdered sugar
⅛ tsp salt
½ vanilla bean, split lengthwise
6 Tbsp cold unsalted butter, cut into pieces
1 large egg, beaten to blend
For the Filling
1 c milk
⅓ c heavy cream
½ vanilla bean, split lengthwise
4 egg yolks
¼ c sugar
2 Tbsp flour
2 Tbsp cornstarch
⅛ tsp salt
1 c sliced almonds
¾ c powdered sugar
6 Tbsp unsalted butter, melted, slightly cooled
3 egg whites
¼ c chopped white chocolate
Almonds and Assembly
¾ c skin-on almonds, chopped
2 Tbsp unsalted butter, melted, slightly cooled
1 Tbsp plus ¼ c sugar
2 large egg whites
½ tsp finely grated lime zest, plus more for serving
1 Tbsp fresh lime juice
1 pound mixed stone fruit (such as peaches, plums, and cherries), sliced
Method
For the Crust
In a large bowl, combine the flour, sugar, and salt. Scrape in the seeds from the vanilla bean, saving the pod for another use (I like to just them in my jar of sugar). Add the chopped butter and toss to combine. Using just the tips of your fingers, begin to press the butter into the flour. Work quickly, and stop when the mixture looks like coarse meal with the occasional pea-sized fleck of butter.
Using as few turns as possible, mix in the egg until the mixture is homogeneous.
Press evenly into a 10" fluted tart pan or a 9" springform pan - whatever you have that will allow you to remove the edges at the time of serving. If using a springform pan, build up the edge about ¾". Chill until very cold, about one hour.
Preheat the oven to 350F.
Crumple up a piece of parchment paper and lay it inside the crust. Fill with dried beans and bake until the edges of the crust are dry, 20-25 minutes. Remove the crust from the oven and carefully remove the beans and the parchment. Return the tart to the oven and bake until dry but not browned, 10-15 minutes more. Cool completely on a rack.
For the Filling
In a medium saucepan, combine the milk and the cream. Scrape in the vanilla seeds and, this time, add the pod. Stirring occasionally, bring to a gentle simmer over medium heat.
Meanwhile, whisk together the egg yolks, granulated sugar, all-purpose flour, cornstarch, and salt in a medium bowl until very pale and fluffy, about 3 minutes. When the milk is simmering, gradually drizzle, while whisking, the liquid into the whipped egg yolks to temper. Transfer everything back to the saucepan and cook, whisking constantly, until your whisk makes defied trails - about 2 minutes.
Press the hot pastry cream through a fine-mesh sieve into a medium sized bowl. Press plastic wrap directly onto the surface and chill until cold - at least 2 hours.
When the pastry cream is cold, pulse the almonds in a food processor until coarsely ground. Add the powdered sugar and butter, then process until smooth. Finally, add the egg whites, pulsing just to combine. Fold into the chilled pastry cream with the chopped white chocolate.
For the Almonds and Assembly
Preheat oven to 350°.
Combine almonds, butter, and 1 Tbsp of the granulated sugar in a small bowl. Set aside
Scrape the prepared filling into the cooled crust, and sprinkle with the almonds.
Bake until the filling is puffed and set with golden brown edges, 45–50 minutes.
Cool completely on a wire rack.
Just before serving, prepare the meringue. In a very clean glass or metal bowl, whip the egg whites until frothy. This should take about one minute using a mixer on medium-high speed. With the mixer running, gradually add the remaining ¼ cup of sugar, and beat until stiff peaks form, about 5–7 minutes. Mix in ½ tsp lime zest and lime juice.
Spread the tart with meringue, and top with fruit and additional lime zest.