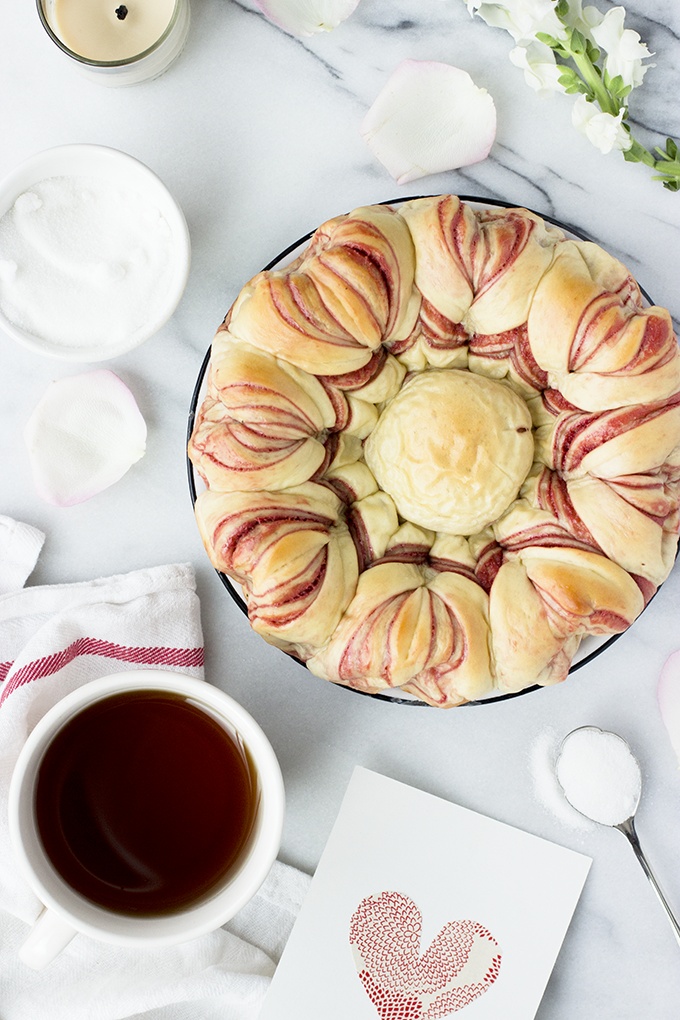 The first time I saw this unique way of shaping dough, I was obsessed. I'd seen babka and braids of all kinds, but I was wide-eyed over this star bread. Unfortunately, the discovery fell somewhere within a joyful but frenzied slew of celebrations, beginning with Friendsgivmas and ending — months later — with a bittersweet going away party.  I tucked the star bread concept in the back of my mind and soldiered on through turkeys, hams, and cupcakes of holidays now long gone.
Eventually, my calmed mind turned to Valentine's day, which prompted me to see this bread in a different light. It wasn't star bread, it was heart bread! A ring of hearts like this would be sickeningly sweet for Valentine's day, if only I could find a fitting way to brighten the color of the filling. Scanning the near-empty shelves of my neglected fridge, I plucked a forgotten bottle of pomegranate molasses from the back, and a brick of cream cheese from the door. In shaping, I did my best to emphasize the heart-shaped edges of the petals by clipping them with tear-drop shaped cutter, then bracing them underneath with a spoonful of pie weights each.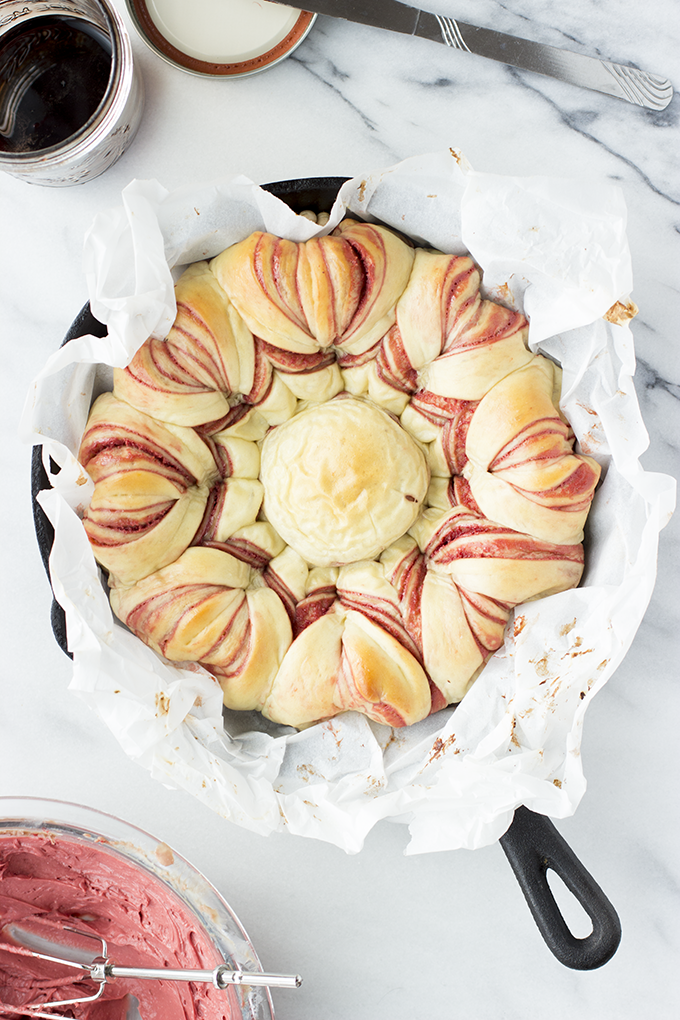 After it baked, I was pleased. It turned out almost exactly as I'd hoped, and it smelled outstanding. I let it cool, then gently packed it up and headed over to L's place for our biweekly Taco Wednesday get-together. She made incredible chicken enchiladas, which were devoured beneath individual mountains of fresh-made guacamole. For dessert, we tore shamelessly into the loaf; not at all hungry, but still starving for sugar and carbs. We sat around her table for hours — the four of us plus her cat — sipping on ginger and grapefruit shandies, and talking about our lives.
When I first started working remote, people warned me that I might hate it. That I'd feel lonely, forgotten, and stir-crazy. Personally, my biggest fear was that I'd fall out of contact with all of my friends – even beyond the Taco Wednesday group. Fortunately for me, none of that has happened.  I'm thankful that I've met so many awesome people through my life, and that I have so many ways to keep in touch with so many of them. Thanks mostly to the awesome people, but also to food, drinks, and social media: I'm convinced I'll never feel alone.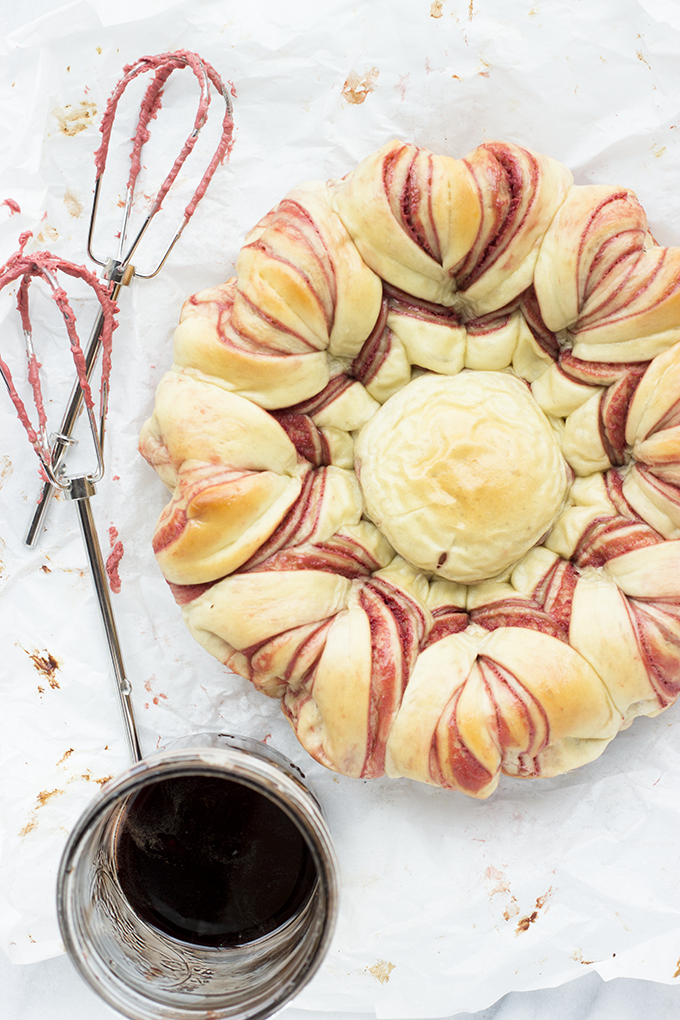 PS: When @TheKitchn shared one of my pics of this bread on Instagram, there were tons of comments made about how it looks… inappropriate. I assure you, any resemblance to anything other than a heart was purely and embarrassingly accidental ?

Pomegrante Molasses Cream Cheese Heart Bread
Ingredients
¾ c whole milk
⅓ c sugar
1½ tsp active dry yeast
2 Tbsp butter
2 egg yolks
3½ c flour
½ tsp salt
4 oz cream cheese, room temp
Powdered sugar
Pomegranate molasses, room temp
Red food coloring
2 egg whites
Method
Stir the ⅓ c sugar into the milk and gently warm. Sprinkle the yeast over the top, and let stand about 10 minutes until bubbly.
Meanwhile, gently melt the butter in the microwave.
Pour the milk mixture into the bowl of your stand mixer. Using the paddle attachment, stir in the butter and the egg yolks. Add about 1 cup of the flour, and stir until completely combined. Remove the paddle attachment and attach the dough hook. On low speed, gradually add as much of the remaining flour necessary to create a dough that sticks only to the bottom of the bowl while kneading. At this point, increase the speed to medium-low, and knead for about 7 minutes, until the dough is soft and smooth. Place the dough into a clean, oiled bowl, and roll to coat in the oil. Cover with plastic wrap and allow to rise in a warm place until doubled, approximately one hour.
While the dough rises, beat the cream cheese in a medium bowl until no lumps remain. Gradually add powdered sugar and pomegranate molasses, to taste. Stir in red food coloring until you get a color you like.
Once the dough has risen, divide it into four equal balls. Roll one ball into a thin 10-inch circle and place on a round of parchment. Spread a thin amount of the filling over top, and repeat with the remaining balls, forming a stack. Do not spread filling on the top of the stack. Using a 10-inch circle as a guide (plate, pan, parchment circle, etc), trim the dough into a perfect 10" circle. Place a small cup or bowl upside down in the center, and gently press to make an indentation. Cut the dough into 16 sections, leaving the middle circle intact. Lift two sections at a time, and twist them away from one another twice. Press to seal the ends together. Repeat all the way around the circle. Using a tear-drop cutter, press into the middle of each pair of twists with the pointed part to emphasize the heart shape.
Place the dough into a round pan to help retain the shape, and fit pie weights into the indents in each heart, behind the parchment, if desired. This helps to retain the shape. Brush gently with egg white, cover tightly, and allow to rise in a warm place until doubled, approximately one hour.
Bake at 350F for 20-30 minutes until golden.
Notes
Adapted slightly from
The Baker Chick
. Please refer to her site for a how-to on shaping.