Due to a number of circumstances, I ate many of my meals alone during the second semester of my freshman year.
It wasn't an experience I was particularly fond of. As much as I enjoy being alone, the stark contrast between dining with nine to dining with none in the dorm cafeteria kind of made me sick. But, after awkwardly trying (and failing) to make friends with other single diners like myself, I gave up and resolved to dining with books. Sometimes novels, sometimes required reading, but usually cookbooks.
I would sit with my back to the cafeteria and dig in; consuming everything before me (generally a bowl of Cracklin' Oat Bran or cereal and Sky High. Both old favorites) and pretending to be occupied. It took some getting used to but I, eventually, found myself to be a master in the art of being invisible.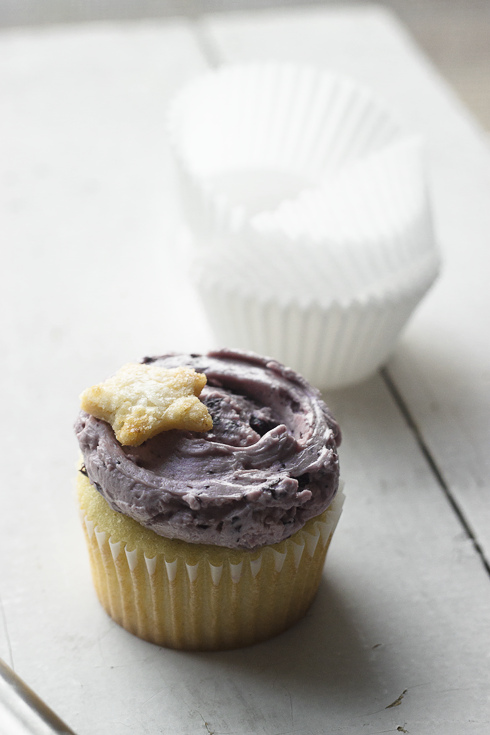 One day, when I thought I was being particularly invisible, a guy I'd met once before approached my table. He had, in his hands, a tray full of post-workout essentials and, on his face, a smile. I'd been introduced to him before, briefly, when he was led to my dorm by a friend in search of baked goods, but I knew little about him. He worked out. He liked cupcakes. Besides his name… Not much.
But he was interested in my cookbook, which was enough of an ice breaker for me. We started talking about baking, which led to our mutual frustration with the lack of community kitchens available in on-campus housing and then to our shared want for a kitchen of our own. Naturally, our living situations for the following year came up, and he mentioned that he and his girlfriend, H, were looking for a third person to share their lease with. Though I had living arrangements myself, I did know someone that was searching for a place to stay. I scratched out his email address on a napkin for R, then we finished our meals, then our conversation, exchanged phone numbers, and went our separate ways.
It wasn't long afterward that I learned that my friend, a near stranger to both R and H, got in on their lease. They moved into their apartment days before I moved into mine in August of 2010, and we all hit it off instantly. The months that followed were filled with endless conversations, [at least] bi-weekly dinners, group movies, relaxed drinking sessions and more dirty jokes and good-natured curse words (mostly my own) than one can really believe.
I was their honorary roommate, a title I loved, and I spent much of my time hanging out on their futon, baking in their kitchen, and sitting on the floor in front of their refrigerator… But that's another story.
I've probably gone on and on about H before, but she is, sincerely, the greatest friend I've ever had. I know, for a fact, that I've written about her and R moving to Florida too, but I'm so damn hung up on it that it keeps coming up.
She's one of only two people outside my family that I can tell anything. But, since we aren't "phone people" and don't, frankly, have any desire to become "phone people," most of our conversations have been relegated to texting. Beyond that, we use Skype when we can and favor it for both mid-week and weekend chats – both with and without margaritas, cider and/or wine. Even if we don't really have anything specific to catch up on, it's nice to get back into the mentality of hanging out at the old apartment because, honestly, sometimes all I want to do is chill out on the couch in my scrappiest tank top, flour-covered shorts, and worn out hair and talk to my girlie. Ya dig? It's just been too long.
And as I was reflecting on this during one of our recent chats, I realized how it was that we came to be friends. It took a completely chance encounter with her boyfriend in the McDonel caf on some random day in 2010. If I hadn't grabbed that cookbook in a moment of pathetic loneliness, he might not have sat with me. If he hadn't stopped in the caf at just that moment, we probably never would have discussed his need for a roommate. And if I'd never dated that guy who introduced me to R in the first place… I'd probably have never met H.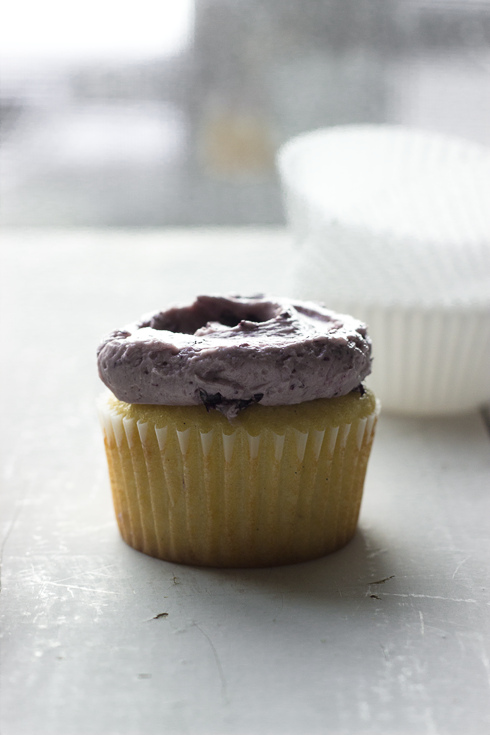 I've been a little down these past few days, but I scrapped the "woe is me" bull shit I was, for whatever reason, planning to post.
You know? It sucks that H moved away, but I consider myself lucky to have such a great friend at all. There are always ups and downs in life. Sometimes things are amazing and sometimes things aren't. But I've learned to thrive on the mentality that all of it is worth it in the end. With time, you can adapt to anything.
Overall, I've got it good.
I'm a lucky, lucky girl.
Blueberry Balsamic Cupcakes
I topped some of my cupcakes with pastry scraps from another failed project. I liked the look, but they aren't a necessary decoration.
Lovely Yellow Cake slightly adapted from Pick Yin (via Smitten Kitchen)
This is now my absolute favorite yellow cake recipe. It's moist and light – but still somewhat dense like a good cake should be. Makes about a dozen cupcakes.
2 c + 1 Tbsp (284 g) cake flour
1/4 c (23 g) powdered milk
1 tsp baking powder
3/4 tsp baking soda
1/2 tsp salt
1/2 c (113 g) butter, room temp
1 c (200 g) sugar
1 tsp vanilla extract
1 egg
2 yolks
1 c (237 ml) buttermilk, room temp (make your own by adding 1 tbsp lemon juice or vinegar to 1 c milk)
Preheat oven to 350F and line a muffin tin. Set aside.
In a small bowl, whisk together the flour, powdered milk, baking powder, baking soda and salt. Set aside.
In a large mixing bowl, cream the butter and sugar for about 5 minutes, until light and fluffy. Scrape down the sides of the bowl, then beat in the vanilla. Scrape down the bowl again and add the egg. Beat about 30 seconds to combine, scrape the bowl, then add the yolks. Beat to combine. Add 1/3 of the flour mixture, mix just to combine and add half of the milk. Continue adding the dry and wet ingredients in this fashion, ending with dry.
Divide batter evenly between the liners and tap on the counter a few times to eliminate large air bubbles. Bake until golden and a wooden pick inserted in center of cake comes out clean, 20-22 minutes. Cool in pans until cool enough to handle, then cool completely on racks.
Blueberry Balsamic Boiled Frosting adapted from Baked: New Frontiers in Baking
I hope you don't mind the vagueness of the jam part. You don't have to be completely accurate – just do what feels right. What is important is to make sure you cook out most of the water or else it will break your buttercream when you try to incorporate it. Otherwise… Enjoy!
1 c blueberries
1 1/4 c (250 g) sugar, divided
1/8 tsp nutmeg
2-4 tbsp balsamic vinegar, to taste
1/3 c (47 g) all-purpose flour
1 1/2 + 1/3 c (233 ml) milk
1 1/2 c (355 g) butter, room temp and cubed
1 tsp vanilla
Combine the blueberries, 1/4 c (50 g) of sugar, nutmeg and balsamic vinegar in a sauce pan. Reduce until most of the liquid is gone. Be sure you taste it and adjust the balsamic vinegar as necessary. You'll want it a little stronger than you might think just so it stands out in the frosting. Set aside to cool.
Combine the sugar and flour in a cool saucepan. Stir in the milk, then set the pan over medium heat. Stirring frequently, cook the mixture until quite thick, 10-15 minutes.
Remove the pan from heat and pour the mixture into the bowl of your mixer. Fit with the paddle attachment and whip on high speed until the outside of the bowl is cool to the touch, about fifteen minutes.
When the bowl is cool, add the butter all at once and whip on high speed until very light and fluffy. Add the vanilla and whip to combine, then add the blueberry balsamic mixture in small amounts, to taste.