Filling a cake is a pretty straightforward task, but I thought this guide might be helpful to people who are just learning to work with layer cakes.
Please keep in mind that this is just my way of doing it. As you practice, you will become more and more comfortable with the process and figure out what works for you and what doesn't. This is a starting point, so just focus on having fun!
So, without further ado:
How to Assemble a Layer Cake
A step-by-step guide penned by Kaitlin and photographed by P.
Materials
Offset Spatula(s)
Serrated Knife

These are the best tool for splitting cakes. I recommend a long, thin, sturdy blade like this one. You don't need to spend a lot of money, but be aware that a flimsy knife will bend and make your cake slices convex/conical.
Dishers/Portioners/Ice cream scoops

If you don't have one of these, a large spoon will get the job done, but these will help you put an even amount of frosting between each layer. I'm using a #24 (1 1/3 oz) scoop today.
Serving Platter or Cardboard Rounds

You need to eventually serve your cake on something, right? You can either frost your cake directly on a stand if you like (I got this one at Home Goods), or, if you prefer, frost it on a cardboard round and then transfer it to something else.
Turntable

I always use a turntable to frost cakes. It's an unnecessary investment if you don't frost cakes with any regularity, but if you do, you'll be so happy if you buy one. Look for them at small cake supply stores – they usually sell them there cheaper than you can find them at craft stores. If you really, really don't want to buy one, rig one up yourself like Alton Brown did in Season 6 Episode 15 of Good Eats.
Non-Slip Pad

Slip one of these under your cake on the turntable and you will thank me, I promise.
Cake

(Yeah, yeah – I know this and the next point are obvious, but I'm just covering my bases.) Always use chilled cake. I would advise against using frozen ones because they can be near-impossible to cut, but definitely make sure that they've been in the refrigerator for at least 3 or 4 hours. This will make them easier to handle because the cakes will be firmer and therefore less likely to crack and easier to halve (split).
Frosting

Use whichever kind you like – this technique is universal. Feel free to head over to my tutorials for Swiss Meringue and Italian Meringue, if you'd like some help with those, too!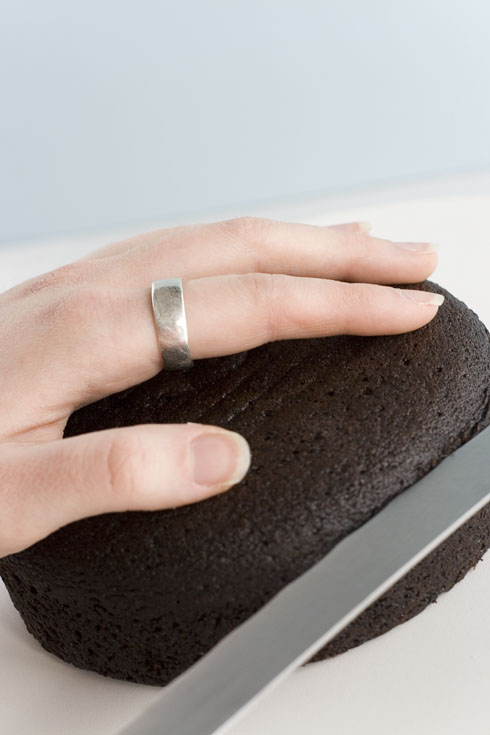 Place the first of your baked cakes on a turntable, dome side up. Using your hand to slowly turn the cake and the turntable, gently saw around the edge of the dome. In the first rotation, you don't really want to cut too far into the cake – you just need to make a path for the knife to follow on the next pass.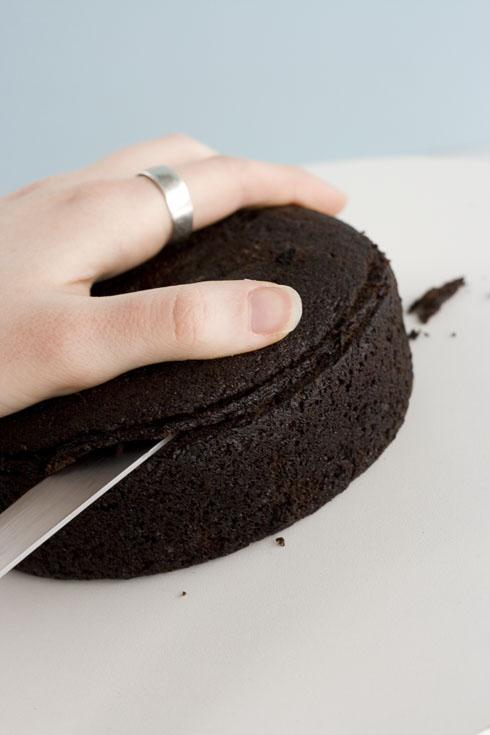 Turn the cake again and guide your knife carefully through the path you just cut. Saw gently back and forth as you do so, cutting about an inch toward the center on each side with every rotation. Be patient and go slow! Pay careful attention that you are keeping your knife completely horizontal. If you happen to get a little off track (as I did in the above photo) don't fret; just try to realign the knife and keep sawing your way around the cake. Keep turning until you slice all the way through, then remove the dome and set aside. I'm sure you'll find something to do with it.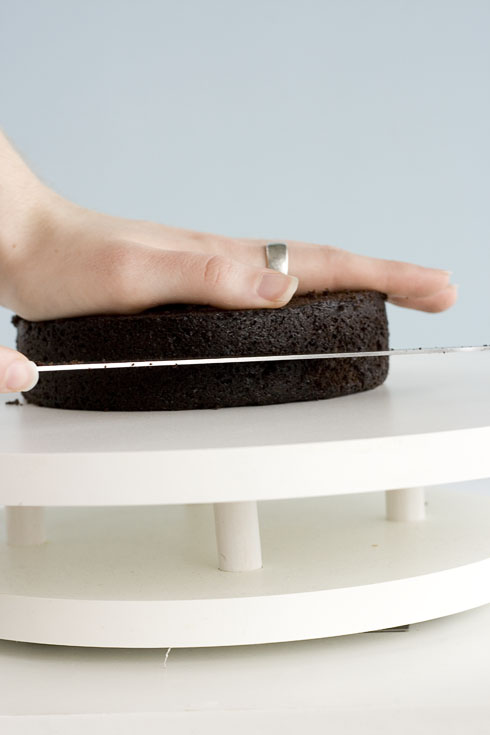 Place your hand, again, on the top of your newly-flattened cake. Place your knife halfway between the top and bottom on the side (estimating is fine – you'll get better with practice) and use the same method to halve it as you did to cut off the dome. First make a path, then saw gradually as you turn the cake.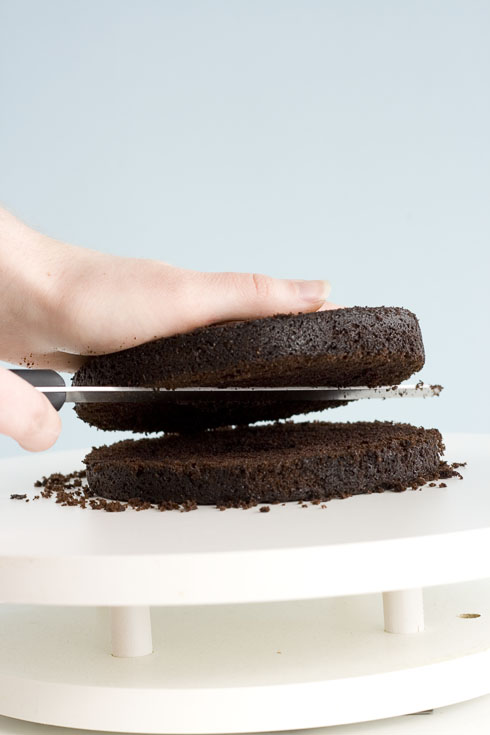 When you've finished halving, or "splitting" the cake, set the layers aside and repeat with your remaining cake round(s).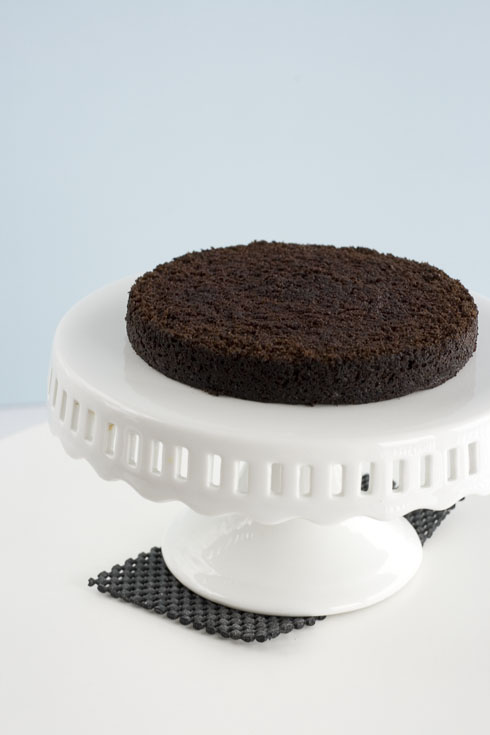 I like to frost directly on a cake stand, but, as I said before, some people like to frost their cake on cake rounds. Whichever is your preferred method, Be sure to place a non-slip pad between it and the turntable. Without it, your cake will slide all over the place and be impossible to frost.
Once you've got everything set up, put down one layer of cake and prepare to fill.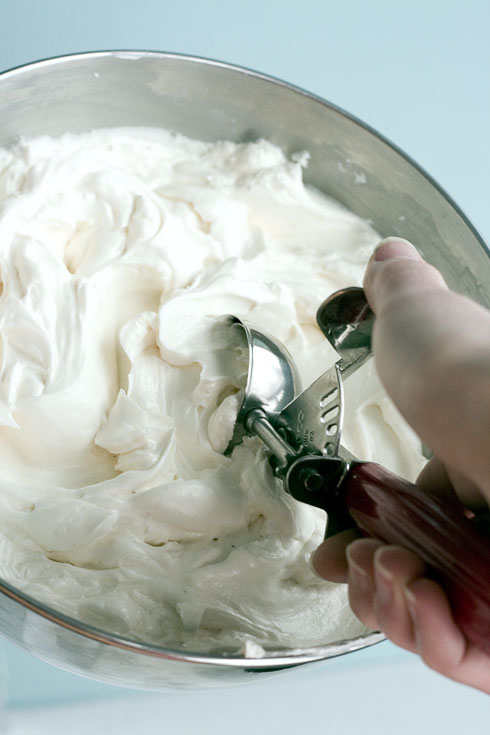 Like I said before, using a disher/portioner/ice cream scoop for this step allows me to get consistent amounts of frosting between each layer. This one is a #24 (1 1/3 oz), but the size isn't terribly important. Just put on however much frosting you (or your guests) you like. For this cake, I dished 2 1/2 slightly mounded scoops out of the bowl…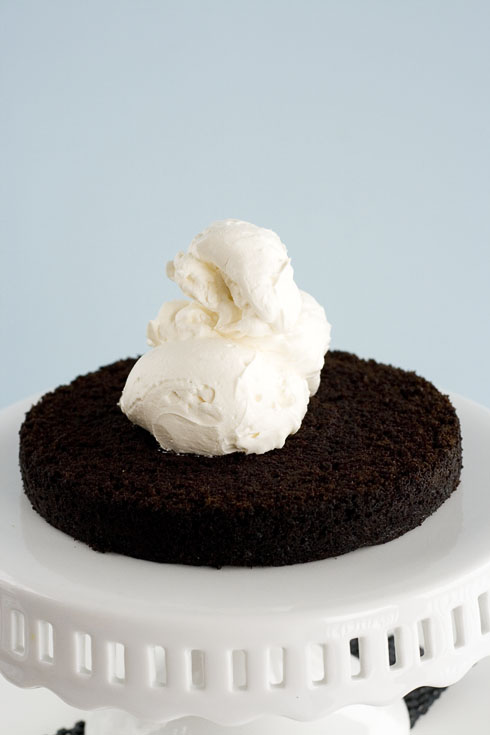 And onto the first layer of the cake. Try to pile them over the center of the cake so that it will be easier to spread them evenly.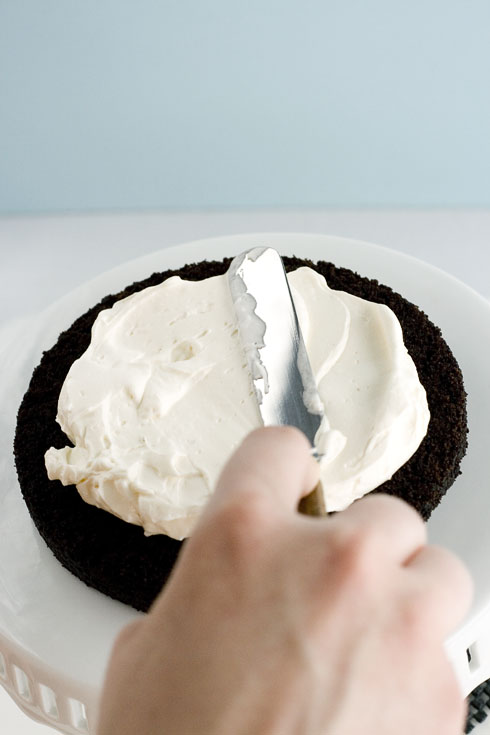 Place your spatula on the center of the frosting and gently push it down and out toward the edge, turning the cake to distribute. Think of it like rolling a pie crust; put more pressure on the center and work it out toward the edges without passing over them. As long as you keep the length of your spatula within the mound of frosting, no crumbs will find their way into it.
Also, whenever you need to remove your spatula from the cake, "sweep" it off by sliding it from one side of the frosting to the other, then off, in a fluid motion. If you lift it straight up, you'll risk tearing the cake.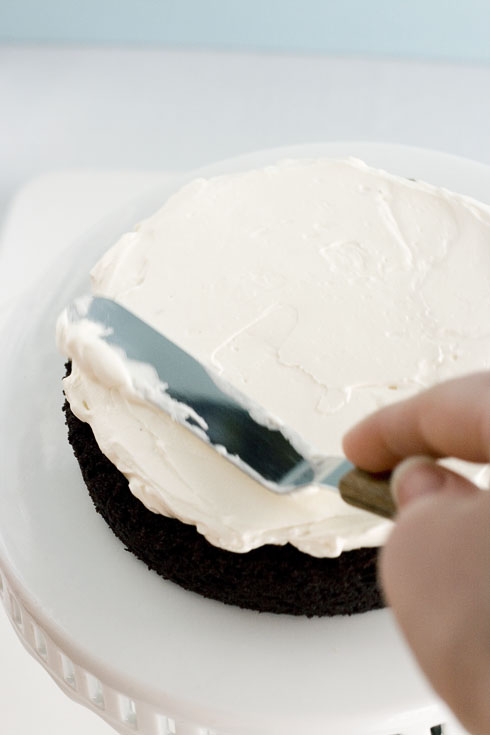 Try to make the frosting as smooth and level as possible so that your cake will be flat when stacked. After you've finished spreading the filling, carefully transfer another layer of cake over it and repeat the process with all but one layer of cake.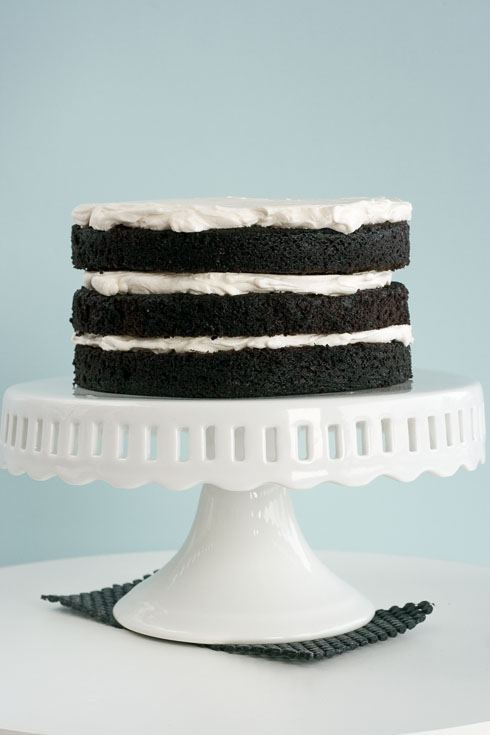 At this point you are ready to put on the final layer. Exciting, right?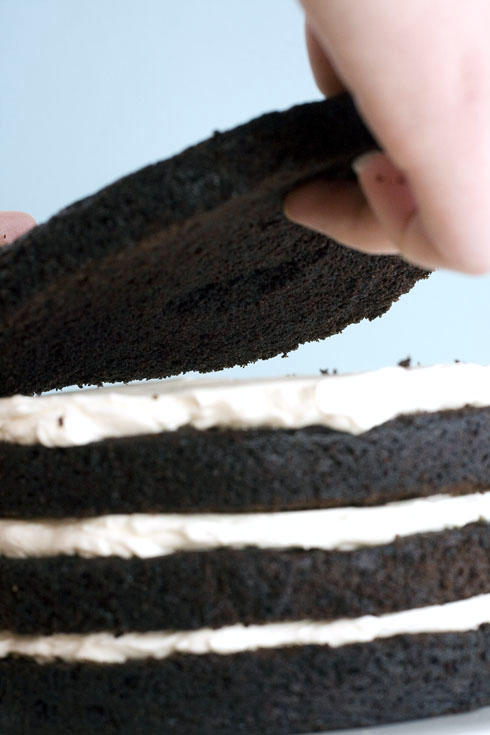 Carefully transfer the last layer over the frosting
cut side down
. This will help prevent excessive/unnecessary amounts of crumbs from getting into the final coat of frosting.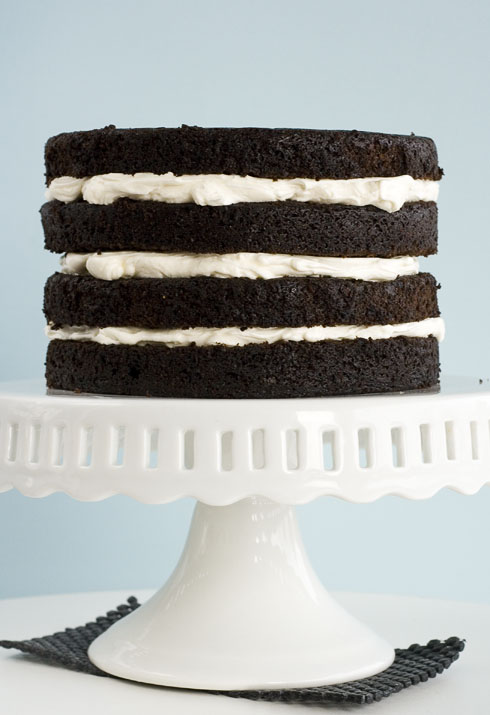 After the entire cake has been filled and stacked,
it's time to move onto crumb-coating and frosting…