I've been treating my feet like garbage lately, a fact which is evident by the blistered skin on my heels and the cuts on their tops.
Hours in various shoes that are various degrees of too loose, too tight, too something have taken their toll, and I've been paying for it dearly.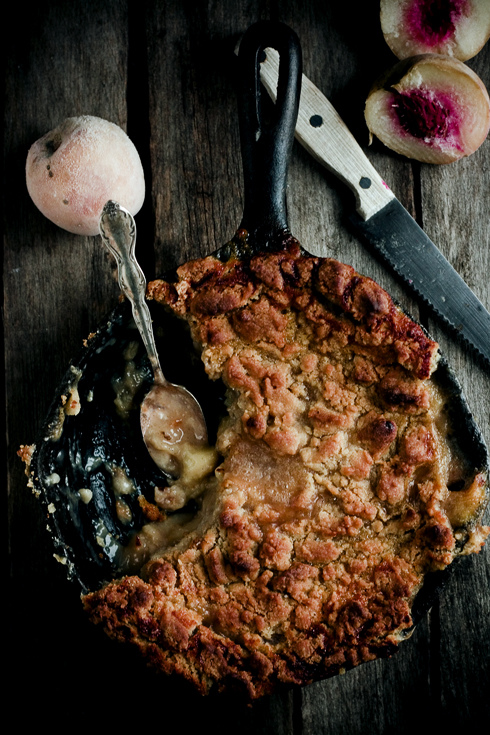 As such, I'm barefoot, this evening, with a paring knife in one hand and a peach in the other. Relieved of its skin, the juicy orb slices easily – half-awakened from a deep sleep in the freezer. It's one of many harvested earlier this year, and was delicately plucked just prior to becoming too soft to handle. And it – along with many siblings – had been taking up far too much space in the chill chest for far too long.
And so it was time to fall – gently tossed with a hint of brown sugar, a sprinkling of salt, some vanilla seeds and some flour – into a too small cast iron pan. Thereafter to be – naturally – topped with what could – perhaps – be considered too much buttery crumb topping.
Somehow, even after a day that had felt too long since the moment I woke up, it felt relaxing to be there, on my too worn feet, in the kitchen over that pan. To be slicing, wearing thing crosshatches into the pad of my thumb with that paring knife.
And why?
Because I was creating, loosely and without a guide, for me, after too long.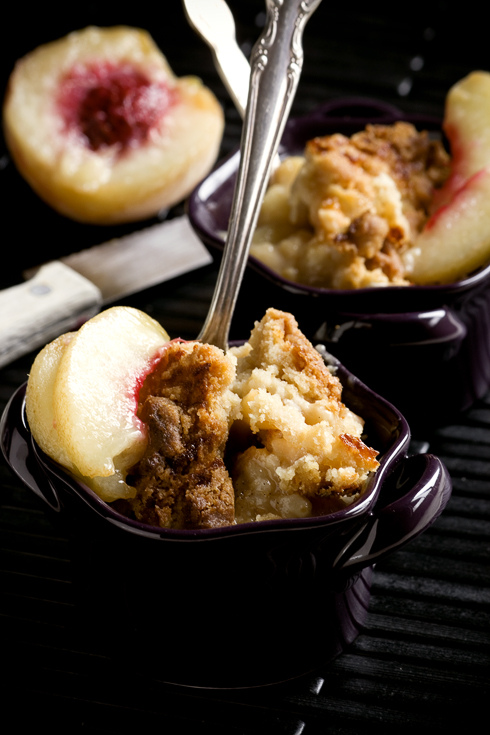 This is abrupt, dear readers, but my best friend moved away last week. The day before I made this too simple dessert to bring to dinner with them because it was all I had the time and means to conjure up.
I didn't make a fuss over it then and I don't mean to now, but I wanted to make sure she and her boyfriend had something sweet as a sort of send off.
Sometimes I feel that I give food too much meaning, but it was comforting to dish this completely ordinary crumble out to my friends because I knew it'd make them happy even if it wasn't extravagant or close to my best work. Our four tiny bowls made their way into the living room and our four tiny bowls left; completely emptied of their contents but garnished now with sweet thanks and kind compliments.
The crumble: too ordinary, too simple and too common; was a perfect symbol for the too relaxed, too unstructured and too enjoyable hours we'd all spent together since we met.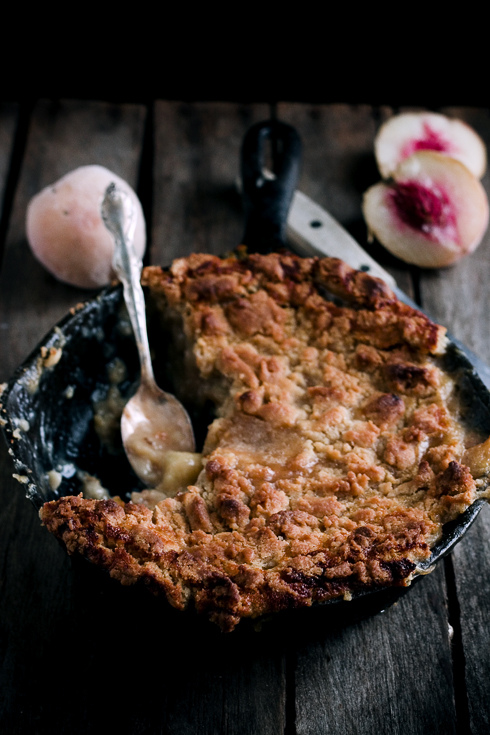 It was simple and comforting, just like – as mushy as it sounds – our friendship will always be.
Peach Crumble
Printable Recipe
Crumble Topping via Baked Explorations: Classic American Desserts Reinvented
I requested crumble recipes via Twitter last week because I've been unhappy with results from recipes I've used in the past. After a little while spent studying the recipes I received, I realized I was actually after a recipe for the top of a cake with a crumb topping! So, yes, this topping is technically for a crumb cake, but it's lovely here. Feel free to sub with your favorite crumble recipe! I'll be doing some experimenting of my own on the front soon, I hope!
1/2 c (71 g) brown sugar
1/4 c (50 g) sugar
1/4 tsp salt
1/2 tsp nutmeg
1/2 c (118 g) butter, melted
1 1/4 c (177 g) flour
Combine the sugars, salt, nutmeg and butter. Mix well, then fold in the flour just until no white streaks remain. Set aside while you prepare the filling.
Peach Filling
I took a bunch of notes while I made the filling so I could post accurate measurements here, but you don't need to adhere strictly to them. Use what you've got in the ratios you like!
2 lbs 9 oz peaches; peeled, pitted and sliced
5 Tbsp (43 g) flour
3 Tbsp (25 g) brown sugar
1/2 tsp salt
1/2 vanilla bean, seeds only – save the pod for another use
Crumb Topping (recipe above)
Preheat your oven to 400F and line a baking sheet with aluminum foil. Set aside.
Mix all ingredients together and mound in a 6″ cast iron pan (or other vessel). Break off small chunks of the crumb topping and place all over the top of the peach filling. Place your chosen baking vessel on top of the foil-lined pan (to catch drips) and bake the crumble for about an hour, until the top is golden. Serve warm or cooled.