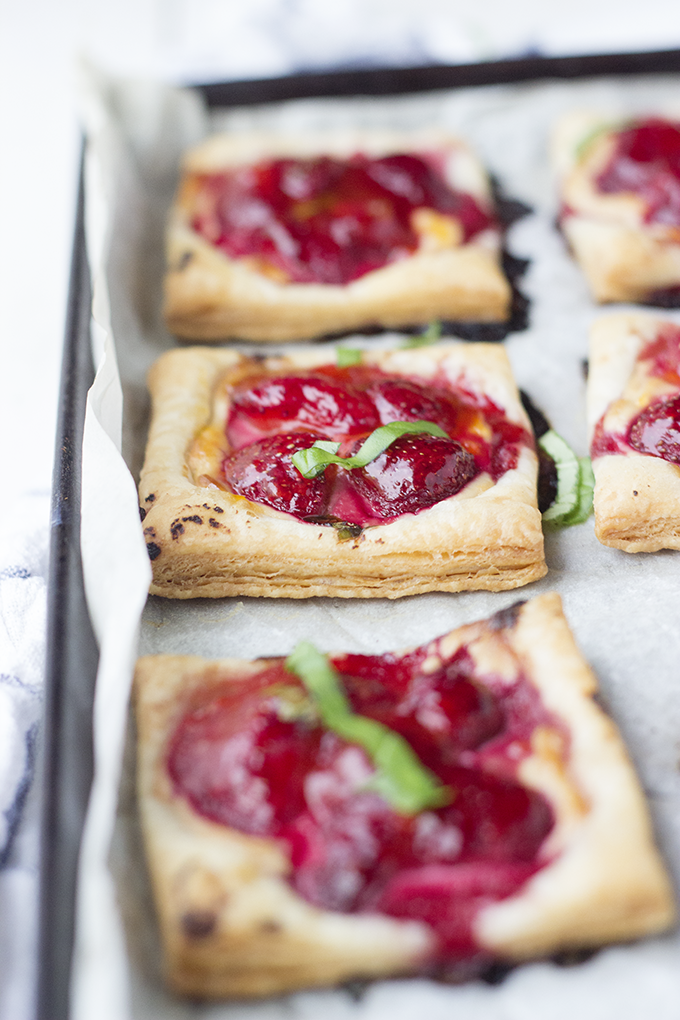 It's 4:30 and I'm leaning heavily on the kitchen counter. My skin is radiating heat in regurgitated sunshine, an unglamorous exodus of energy leaving me as I lay halfway sprawled across the formica.
There's no weight left on my feet, and, even still, my left heel feels like it's going to split. Taking stock of the weekend, I can't decide if it's from standing all day or from buzzed DDR two days prior.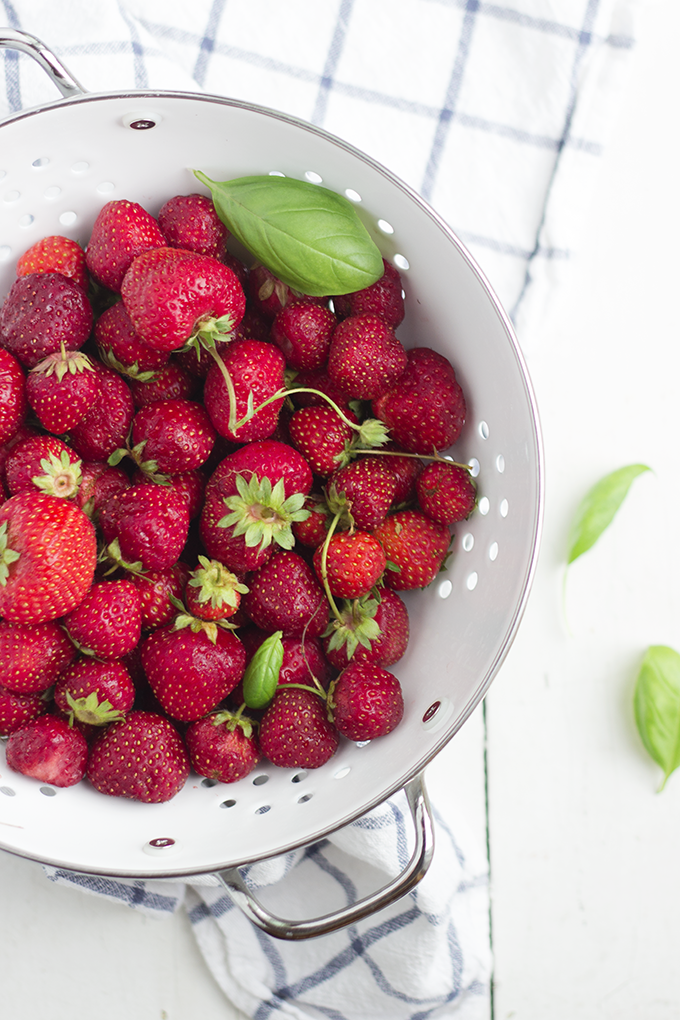 S, slouched on a stool across from me, speaks quietly: "I have kind of a crazy idea."
We'd just returned home from running an off-hours event at work. It was a family thing – a build your own burger picnic complete with gelato cart – for which I assisted in coordinating, menu-planning, cooking, and cleaning. It was a good time, but we were spent.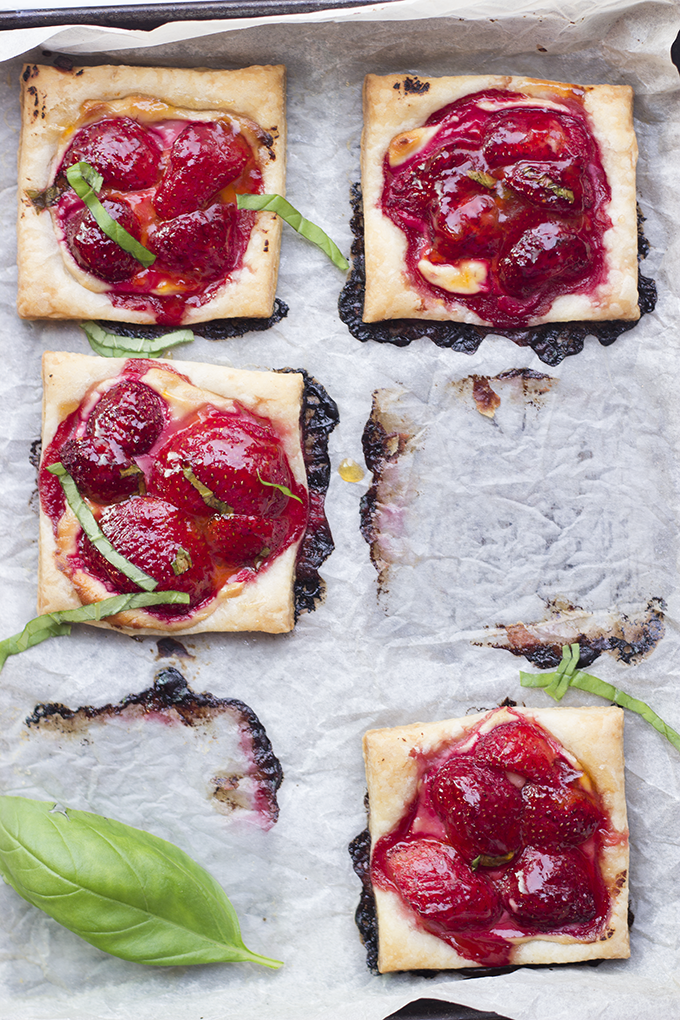 Without lifting my head, I offered only a sound, which S correctly interpreted as, "what?"
We have a special bond like that.
"I'm thinking…. Coffee?"
It was a wonderful suggestion, which I welcomed with a smile, because this whole summer – not just this day – has been straight-up exhausting. It's been hard to find time to even make breakfast on the weekends, which is sad, because lazy late breakfasts with bacon and eggs are pretty much the greatest thing on the planet.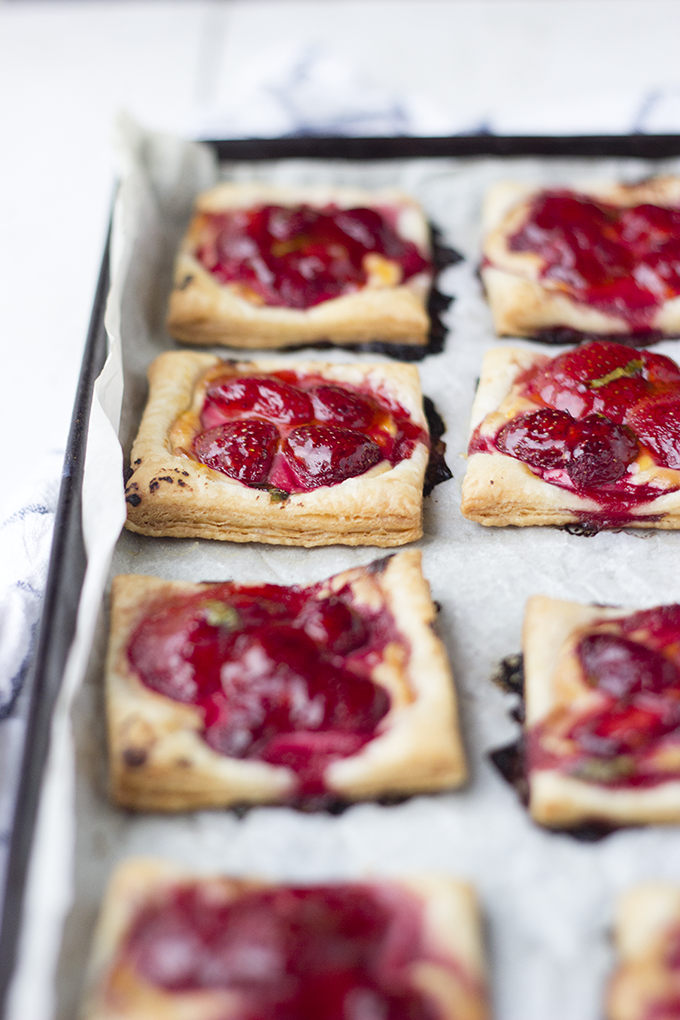 But we manage. Really, it's hard to complain too much when your weekends are filled with celebrations like weddings, birthdays, camping and BBQs.
And so, we deal.
We drink coffee at 5PM and then go to bed at 9PM.
We're sleepy, but we're happy, and that's just fine by me.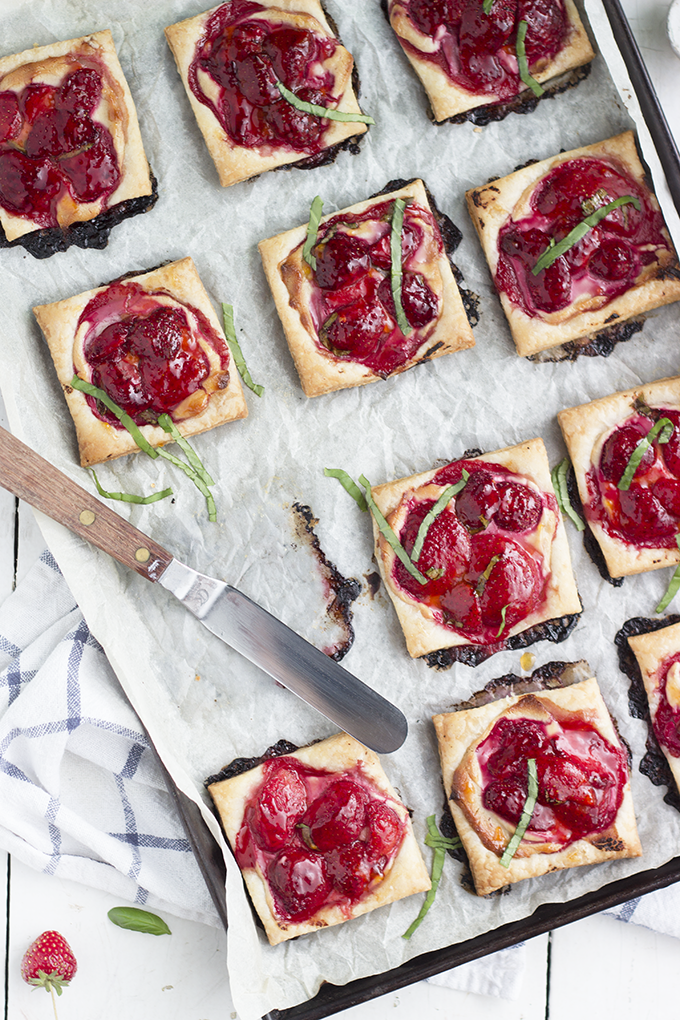 What follows is a super loose recipe, which I was inspired to create after seeing this beautiful recipe on Some the Wiser's blog. There's no way to mess these up – add, remove, substitute, etc to your heart's content!
Strawberry Tarts with Honey Balsamic Goat Cheese
This was a "I'm desperate to bake but have nothing to bake with" kinda recipe. It turned out even better than I could have hoped!
Ingredients
4 oz goat cheese, softened
honey, to taste
balsamic vinegar, to taste
½ recipe rough puff, or 1 frozen sheet of puff pastry (14 oz), thawed
~3/4 lb strawberries, hulled and quartered
¼ c apricot jam
1 Tbsp water
3 basil leaves, cut into ribbons
Method
Preheat your oven to 425F.
Mix the goat cheese with the honey and balsamic, a little at a time, until you like the way it tastes. Set aside.
Roll the puff pastry into a 9" x 12" rectangle. Cut into 3"x 3" squares and dock each piece about 6 times with a fork. Arrange on a parchment lined baking sheet so there is about 1" between the tarts.
Working quickly, top each square with a little of the goat cheese mixture, and pile on some strawberries.
Bake in the preheated oven for 15-18 minutes, or until nicely browned, turning once.
When the tarts are nearly done baking, combine the apricot jam and water in a microwave safe bowl. Microwave for about 15 seconds, until the jam is melted. Mix well to incorporate the water.
When the tarts are browned, remove them from the oven and, using a pastry brush, brush lightly with the apricot jam mixture. After they have cooled completely, sprinkle over the ribbons of basil.