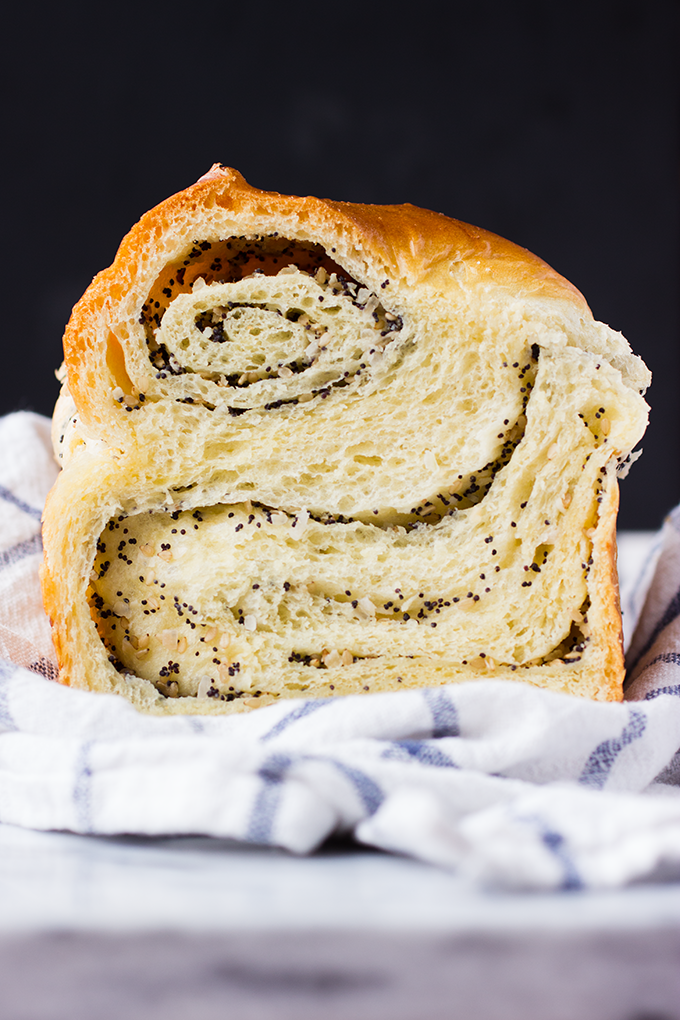 As a child, I remember being upset that my best friend got to eat ice cream every night after dinner. I wanted ice cream every night, but my parents refused; there was to be no dessert after dinner, and that was that. Treats were reserved for special occasions — including surprise trips for Superman Ice Cream at Frosty Boy — and were not to be an expected finish to our mealtime routine. Natch, it was a devastating life lesson. Fortunately, I survived.
Now, I look back on those days and just can't understand what I was thinking. Nowadays, I'm infinitely more likely to be tempted by a second helping of dinner than a thick slice of cake — and the same can be said for the rest of my family. I've grown into dual legacies of indifference toward dessert, and, as a baker, I sometimes wear it like a badge of shame.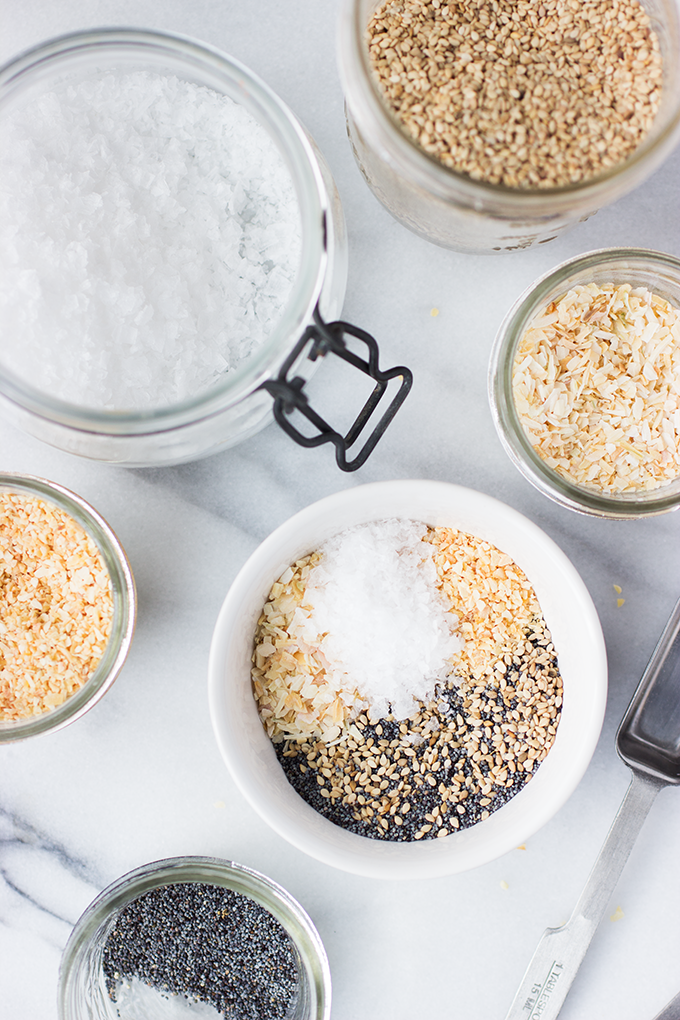 I found myself disheartened watching babkas make their sweet little rounds a few weeks back. I love the charm and hominess of the folded and twisted loaves, but as tempted as I was to make one, I couldn't ignore the fact that it'd be the black sheep of my family's Easter feast. No matter how lovingly the loaf was prepared, it would go woefully untouched until I hacked into it with the sole purpose of forcing plastic-wrapped chunks upon guilt-ridden relatives.
I bookmarked a few recipes to revisit in the future, then turned my attention to quiche and crudites.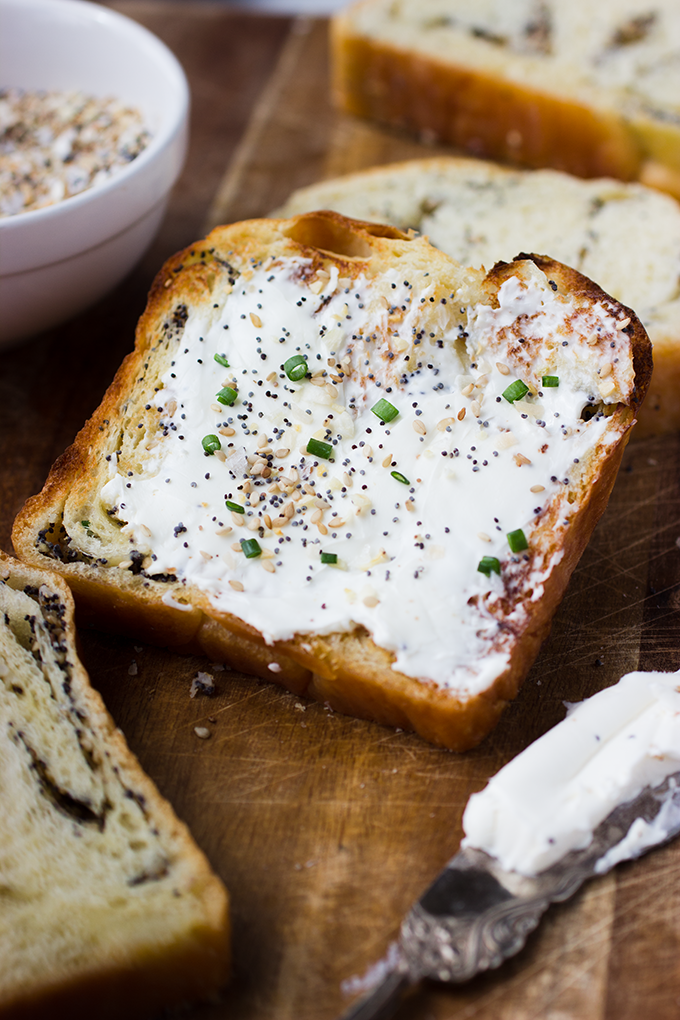 But still, even days later, I couldn't forget the babka. I needed to bake bread, despite the fact that I knew it was wholly unnecessary. I considered trying my hand at sourdough (anyone else obsessed with Cooked?), but there wasn't time. And with a mind swirling with clouds of beautifully twisted babkas, simple french bread just seemed too ordinary. So I was led to a rather obvious revelation: savory babka. And not just that: everything bagel babka. One with a salty, aromatic swirl that would be perfectly decadent on its own at brunch — or toasted and schmeared with cream cheese the next day if it wasn't eaten.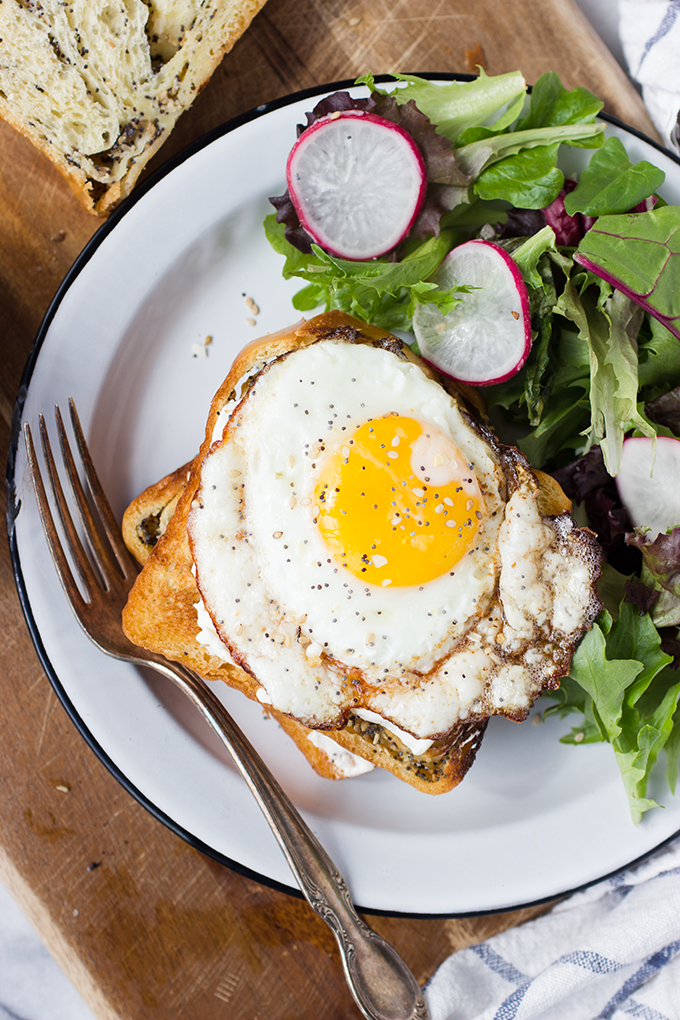 To my delight, my family gave it a 10/10. It's certainly not classic — but it's definitely delicious!

Everything Bagel Babka
Ingredients
Babka Dough
1 c whole milk
1 Tbsp sugar
4 c bread flour, plus more for dusting
2 pkgs (4½ tsps) instant yeast
½ c nonfat powdered milk
1 tsp salt
2 large eggs
2 large egg yolks
5 Tbsp butter, softened
Everything Bagel Filling
½ c butter, softened
1 egg white
2 Tbsp sesame seeds
2 Tbsp poppy seeds
1 Tbsp dried minced onion
2½ tsps flaky sea salt, like Maldon
2 tsps dried minced garlic
1 egg
1 Tbsp water
Method
Make the dough according to the instructions here.
Prepare two 8" x 5" bread pans by oiling them and lining them with parchment. Set aside.
To prepare the filling, blend the butter and egg white with an electric beater until well combined, being careful not to whip. You don't want to work too much air into the butter or you might end up with big holes in your babka. Add the sesame seeds, poppy seeds, minced onion, sea salt, and garlic and beat until evenly distributed.
Divide the prepared dough in half and roll one piece into an 8" x 14" rectangle. Spread with half of the butter mixture, leaving a ½" border around the edge. With the long edge in front of you, roll the dough upward to make a tight log. Pinch tightly to seal, then gently roll the log back and forth until it is approximately 16" - 18" inches long. Gently twist the roll and transfer it to the pan, folding it back over itself. Repeat with the remaining half of the dough.
Cover the dough with oiled plastic wrap and allow to rise until doubled in size, approximately 2 hours. About an hour and a half into the rise, set your oven for 325F.
When the dough has risen sufficiently, combine the egg with the water to make an egg wash. Gently brush the loaves, then bake for 45-55 minutes until nicely golden and firm when pressed.
Cool the bread in the pan on a rack for 10 minutes, then remove the loaves from the pans and allow to cool completely on a rack before slicing.