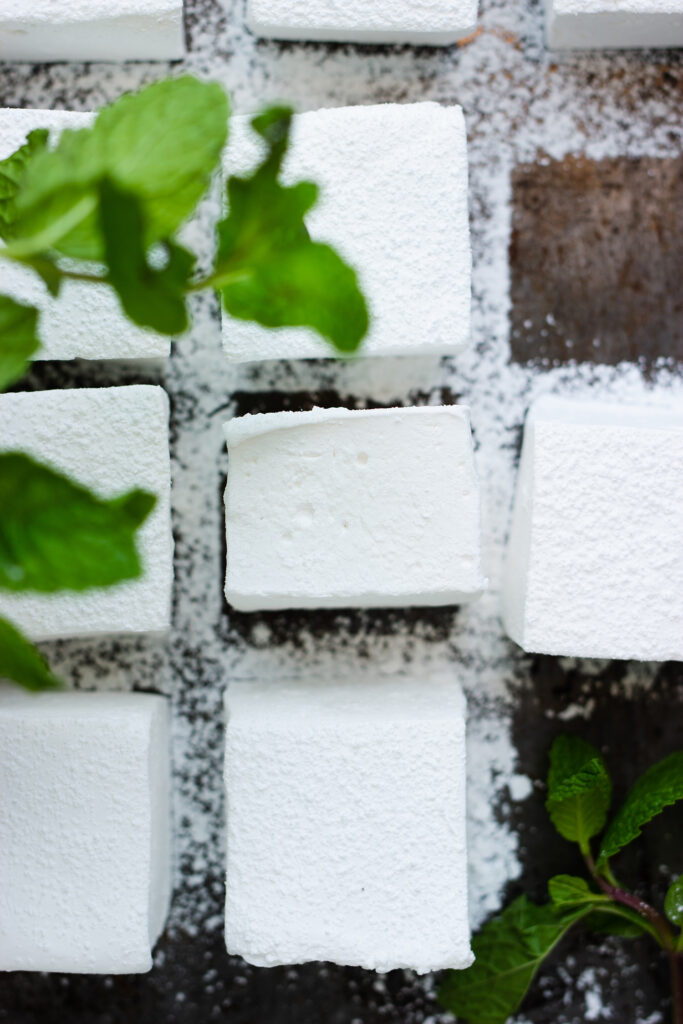 These homemade mint marshmallows are in a whole different realm when compared to their store-bought relatives.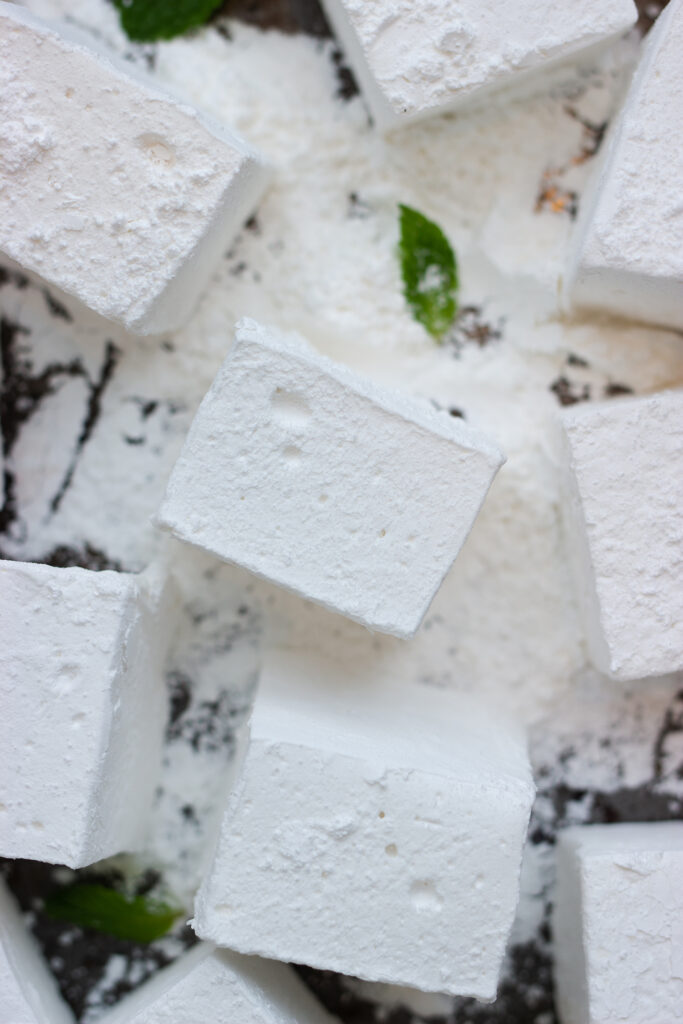 Made with easy-to-find ingredients, these make for an enjoyable weekend project, a lovely addition to your holiday candy and cookie assortments.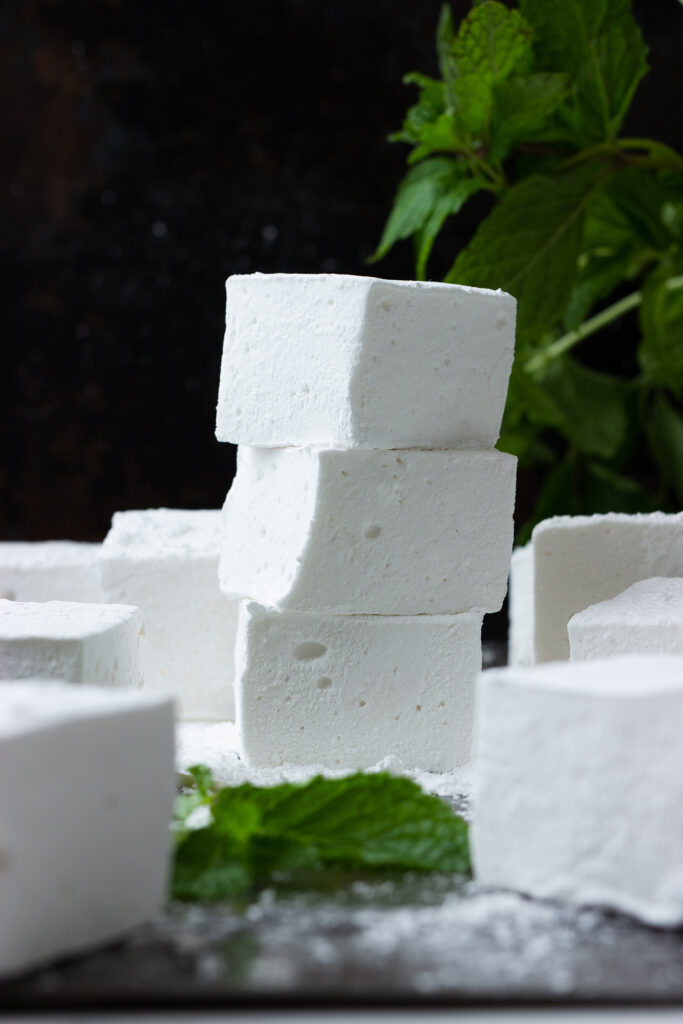 Some tips: don't make this without a stand mixer. If you try to make this recipe with a hand mixer or even just with a whisk, you'll burn out; either the motor or yourself. Just take my word for it: it's not worth it.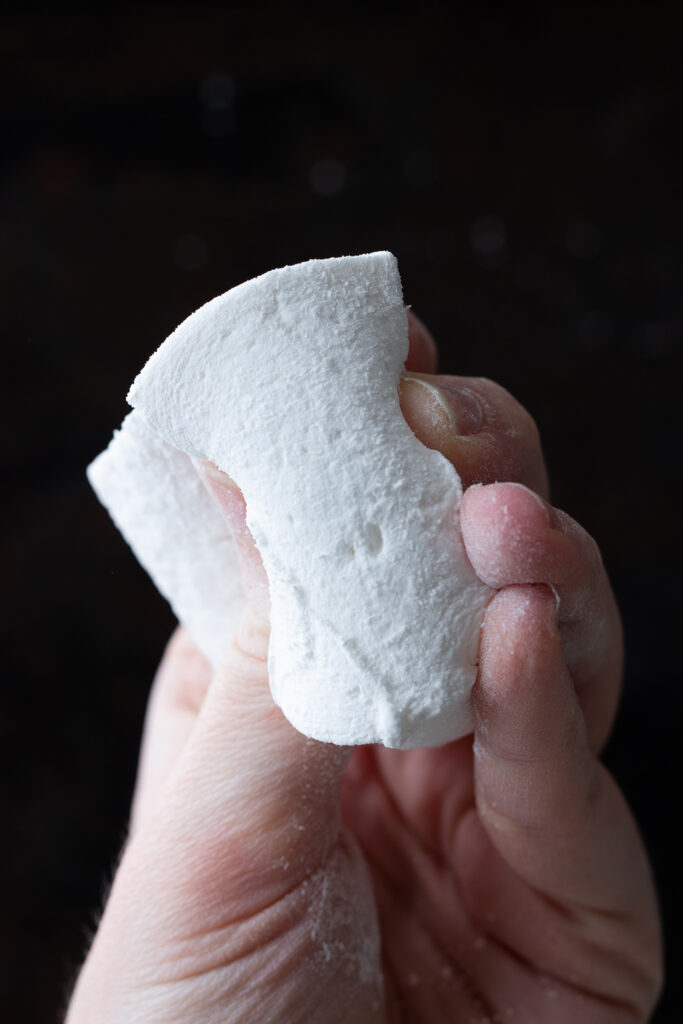 They're great on their own – seriously, even if you'd never consider eating a marshmallow out of the bag, give one of these a try – but they're also lovely any other way you'd eat a standard marshmallow. Elevate your next glass of hot chocolate or s'more with one of these. You'll never look back.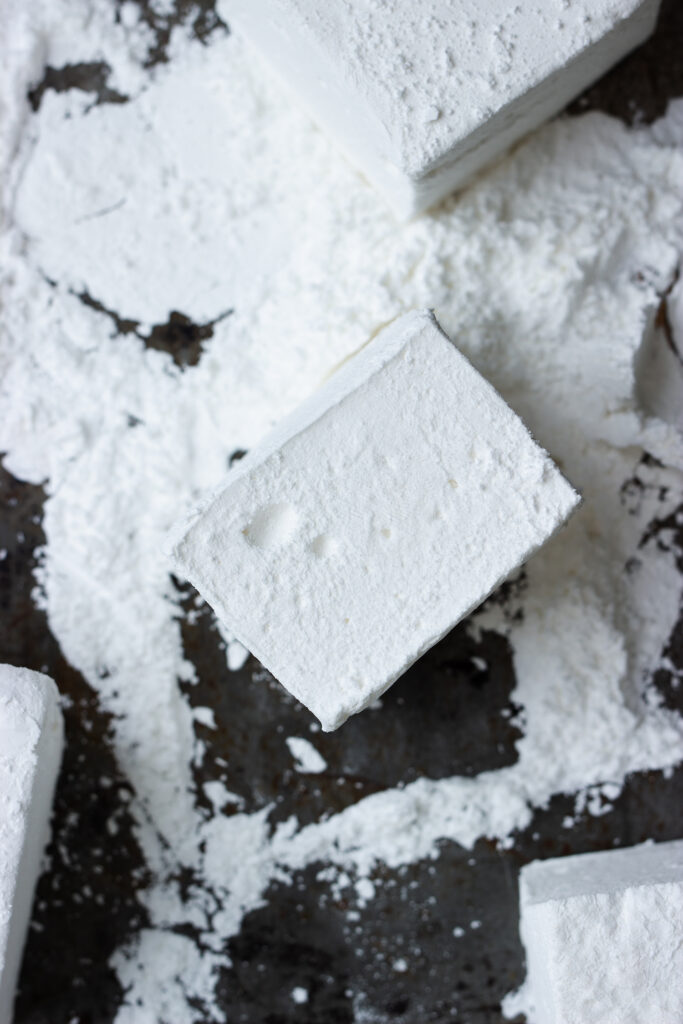 Flavor them however you like. I love the combo of mint and vanilla, but switch it up with whatever extracts you have. They're wonderfully versatile and so fun to make your own. They also take well to food coloring if you'd like to make them a little more vibrant.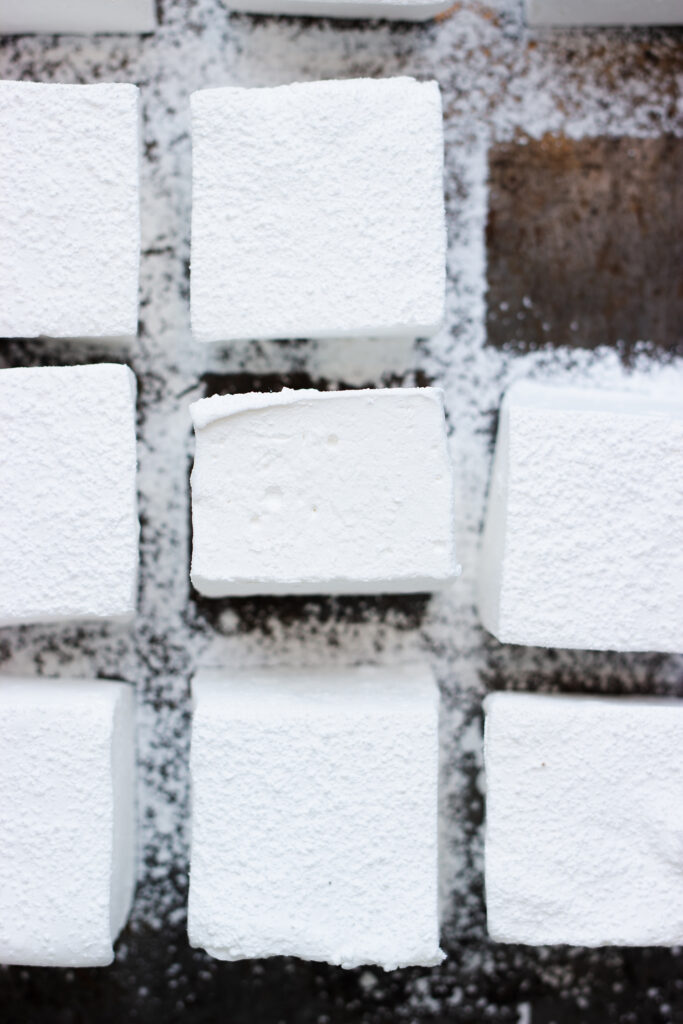 Mint Marshmallows
This is Alton Brown's marshmallow recipe, with my own details + flavors added.
Ingredients
3 envelopes (21g) unflavored gelatin
1 c cold water, divided
1.5 c sugar
1 c corn syrup
1/4 tsp salt
1/2 c cornstarch
1/2 c confectioner's sugar
1 tsp mint extract
1/2 tsp vanilla
Directions
Combine the gelatin and 1/2 cup of the water in the bowl of your stand mixer. Stir to distribute and attach the bowl to your mixer with the whip attached.
In a small saucepan, combine the remaining water, sugar, corn syrup and salt. Stir to combine, being careful not to get any sugar crystals on the side of the pan. Cover the pot with a lid and set over medium heat. Bring to a boil, and let boil for five minutes without removing the lid. The steam created in the pot will help force water down the side of the pan which will eliminate any errant sugar crystals (which could cause your marshmallows to set incorrectly).
After five minutes, remove the lid and add a candy thermometer to the pot. Let simmer, keeping a close eye on it and without stirring, until it reaches the soft ball stage: 240F. Immediately remove from heat.
With the mixer on low speed, begin to slowly pour the sugar syrup down the side of the bowl from step 1. Aim for the side of the bowl just above where the whip hits it; trying your best to avoid the whip, which will splatter sugar syrup around the bowl.
After all the sugar syrup has been added, turn the speed to medium high and let whip for 9 minutes.
After nine minutes, the mixture will be extremely voluminous and still a little warm if you touch the side of the bowl. You don't want to let it cool completely, because that will cause your marshmallows to overmix and deflate.
In the meantime, grease an 8×8″ pan with liquid or solid (aka Crisco) vegetable oil. Do not use something like olive oil which will impart flavor: you want to use an oil that has no flavor at all.
Combine the powdered sugar and cornstarch in a bowl. Pour about a third into the oiled pan and shake to distribute. Make sure you get up the sides too. Tip out any excess and then use a sifter to distribute an additional thin layer on the bottom of the pan. Set aside.
After 9 minutes, add your flavoring to the mixture without turning it off. It will loosen the mixture considerably at first, then blend in. Let it whip for a minute.
Immediately tip the warm marshmallow out into your prepared pan.
With wet hands, pat the marshmallow into an even layer.
Let the marshmallow set at least 6 hours or overnight.
Use an offset spatula or knife to loosen the edge of the marshmallow. If it gets marshmallow stuck to it, rinse it off and start again – you may need to oil to tool.
Lift the marshmallow out of the pan and set on a cutting board. Using a knife that has been oiled and dusted with powdered sugar, cut into squares.
Again, if the knife gets marshmallow stuck to it (which will happen), rinse it off, dry it, then oil it and coat it in powdered sugar again.
Toss the cut marshmallows in the remaining powdered sugar/cornstarch mix. Store in an airtight container.