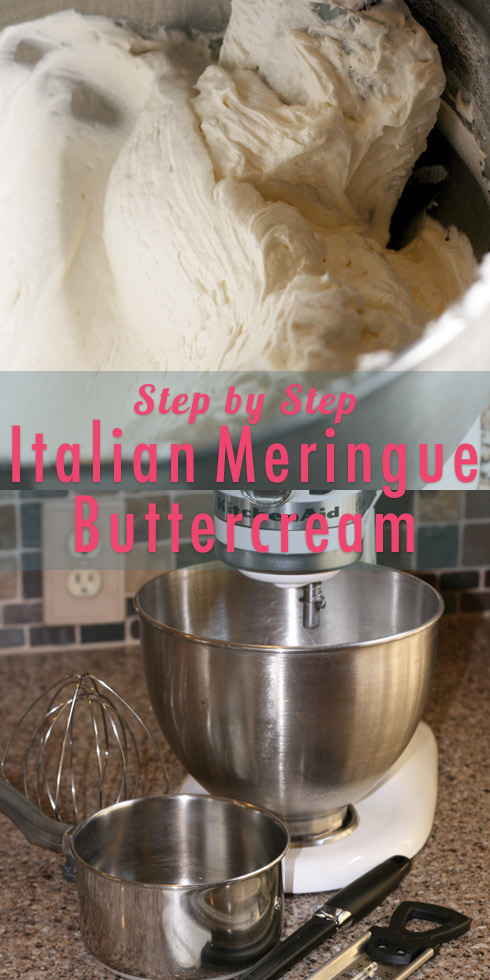 When choosing between Swiss and Italian Meringue Buttercreams, the latter is definitely the one I prefer. Although it contains the same ingredients, Italian Meringue Buttercream is more airy and light than Swiss, which is the way I like a frosting to be.
Unfortunately, I think a lot of people are afraid of this recipe because it involves cooking sugar syrup. But you shouldn't be! It's not that hard, and as long as you have a candy thermometer and keep an eye on things, you shouldn't have any trouble!
So, on with the buttercream!
How to Make Italian Meringue Buttercream


A step-by-step guide penned by Kaitlin and photographed by P.
The first thing you should do when starting any recipe is to gather your ingredients and hardware. Measure out everything
before
you start to be sure that you have enough and also to expedite the process. This is called
mise en place
, which is just a fancy French way to say, roughly, "everything in its place," and it is very, very important.
This recipe uses the same ingredients as the Swiss Meringue Buttercream: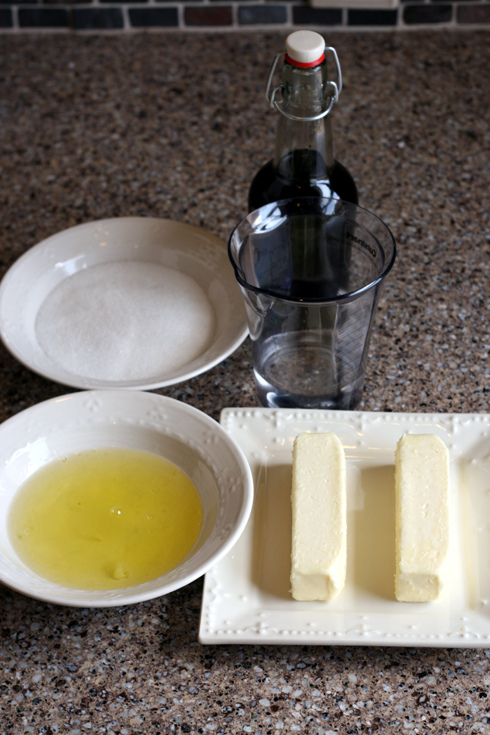 However, before I start to explain things, I will make note of two exceptions. One is that the water is an ingredient in this recipe, and not hardware. It isn't necessary and does slow the whole process down a bit, but because it helps the sugar dissolve more easily and evenly, I would not suggest leaving it out! The other is that there is an additional 1/4 c sugar in this recipe, but if you would like to leave it out and simply whip the eggs with a portion of the 1 c you will turn into syrup, that's fine too!
5 egg whites at room temp

You must be sure that you are using LARGE eggs or the proportions will be off. Your frosting will not set correctly if you use larger or smaller eggs (unless you compensate for the difference, but most people, myself included, are too lazy to bother). Also, it is important that the egg whites are room temperature for this recipe because room temp eggs have a more relaxed protein structure than cold eggs, which allows them to whip to a higher volume.

1 1/4 c (250 g) sugar, divided

This is granulated sugar. Do not use powdered sugar! You will be cooking 1 c and whipping the eggs with 1/4 c.

2 sticks (226 g) butter

This butter is room temperature and should be chopped into tablespoon-sized slices before continuing. You must allow your butter to set on the counter for at least 30 minutes before using or it will not incorporate correctly. If, however, you would like a shortcut, simply slice your butter into tablespoon-sized pieces and arrange them in one layer on a plate. Microwave for 5 seconds, flip over each slice, and microwave for 5 seconds longer if needed.

1 tsp vanilla extract

Well, this is more than a teaspoon's worth, isn't it? No matter; just know that you can use almost any kind of flavoring you like for buttercream. I will touch on this point later in the post…

1/2 c water
The hardware here is quite similar as well: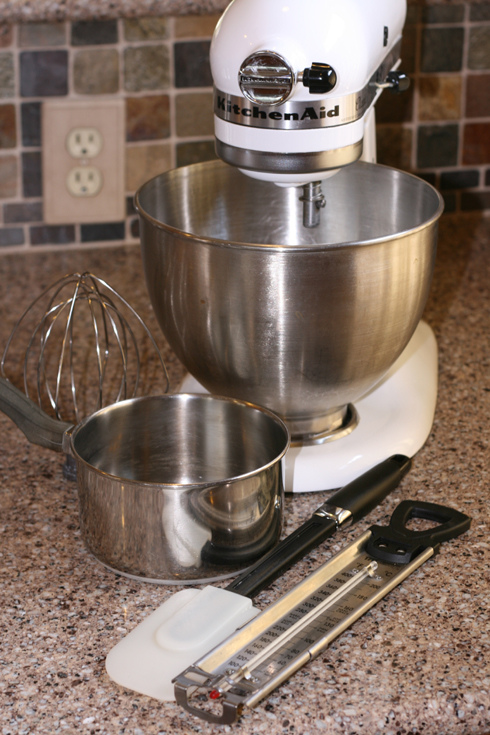 A rubber spatula

A stand mixer (with the whip attachment) or handheld mixer

A pot to cook the syrup in

Heavy bottomed is ideal, but I've never had a problem with any pans I've used. You want it to be fairly small so the sugar syrup comes up high enough to register on the…

Candy Thermometer

I really don't think you should make this frosting without a candy thermometer. Cooking the sugar syrup to 245F allows the frosting to set a specific way (the syrup will form a firm ball when a drop is introduced to an amount of chilled water) with a structure ideal for holding onto air bubbles. And air bubbles are good – they make the frosting light! You can find one these all over the internet (Amazon) and at craft stores (Joann's, Michael's, Hobby Lobby, etc.)
Just know that if you are using a handheld mixer, and extra bowl for whipping the egg whites will be required.
The first step is to place your candy thermometer on the edge of the small pan you've selected for this recipe. Pour in 1 cup of sugar first, then pour the water over the top to moisten. Resist the urge to stir; it isn't necessary and might cause sugar crystals to get stuck on the sides of the pan. These crystals could set off a chain reaction which would cause the rest of your syrup to become grainy and… Well, not what you want. Your frosting will taste good, but it will feel like someone poured sand in it if your syrup is not cooked properly.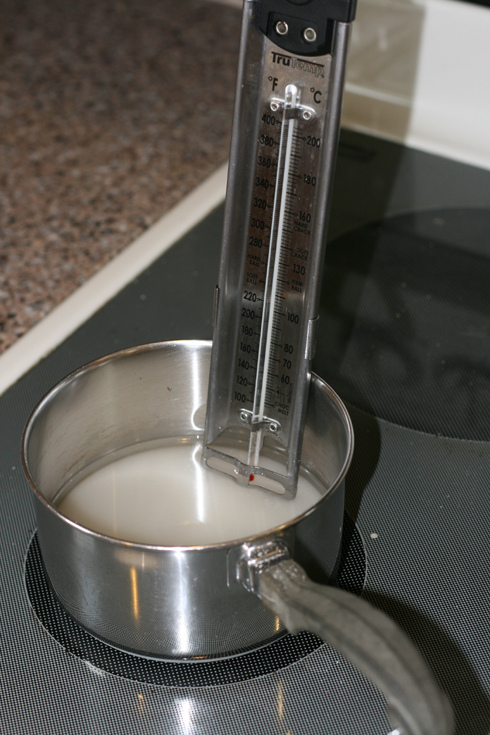 So, how does one cook the syrup properly? Well, for starters, keep a close eye on it. Never leave the kitchen when you are cooking sugar, and be stingy with your time spent away from the stovetop. It is very important that you watch it or it may burn.
Another thing to do is to
swirl
the syrup. Don't stir it or whisk it, just gently swirl the pan by the handle to ensure that the sugar crystals are evenly distributed and dissolved.
Trust me, I know it sounds scary, but it's not bad! Just give it a shot – you might surprise yourself!
So, with these tips in mind, turn the heat up to medium and start cooking – but don't stir!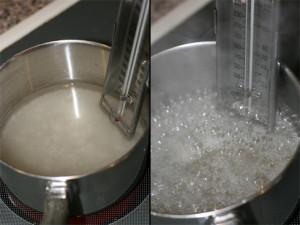 While the sugar is cooking, pour the egg whites into the bowl you plan to whip the icing in, then wait for the syrup to come to about 230F-235F.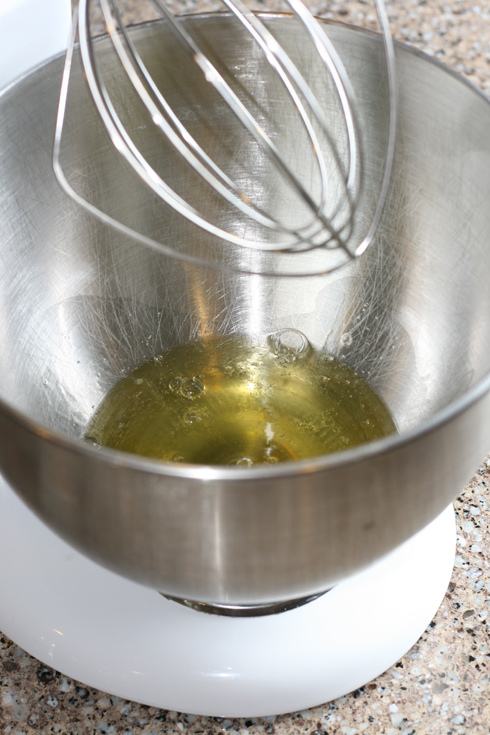 When it is within this range, begin whipping your egg whites. Start on a slow speed until they get frothy, then increase the speed to medium-high. Add the remaining 1/4 cup of sugar in a slow, steady stream just after the eggs begin to stiffen and continue whipping until the meringue no longer slides in the bowl. To test, simply lift and tilt your bowl. If the meringue slips, keep whipping. If you can hold the bowl over your head and the meringue doesn't get in your hair, it's ready.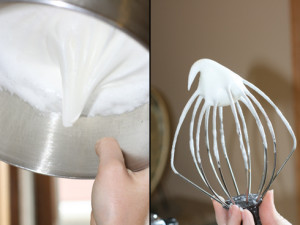 Be very careful not to overbeat the egg whites. The dry, grainy whites will not smooth out through any amount of additional whipping and will only serve to detract from the texture of the finished buttercream.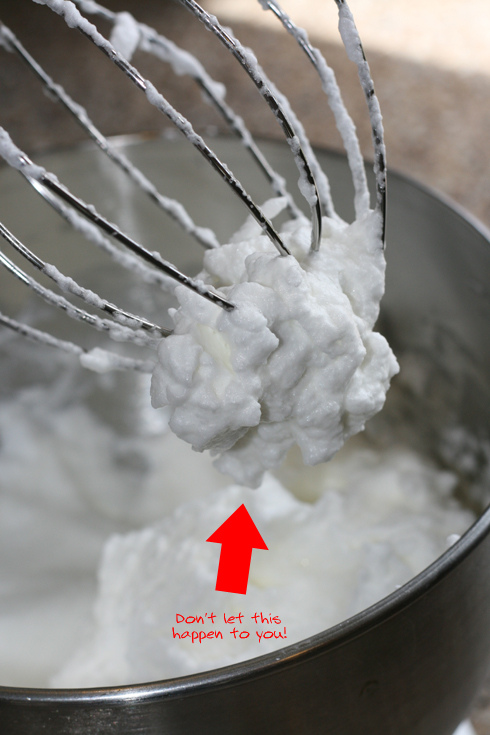 Ideally, whipping the egg whites won't take very long and will be done just in time for the sugar syrup to come to 245F, or the firm ball stage. If you think you will need more time, simply start whipping your eggs a little earlier. But PLEASE don't whip them just as you start cooking the sugar syrup – they will deflate by the time the sugar has come to temp and won't whip correctly.
Now, this is the part that scares some people: pouring the hot syrup into the whipped whites. It sounds terrifying, I know, but if you're very careful (and perhaps have some help!) you will be fine!
Prepare yourself by turning the mixer on high speed and immediately begin to pour the syrup – at a very SLOW and STEADY speed – into the whipping egg whites. Aim for the spot just between the wall of the bowl and the edge of the whip (if using a handheld mixer, pour the syrup into just one area of the bowl and come at it from the side with the beaters. Be VERY careful not to get the syrup on your hands!). It's ok if you get some on the side of the bowl or the whip, but it is best not to. The pieces that harden on either piece may break off and find their way into your icing, but it won't be a disaster by any means!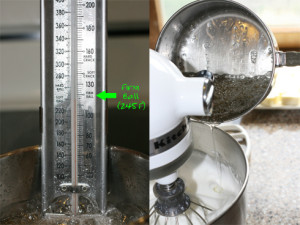 Now that the sugar is added, just beat the icing for 10-15 minutes until it is sufficiently cooled.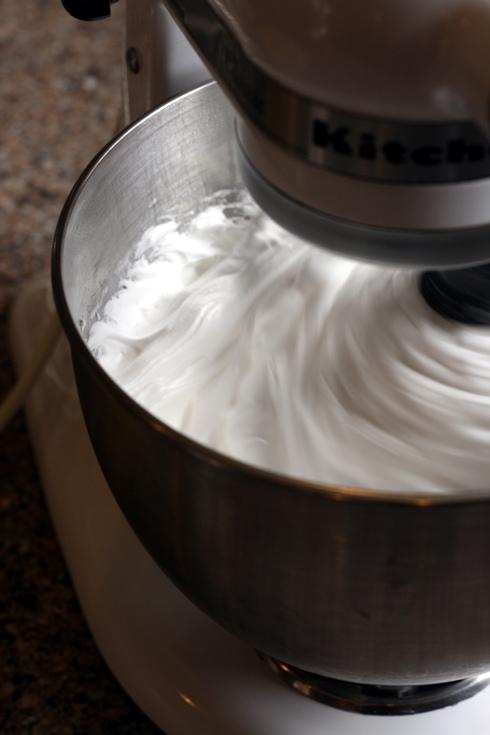 (During this time I like to fill the pot I cooked the syrup in with water and bring it to a boil to remove the hardened sugar from the sides. Toss in the candy thermometer too, while you're at it)
After the meringue has whipped, it will have the consistency of marshmallow fluff.
You could, if you were so inclined, stop here and simply frost your cake with this Italian Meringue. You can also pipe this out into various shapes and bake it for a few hours at a low temperature to make meringue cookies, but… That's another post.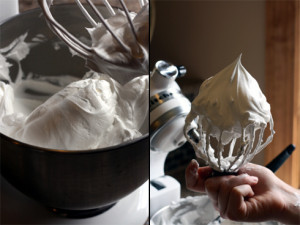 So start adding the softened butter,
just as before
, piece by piece with the mixer on medium. I like to count to 12 or 15 before adding each new piece, but just watch to make sure that each is fully incorporated before adding the next. Oh, and make sure that you scrape down the sides with the rubber spatula from time to time!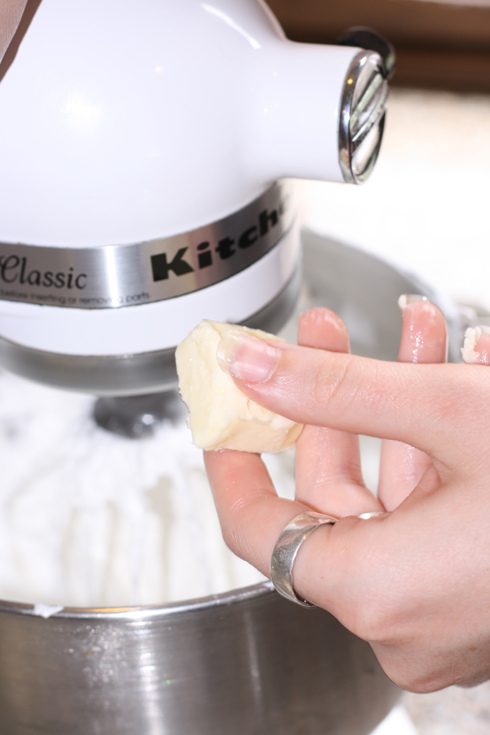 After all of the butter is added, turn the speed up to high. The whole process will take about 10-15 minutes, but you will begin to see the buttercream go through stages after all of the butter is added. First it will deflate and become soupy, then thicken, then curdle, then thicken to the final stage. If, for some reason your buttercream does not progress from the "soupy" stage (typically due to adding the butter too quickly or the butter/meringue being too warm), simply place your work bowl in the fridge for 7-10 minutes before whipping again.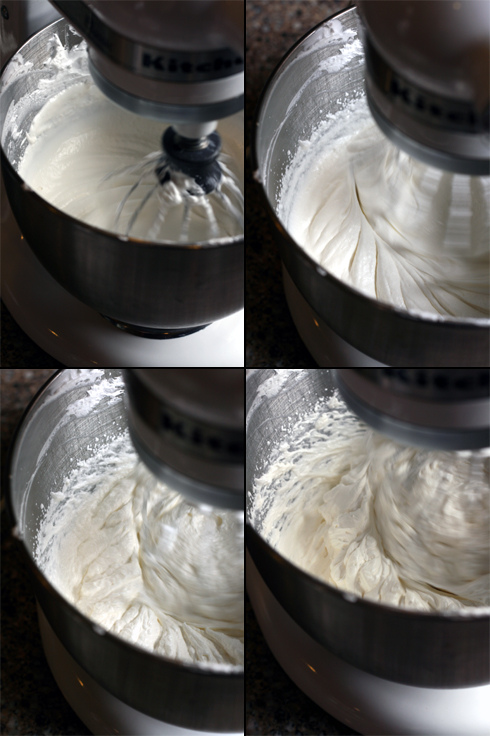 After the buttercream is thick and luxurious, pour in your flavoring of choice (1 tsp of vanilla here!) and whip to combine.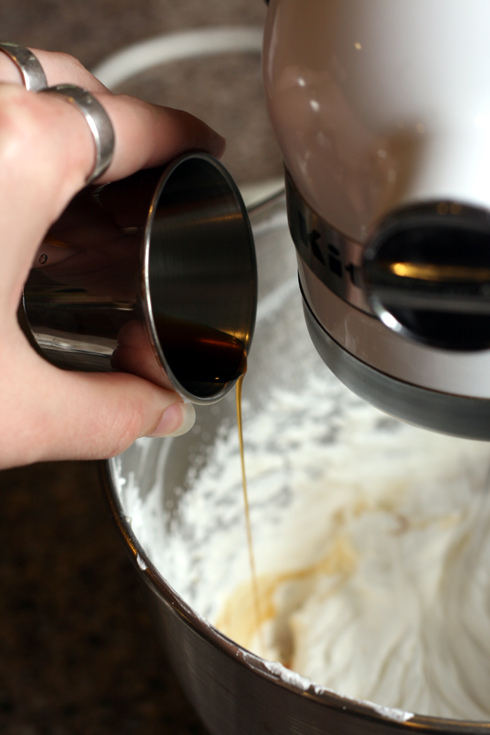 And for the final step: try not to eat it all before you frost your cake!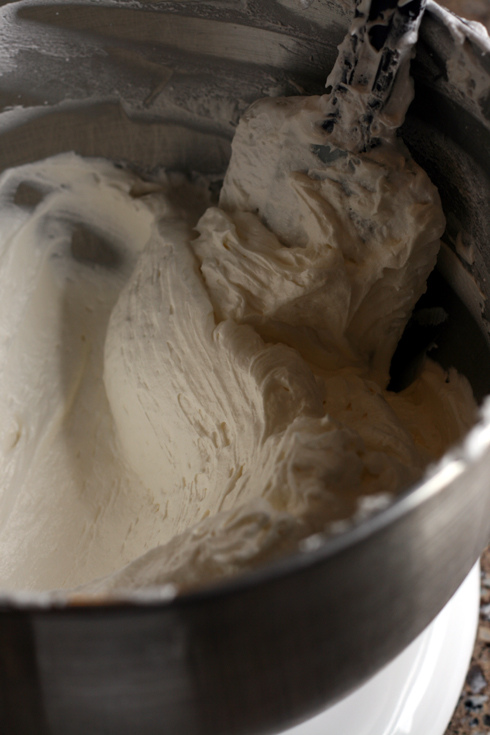 Now, for notes (that may or may not have been copied from the
Swiss Meringue Buttercream
post)!
You may use any kind of extract you like in place of the vanilla. Almond, lemon, peppermint – you name it. It's all to taste, so add more or less to your preferences. Oils are an option as well, but they are much stronger in flavor so only add a drop or two at a time. Melted chocolate can be used to make chocolate buttercream, but be sure that is has cooled sufficiently before adding it or it will make your frosting melt.
I like to use jams to flavor buttercream, but be sure that they are quite thick as too much liquid will cause the buttercream to break (meaning the fats and liquids to separate). I don't know of any way to fix it when this happens, so be careful when adding jams and drop in about a tablespoon at a time.
Using jam as a flavoring will lend color to the buttercream, but that can also be done by using food coloring. Gel and liquid colors work well (I imagine that powdered food coloring would too, but I've never used it) and are best added just a bit at a time until the desired color is achieved.
Leftover buttercream may be kept in the refrigerator for a week or two or frozen, well wrapped, until needed. Just be sure to bring it to room temperature and whip well with a beater before using.
————————————————————-
If you have any questions, comments, or criticisms, please let me know! I will do my best to make this guide as comprehensive as possible!
I would like for my next how-to post to be about frosting cakes, but that might take some time. I've moved recently and… Well, let's just say that there isn't much counter space here…