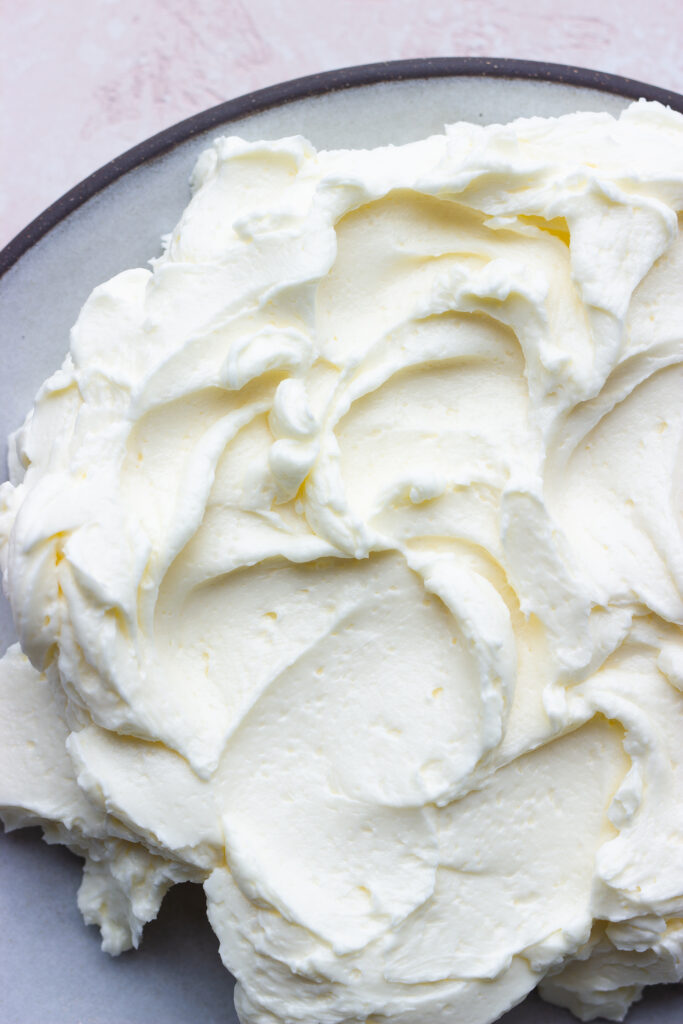 This post contains affiliate links.
I receive A LOT of emails and comments about Swiss Meringue Buttercream. I try to respond to them as thoroughly and promptly as I can, but sometimes I just don't have the time to do so, and that makes me feel bad.
So, what I decided to do was start a bit of a "how to" series on making different kinds of buttercream. I want to be able to address any questions that you guys may have, and be able to offer guidance with step-by-step photos just so you'll feel a little bit more confident about trying out the recipes. I know that stepping away from the classic powdered sugar and butter frosting might seem a little scary, but it's really not that difficult. European buttercreams may take a little longer to whip up and may make a little bit more of a mess, but trust me – it's worth it. Swiss and Italian Meringue buttercream are less cloyingly sweet than traditional buttercream and, in my opinion, both have a more pleasant mouth feel.
Also, when you present a cake to someone and tell them that it's frosted and filled with Swiss or Italian Meringue Buttercream, it makes you sound really fancy, and that's always good, right? Especially since they never have to know that it's not that hard to make!
So, let's jump in, shall we?
How to Make Swiss Meringue Buttercream
A step-by-step guide
Swiss Meringue buttercream was the first European-style buttercream I ever made. It's a little easier than Italian Meringue buttercream and it uses nearly the same exact proportions of ingredients. The taste is identical, but the difference is evident in the texture; Swiss Meringue Buttercream is a little less light than its Italian cousin, and feels a little heavier (but not oily!) on the tongue. Because it is thicker, I chose to use it for the Super Epic Rainbow Cake for structural stability.
The first thing you should do when starting any recipe is to gather your ingredients and hardware. Measure out everything before you start to be sure that you have enough and also to expedite the process. This is called mise en place, which is just a fancy French way to say, roughly, "everything in its place," and it is very, very important.
Here we have…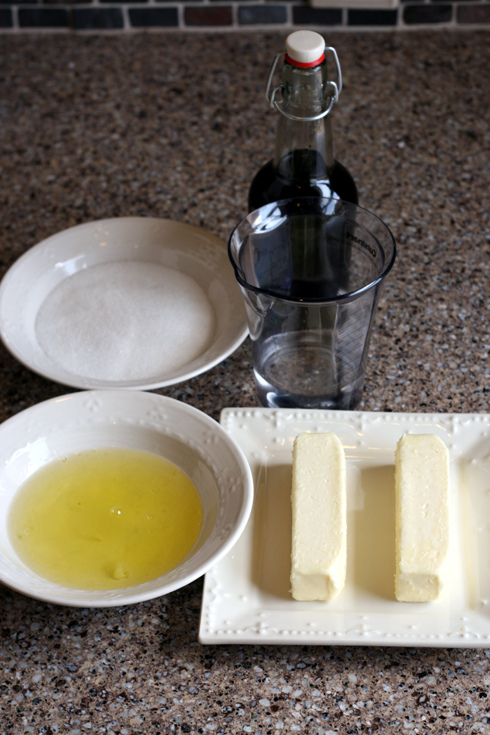 5 egg whites

I recommend using large eggs. Save the yolks for another use, like ice cream. The egg whites do not have to be room temperature for this recipe, but it will speed things up if they are.

1 c (200 g) sugar

Granulated, not powdered.

2 sticks (226 g) butter

This butter is room temperature and should be chopped into tablespoon-sized slices before continuing. You must allow your butter to set on the counter for at least 30 minutes before using or it will not incorporate correctly.

1 tsp vanilla extract

You can use almost any kind of flavoring you like for buttercream. I will touch on this point later in the post.

An arbitrary amount of water

This is more hardware than ingredient, so… My bad. This water will be poured into the pan of your double boiler.
Alright, now that you have your ingredients ready, let's move onto hardware.
We will be using…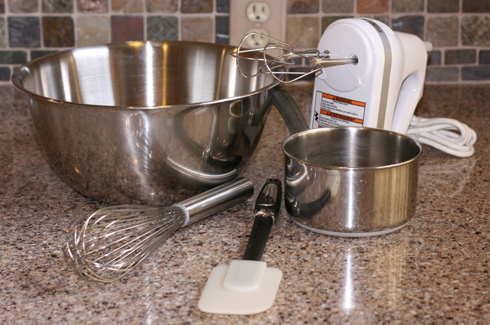 A small pan and an accompanying bowl (not pictured – oops!).

If you have a double boiler, use it! I don't, so I suffice by doing it this way. Be sure that the bowl fits well on top of the pan and doesn't set too low in it.

A whisk
An electric mixer (stand mixer or hand mixer)
Prepare the double boiler

Begin by pouring an inch or two of water into the pan of your double boiler. If you are simply using a pan and a bowl, make sure that the bottom of your heat-proof bowl does not touch the water. If this happens, your eggs will scramble and you will have to start again! After an appropriate amount of water has been added, bring it to a simmer.

Combine the egg whites and sugar


Meanwhile, combine the sugar and egg whites in the bowl of the double boiler with a whisk. You are not trying to whip the whites at this point, so don't worry about creating volume. Just be sure that they are evenly combined.

Cook the egg white mixture to 160F

When the water is simmering, place the bowl over the pan. Whisking constantly, heat until the sugar is completely dissolved and the mixture is quite hot to the touch (160F on a candy thermometer), about five minutes. Be sure to scrape down the sides of the bowl every once and awhile with the rubber spatula to get all of the sugar off the sides of the pan. If all of the sugar doesn't dissolve, your frosting will taste fine, but it will be grainy and won't look smooth.

Heating the eggs and sugar has a few purposes. The first of which is that it melts the sugar, resulting in a very smooth meringue. And have you ever heard that room-temperature egg white whip better than cold ones? That's because room-temp egg whites have a more relaxed protein structure in comparison to cold ones, and heating them further only loosens that structure more. This means that heating the eggs allows them to whip to a higher volume.

Also, cooking the egg whites can serve as a method of pasteurization if you have concerns about salmonella. Just use a candy thermometer to ensure that the egg whites reach 160F before continuing, and then continue as directed.

Test to ensure the sugar is fully dissolved

the whole process should take about five minutes. To test if the sugar is dissolved, just dip your fingers into the mix (don't worry – it's not going to hurt you!) and rub some between your fingertips. If it's gritty, keep cooking! If not, move on (after washing your hands, of course).

Transfer the meringue mixture to a larger bowl if needed

Pour the mix into a larger bowl (you may use the one from the double boiler, if you like, or a stand mixer if you have one), scraping the pan with the rubber spatula to get as much out as possible.

Whip the egg whites

Begin whipping the egg whites on high speed. They will foam initially…

Continue whipping the egg whites

Then they will thicken slightly

Continue whipping the meringue until you had stiff peaks and the mixture is no longer warm

And eventually you will have a lovely, glossy, light and wonderful meringue! It's a lot like marshmallow, at this point, and quite stiff. The bottom of the bowl should be room temperature when you touch it with your hand and the egg whites themselves should have cooled. The whipping will take ten to fifteen minutes.

If the mixture is still warm, keep whipping it.

Begin adding the butter

Switch to the paddle attachment if you are using a stand mixer.

Add the sliced butter, piece by piece, to the meringue. Be sure to add the butter SLOWLY and make sure that each pat is completely incorporated before adding the next (counting to 15 usually works for me). Don't panic when the meringue deflates. That's supposed to happen, and it's totally fine!

Often the buttercream will become soupy after adding all the butter, but it's ok. Keep whipping it or put it in the fridge for about 10 minutes. It's possible the butter melted when it was added and just needs to firm up a bit.



If the buttercream looks curdled, just keep whipping

You just need to make an emulsion, so keep whipping to further combine the meringue and the butter.

After adding all the butter continue whipping until light and fluffy, about 5-10 minutes more.

Add your flavoring of choice

I'm using vanilla, but any extract will work. Almond, lemon, peppermint – you name it. It's all to taste, so add more or less to your preferences. Oils are an option as well, but they are much stronger in flavor so only add a drop or two at a time. Melted chocolate can be used to make chocolate buttercream, but be sure that is has cooled sufficiently before adding it or it will make your frosting melt.

I like to use jams to flavor buttercream, but be sure that they are quite thick as too much liquid will cause the buttercream to break (meaning the fats and liquids to separate). I don't know of any way to fix it when this happens, so be careful when adding jams and drop in about a tablespoon at a time.

Using jam as a flavoring will lend color to the buttercream, but that can also be done by using food coloring. Gel and liquid colors work well (I imagine that powdered food coloring would too, but I've never used it) and are best added just a bit at a time until the desired color is achieved.



Beat to combine

Your Swiss Meringue Buttercream is ready to use.

This recipe makes a little over 2 cups of wonderful, luscious, smooth Swiss Meringue Buttercream. Enough for a dozen cupcakes, or a 6″ cake. Double the recipe for a 9″ cake.

If you want to use this buttercream for piping, I recommend beating it on the lowest speed for 5 minutes to remove any particularly large air bubbles.

Leftover buttercream may be kept in the refrigerator for a week or two or frozen, well wrapped, until needed. Just be sure to bring it to room temperature and whip well with a beater before using.
It also freezes well. Just thaw it overnight on the counter before using it. It needs to be room temperature before you start whipping it.
I hope your next batch of buttercream is incredible!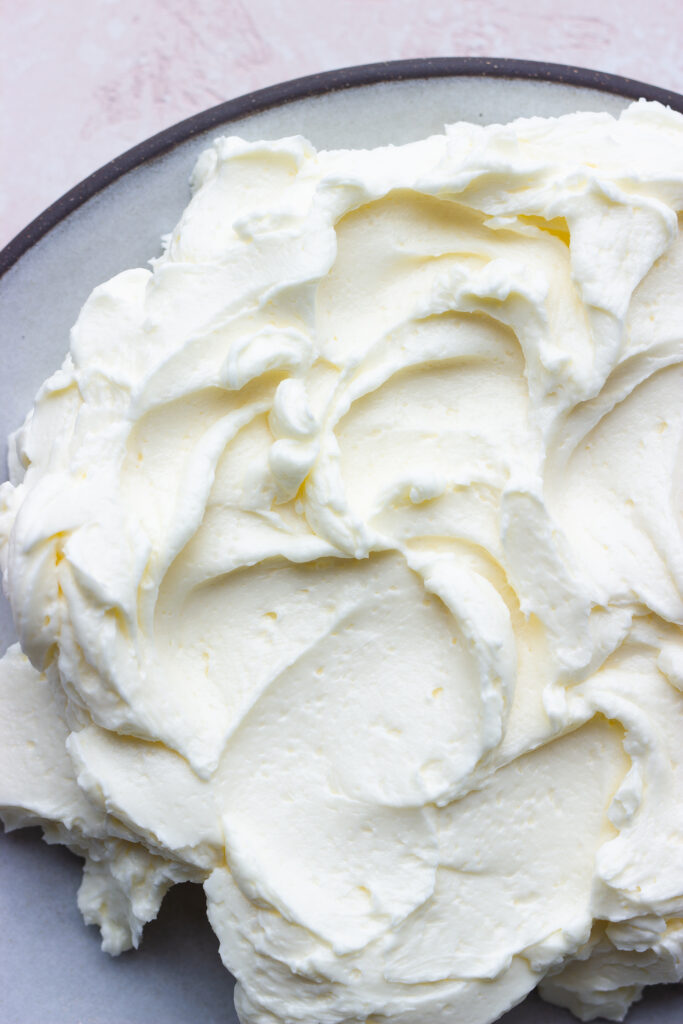 Swiss Meringue Buttercream
Makes enough for a dozen cupcakes or a 6″ cake. Double this to frost a 9″ cake.
Ingredients
5 egg whites
1 c (200g) sugar
16 Tbsp (226g) butter, cubed and at room temp
1 tsp vanilla
Directions
In the base of a double boiler, bring water to a simmer.
In the top bowl (or just a bowl to place over a pan of simmering water) combine the egg whites and sugar and whisk constantly until the mixture is hot to the touch (160F on a candy thermometer if you want to be completely accurate), about five minutes depending on the original temperature of the eggs.
When the mixture has warmed sufficiently, pour it into the bowl of your stand mixer and whip on high speed until the bottom of the bowl is room temperature, ten to fifteen minutes.
When the bowl is no longer warm, switch to the paddle attachment and set the mixer to medium-low. Begin adding the butter piece by piece. Let each chunk incorporate completely before adding the next and don't rush the process!
After all the butter is added beat 5-10 minutes more until light and fluffy.
Add the vanilla.