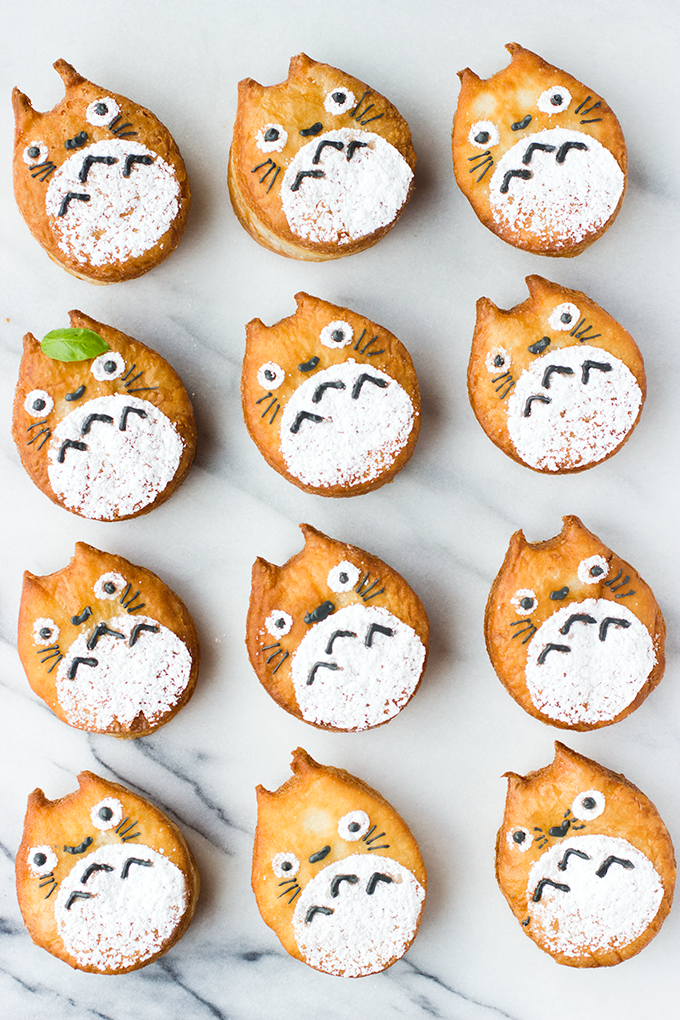 When Steph (I am a Food Blog) put out a call for participants for this year's #TotoroWeek, I could not WAIT to get involved with what she and Lyndsay (Coco Cake Land) were planning!. I watched My Neighbor Totoro over and over as a kid, and it breaks my heart to know that others didn't do the same! It's really an under-appreciated story. It's cute, whimsical, beautifully animated and just…. Sweet. It got me hooked on Studio Ghibli (particularly Miyazaki)'s work, and I've been delighted to see that they've been able to maintain their unique charm through the many films they've released since Totoro came out in 1988.
Unfortunately for me, I can't watch Totoro anymore because my brother accidentally taped over the VHS….. But that's beside the point 😉 I guess I don't have a VHS player anymore, anyway.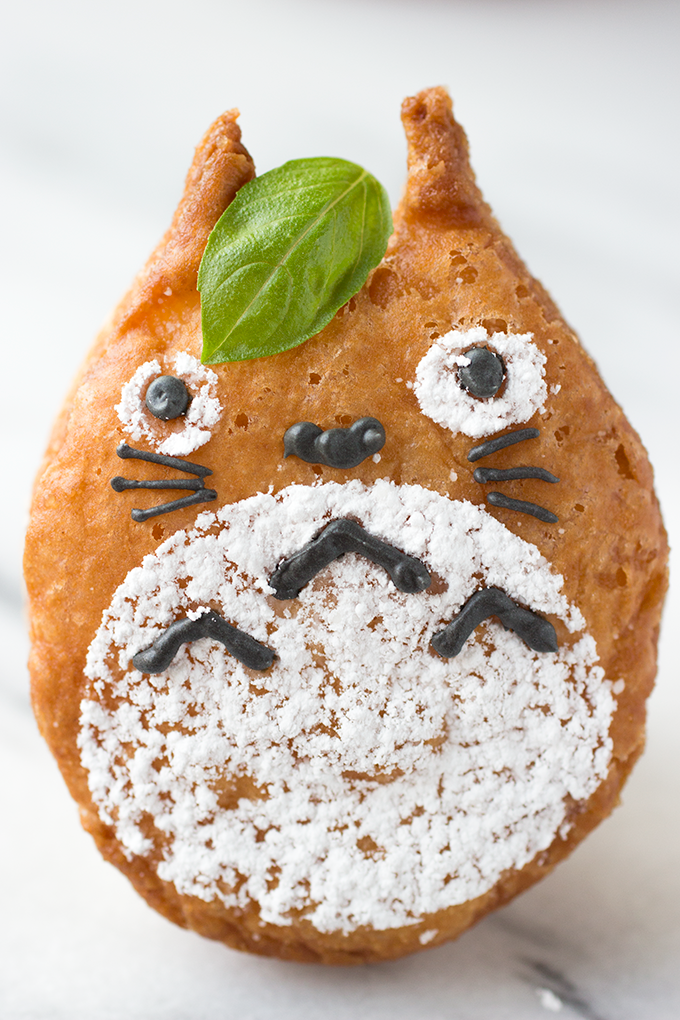 Anyway, I brainstormed for awhile about what to make, then hit the grocery store for some pantry staples.
I thought, first, that doughnuts would be fun, but I didn't think they would rise flat enough to retain the delicate shapes of my favorite Neighbor's ears. Cronuts, however, rise more evenly, thanks to their many layers of butter. They seemed like they'd make a perfect canvas for a Totoro-shaped treat.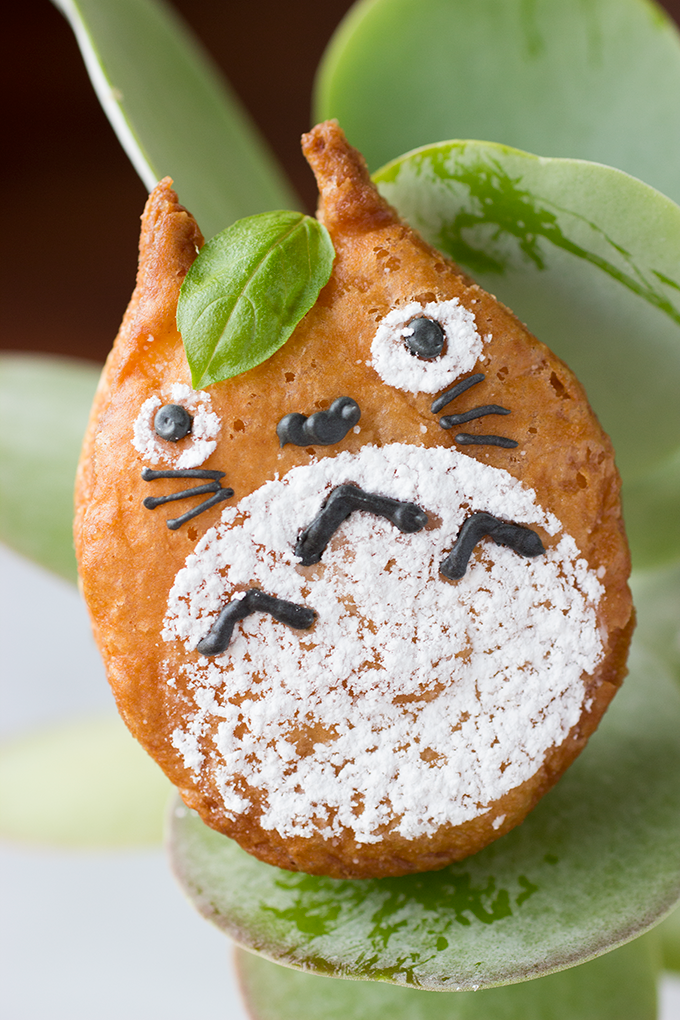 From there, I hoped to employ the use of a totoro-shaped cookie cutter, but I couldn't find one I liked for sale online. With that option extinguished, I briefly considered designing my own cutter with my employer's 3D printer, only to discover that it was in need of so much repair that it may never print again.
Dreams crushed, I instead opted for plan C: crossing my fingers and just plain hoping I could figure it out.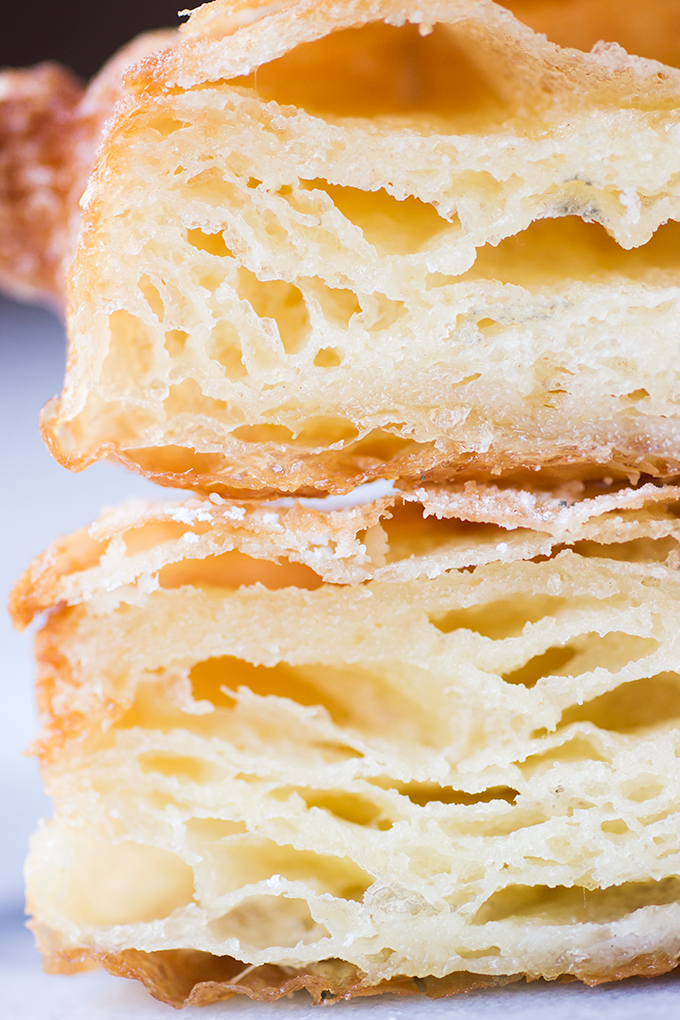 I got to work on my laminated dough, which was a perfect project for a chilly Friday night after a stressful week. The dough rose perfectly, the butter block behaved, and the laminating process went as smoothly as it could of – even with 2 glasses of wine in my system.
With the promise of cronuts or breakfast in my mind, I went to bed eagerly that night and slept poorly. I woke up early, like a kid on Christmas morning, and raced downstairs to roll and shape the dough.
When it came time to cut, I realized that I had everything I needed on hand. It turns out that Totoro shaped treats can be made easily by cutting the dough first with a teardrop shaped cutter, lopping off a bit of the point with a knife, and then just slicing out a bit in the middle of the now-flat top with a square 1/2 teaspoon measure (gif below – thanks S for helping with pics!).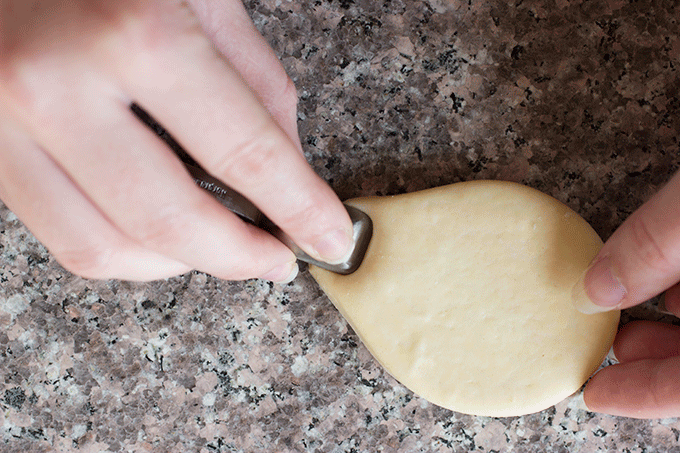 After that, the cuties puffed and rose for about two hours, and then they went for a nice hot bath.
Powdered sugar and some light icing followed, and….. Voila! Totoronuts (S could not handle the perfection of this name. He kept giggling and calling them Totoro Nuts). They're light, fluffy, and crispy like you'd expect a cronut to be, just better because…. duh. They look like Totoro!
Want to see the rest of the #TotoroWeek creations? Hop on over to Steph's blog – she'll be posting a roundup very soon! Can't wait? Dig in to her and Lyndsay's archives!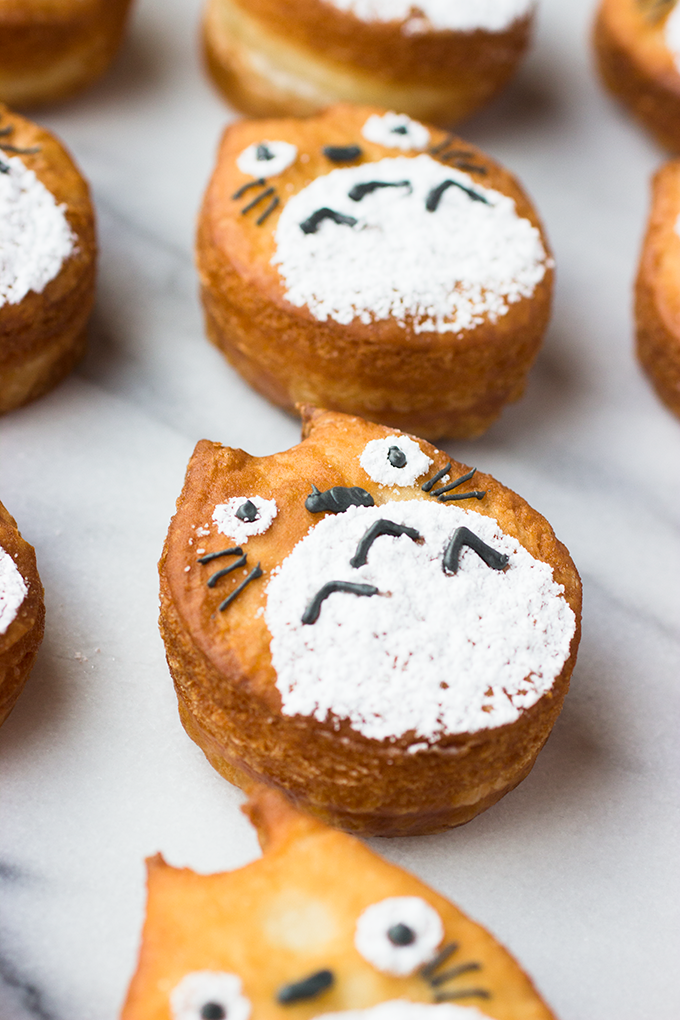 To make these, I used the America's Test Kitchen Croissant recipe (they have a 14-day trial membership), which is my absolute favorite. I hesitate to reprint it myself because I feel like the best steps to follow to make the dough can be found here.
Follow the steps there up to the shaping part and then follow these directions:
Freeze the dough for 1/2 an hour.
Remove from the freezer and roll out into a rectangle of whatever dimensions you get, aiming for an even 1/2″ thickness.
Cut dough with a 3 3/4″ teardrop shaped cutter, getting as many pieces as you can. Pull away the scraps and place them in an oiled and lined 9 x 5 bread pan. Set aside.
Take a teardrop shape and cut about a 1/4″ tall triangle off the top. Set on top of scraps in the bread pan. Using a square, metal, square 1/2 teaspoon measuring spoon, press/cut into the flattened topside while pulling the dough away (see gif above) to make two ears. Repeat on each piece of dough, reserving all scraps in the bread pan.
Place the cut Totoros on a lined baking sheet. Spray lightly with spray oil, and cover loosely with plastic wrap. Do the same for the pan of scraps. Allow to rise in a warm place until about doubled in size, 2 to 2 1/2 hours.
When the dough is ready heat a pot of oil with tall sides to 350F. Fry 3-4 at a time for 2 minutes per side, and drain on several layers of paper towel, changing out with fresh paper towels when they begin to look very greasy. Cool completely.
As for the scraps, bake in a preheated 350F oven for approximately 30 minutes, until puffy and browned. Congrats – you made a croissant loaf!
This next part, I wish I had a stencil to offer, but I don't! I cut a template out of a piece of cardstock that had an opening for his belly and his two eyes. I held the stencil over each cronut and shook on a sprinkling of powdered sugar.
I finished the cronuts with simple piping of black royal icing, which completed the Totoro look!